Here's how the Army trained 4,500 senior ROTC cadets during the pandemic
by
Corey Dickstein
September 1, 2020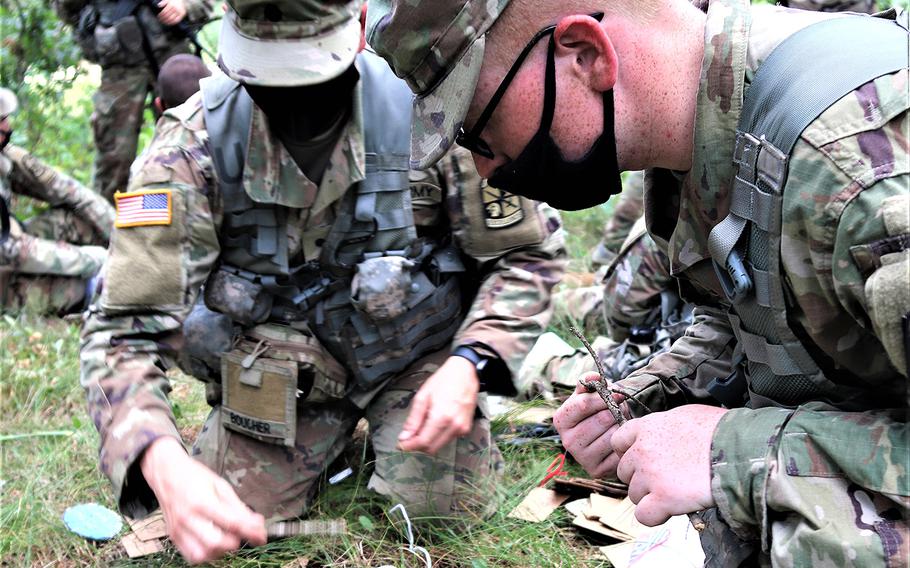 Stars and Stripes is making stories on the coronavirus pandemic available free of charge. See other free reports here. Sign up for our daily coronavirus newsletter here. Please support our journalism with a subscription.
WASHINGTON — The Army managed to train more than half its rising senior ROTC cadets this summer in small clusters of students at installations close to their universities after the service was forced to cancel its massive summer training programs because of the coronavirus, the leader of Army Cadet Command said Tuesday.
More than 4,500 senior cadets in July and August completed the unprecedented, abbreviated military training programs meant to replace monthlong camps at Fort Knox, Ky., required before commissioning into the Army, said Maj. Gen. John Evans, who is responsible for service's roughly 20,000 ROTC cadets in 274 programs across the nation. The training was largely successful, Evans said, but it was ultimately "a suboptimal solution" for preparing college students to become second lieutenants responsible for leading soldiers in spring 2021.
"We understand that we shorted them on some training," Evans said in a phone interview. "But what we did as we truncated the training plan is we tried to focus them on the tasks that we thought would be most essential for their development and progression as officers."
Those tasks included weapons training, land navigation and physical fitness, which cannot easily be replicated in university classrooms or virtual training sessions. The Army expects to rely heavily on classroom and virtual instruction this school year to prepare its 6,500 senior cadets for their future jobs. Most of the remaining roughly 2,000 senior cadets, largely students at West Coast universities, are expected to complete the training in September and October, Evans said.
The general dubbed the roughly 10-day training program Operation Agile Leader, a nod to the Army's willingness to eschew long-held service norms in an effort to mitigate the spread of the coronavirus. In a testament to the training program's moniker, Army leaders initially planned to host the camps during the fall semester but ultimately chose to move them into the summer before students returned to campuses.
One major success that the program has seen thus far, Evans said, is no confirmed coronavirus cases among its participants. About 50 or so cadets were sent home after displaying symptoms, disclosing potential exposure to the virus or testing positive for it immediately after arriving at their camps.
Cadet Command asked its cadets to self-isolate in their homes for two weeks before traveling to their Operation Agile Leader camp location. They were then screened and, in some cases, tested for exposure to the virus. Evans said the cadets then operated in bubble-like conditions during the training, limiting their exposure to others outside the camp.
Evans said he believes if the Army had gone forward with its typical Cadet Summer Training programs it would have created a major outbreak. Normally, some 10,000 ROTC cadets cycle through Fort Knox during the summer months to attend their monthlong training programs in groups of about 700 cadets.
Ultimately, the Army did not believe it could implement social distancing and other safety requirements to keep those individuals safe.
"It would have been a monumental tragedy to have brought 10,000 cadets to Fort Knox," Evans said. "Over the course of 100 days, we would have [the coronavirus] everywhere. So I think [the cadets] understand intuitively that we made the right decision for the right reasons."
Evans said he is already preparing for the possibility summer training might not be able to return to normal next year.
Meanwhile, the Army is attempting to ensure the safety of cadets returning to universities in every state, including to dozens of schools that have already reported serious coronavirus outbreaks. But Evans admitted it will largely be up to cadets to follow guidelines meant to keep them safe, such as avoiding unnecessary social functions, practicing social distancing and wearing a face covering.
"We counsel them" on taking those precautions, he said. "Some of them are doing a great job of that. Some of them probably are struggling with that, to be honest. I mean, I know what it was like for me in college, and that first weekend in college is a big party for everybody. We're seeing that all over the country."
The New York Times has reported at least 26,000 cases of coronavirus, including 64 deaths, at more than 1,500 American four-year public and private institutions so far this year. The worst breakouts were largely in southern schools, including in Alabama, North Carolina, Florida and Georgia.
Among the college students who have contracted the virus are dozens of ROTC cadets. Evans declined to provide specific numbers of cases among Army cadets per Pentagon policy, which considers revealing detailed data on the virus' spread a security concern. None of the cadets who have contracted the virus have reported serious symptoms or required medical attention, the general said.
Officials worry because young people often experience no symptoms after contracting the virus, college students will not take the pandemic seriously. Evans said ROTC cadre members are attempting to "impress upon" cadets the need to follow protocols because even if the virus has little or no impact on them, they can spread it to others who could be more vulnerable.
"We're spending a lot of time talking about that," he said.
Evans said he is in near-constant communication with university leaders, sharing best-practices that the Army has found for training soldiers during the pandemic. Despite several breakouts at installations across the world, the Army has been able to continue training its incoming recruits with minimal delays, service officials have said.
"We can't just wait for [the coronavirus] to go," Evans said. "I don't think we can just stop what we're doing in the educational realm or in the training realm and just wait for it to go away."
ROTC cadet training, so far, during the summer has proven that is possible with mitigation efforts and mandatory screening and testing programs to educate or train students during the pandemic, according to the general.
"Look, we brought this many cadets together, we screened them up front, if they weren't well or if they screened positive, we removed them from training," Evans said. "But the ones that we put in training we were able to train successfully, and oh by the way, we did not spread the disease any further."
dickstein.corey@stripes.com Twitter: @CDicksteinDC
---
---
---