Half of Defense Department schools in US will start classes remotely
by
Caitlin M. Kenney
August 13, 2020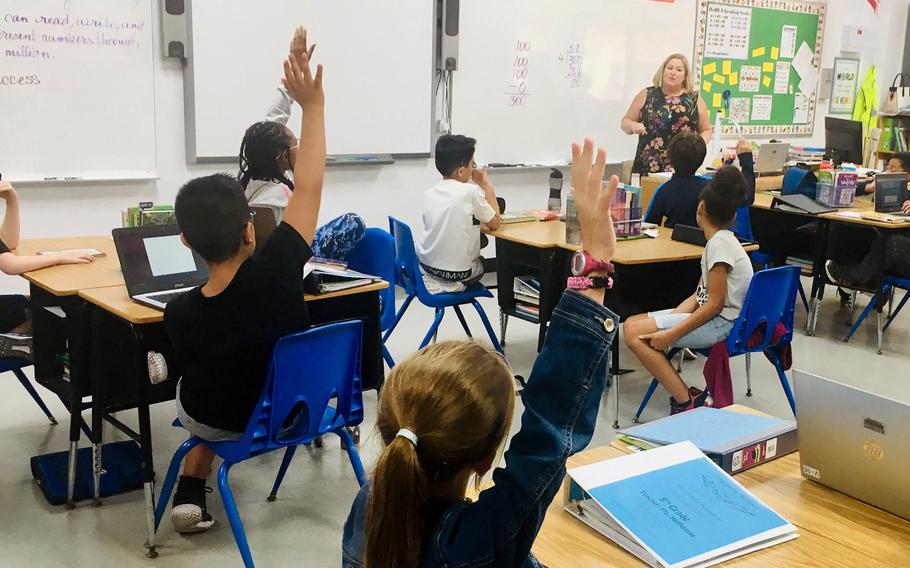 Stars and Stripes is making stories on the coronavirus pandemic available free of charge. See other free reports here. Sign up for our daily coronavirus newsletter here. Please support our journalism with a subscription.
WASHINGTON — Half of the Defense Department schools in the United States will start remotely with at-home classes, a defense official said Thursday.
The Department of Defense Education Activity, or DODEA, which runs 160 schools around the world, will begin reopening schools in the United States next week, according to DODEA director Thomas Brady, who gave a briefing Thursday at the Pentagon.
In America, 25 of the 50 DODEA schools will start classes remotely, including those at Fort Benning, Ga., and Fort Bragg, N.C.
"My priorities as the director of DODEA is to open schools in a safe environment for our children and our staff and our teachers," he said.
The United States has had the highest number of coronavirus cases in the world — 5.2 million as of Thursday, according to Johns Hopkins University. The DOD has reported 4,289 military dependents with the coronavirus and seven who have died.
Brady said the best learning environment for students is in classrooms, making it his priority to open as many schools as safely as possible.
Schools in locations designated Health Protection Condition Bravo or Alpha will be able to have classes in person while following DOD and Centers for Disease Control and Prevention guidelines for cleaning and social distancing, Brady said.
Students attending schools with Health Protection Condition Charlie or Delta will have to start their classes at home. Students will join their class online and will be led through lessons by their teacher. The remote learning environment is meant to be temporary until local conditions improve, he said.
Only two out of 64 schools will be opening remotely in Europe, and 19 out of 45 schools in Pacific will be remote, according to DODEA.
As of Wednesday, 35,989 students are enrolled for classroom schooling and 15,540 students are enrolled for remote learning, according to Lisa Lawrence, a Defense Department spokeswoman. Additional enrollment is expected over the next few weeks.
If a student attending in person comes down with the coronavirus, the school will shut down for two to five days for custodians to clean. If the school must close for six or more days, the school will move to remote learning until it is safe to return, Brady said.
Flexibility and balance are part of DODEA's plan for the school year, addressing issues on a case by case basis. Brady would not say at when a decision would be made to transition a school to fully remote learning if cases continue to force it to open and close.
About 10,028 students around the world have enrolled for a semester of student-led virtual schooling, Brady said, after DODEA expanded it to cover kindergarten through high school. The school is usually geared toward high schoolers in remote locations without access to certain courses, such as advanced placement.
"The virtual school is provided as an option for those parents who make that conscious decision that it's best for their family and their students to do that."
About 25,568 students — 42% of DODEA's enrollment — will be learning outside of a physical classroom when school starts this year.
Wi-Fi hotspots and over 7,000 Chromebook computers have been distributed to students to access the virtual school.
Schools will continue to provide food assistance programs such as reduced lunches for students who are remote, Brady said. In the spring, about a million free lunches were provided in a takeout format, he said.
kenney.caitlin@stripes.com Twitter: @caitlinmkenney