Hagel visits B-2 base, says America needs new bomber
---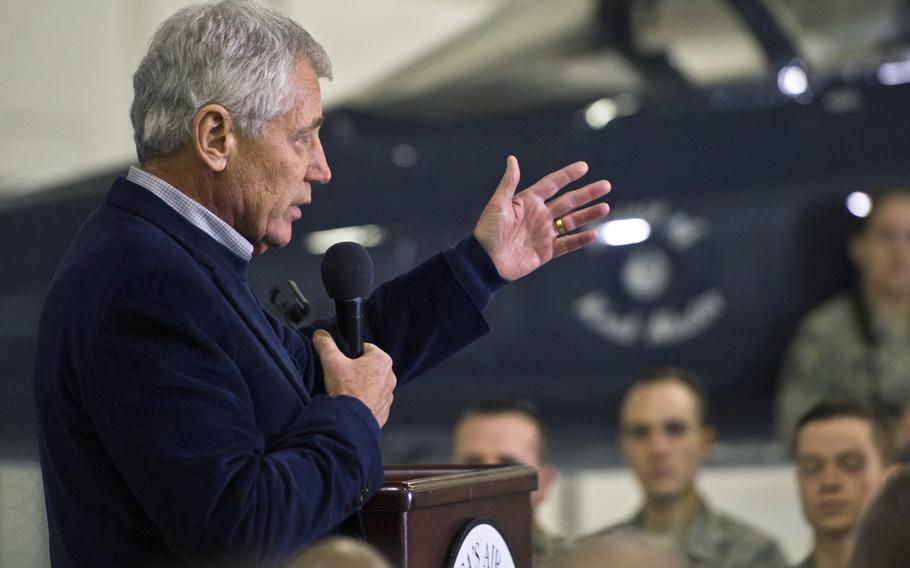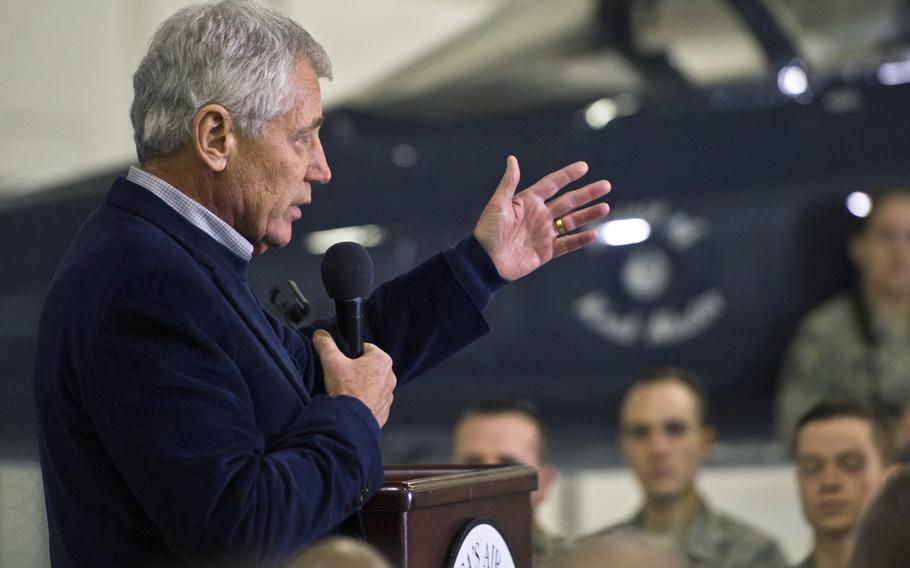 WHITEMAN AIR FORCE BASE, Mo. — Secretary of Defense Chuck Hagel made a final pitch for developing a new Air Force bomber, while questions linger about its affordability.
The Air Force long-range bomber fleet currently consists of 76 B-52 Stratofortesses, 63 B-1 Lancers and 20 B-2 Spirits, all of which were developed decades ago. Anti-aircraft systems have improved and proliferated since then, and officials and experts expect that trend to continue.
"As potential adversaries acquire 21st century defense systems ... the ability of these Cold War-era bombers to get close enough to their targets to be effective will continue to deteriorate," defense analyst Jeremiah Gertlet warned in a Congressional Research Service report last year.
To deal with emerging threats, Pentagon officials want Congress to fund a new long-range stealth plane, with the aim of achieving initial operating capability by 2025.
During what will likely be his last trip as secretary of defense before he is replaced by Ashton Carter, Hagel flew to Whiteman Air Force Base on Tuesday to make his most forceful argument yet for the new bomber. Whiteman, home to the 509th Bomb Wing, is where all of the nation's B-2s are based.
"The B-2 is a tremendous, tremendous platform," Hagel told airmen during a troop talk. "But the modernization [that other countries are undertaking] continues to push us out where we need more capability [and] we need it [developed] faster."
He told reporters traveling with him that the new bomber is "absolutely essential to keep our deterrent edge," and he warned of dire consequences of waiting to develop it.
"When your sons and daughters come into this business, we will have failed them terribly, dangerously so, if we don't make the investment now and start building out," he told airmen during the troop talk.
Loren Thompson, a defense analyst with the Arlington, Va.-based Lexington Institute, also believes a new bomber is needed to counter emerging threats.
"The greatest immediate concern of the Air Force is the growing sophistication of Chinese air defenses," he said. Other countries are also improve their defense systems.
The B-2 is now the only bomber in the current arsenal that is truly stealthy, according to Thompson, and that capability won't last indefinitely.
But plans to build 80 to 100 stealthy, nuclear-capable "Long Range Strike Bombers" will be costly, with an estimated price tag of $80 billion. The Air Force proposal comes at a time when the Defense Department is about to get hit with massive budget cuts known as sequestration, which will eliminate tens of billions of dollars dr the DOD budget each year through 2021 unless the law is changed.
The fleet will also have to compete with other nuclear modernization initiatives for defense dollars. In a July report to lawmakers, defense experts on the congressional chartered National Defense Panel described the Pentagon's long term nuclear modernization plans as "unaffordable."
The authors of an Arms Control Association report published in October reached a similar conclusion.
"Current plans to modernize the [nuclear] triad are simply not sustainable in an era of budget constraints," they wrote.
They estimated that the Pentagon could save $32 billion by postponing the development of the new long range bomber for a decade.
Hagel told reporters traveling with him that he is prioritizing the new aircraft in the upcoming budget submission, to be unveiled next month, and he believes Congress will support the program
However, the money might not be there over the long term, according to Thompson: "Whether it continues to be adequately funded will depend on whether the Budget Control Act lapses in 2021 and whether there's a sufficient sense of worry about overseas threats ... to keep Congress focused."
harper.jon@stripes.com Twitter: @JHarperStripes
---
---
---
---