Hagel calls Chinese actions toward USS Cowpens 'irresponsible'
by
Jon Harper harper.jon@stripes.com
December 19, 2013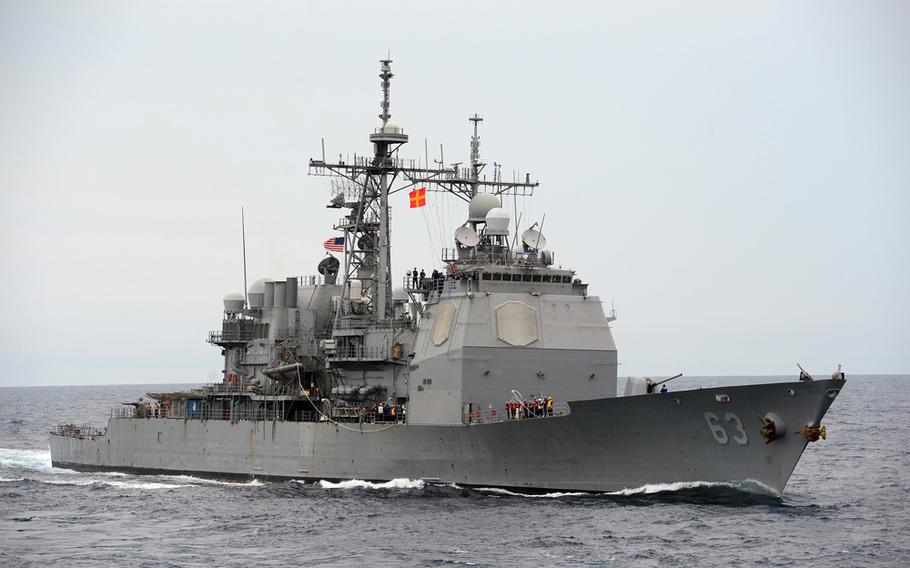 WASHINGTON – During a press conference on Thursday, Secretary of Defense Chuck Hagel reprimanded China for its aggressive actions toward the USS Cowpens during an incident in the South China Sea in early December.
According to U.S. military officials, a Chinese navy vessel harassed the Cowpens in international waters on Dec. 5 and tried to compel the vessel to stop. U.S. Pacific Fleet said the Cowpens was forced to do a maneuver to avoid a collision.
"That action by the Chinese, cutting in front of their ship, 100 yards out in front of the Cowpens, was not a responsible action," Hagel said. "It was unhelpful. It was irresponsible."
Hagel said the incident underscored the need for better crisis management between the U.S. and China.
"We need to work toward putting in place some kind of a mechanism in Asia-Pacific and with China…to be able to diffuse some of these issues as they occur," Hagel told reporters at the Pentagon. "What we don't want is some miscalculation here to occur. And when you have a Cowpens issue, that's the kind of thing…that could be a trigger or a spark that could set off some eventual miscalculation."
Gen. Martin Dempsey, chairman of the Joint Chiefs of Staff, said the near-collision highlights the importance of bilateral efforts to reach an agreement about rules of behavior in the global commons. Dempsey and his Chinese counterpart set up a U.S.-China working group to deal with the issue when Dempsey visited China last year.
"This reinforces in my mind that we need to continue to have that work ongoing, because as the secretary said, we certainly don't want miscalculation or accident," Dempsey said.
The working group has made some progress, according to Dempsey.
China's new aircraft carrier, the Liaoning, was in the area when the encounter between the Chinese amphibious transport ship and the Cowpens occurred, according to U.S. defense officials.
When asked if the Cowpens was conducting a surveillance mission against the Liaoning that day, a defense official told Stars and Stripes that the U.S. military would not comment on specific operations.
During the press conference, Dempsey was dismissive of China's carrier capabilities.
"Carrier ops are about as complicated an operation as any we conduct…They are a long way from being a threat to us with their aircraft carrier," Dempsey said.
Dempsey said U.S. military rules of engagement have not changed in the wake of the Cowpens incident, but suggested that American forces in the region are now being more cautious than usual.
"There are times that are more sensitive than others. And we're in a heightened period of sensitivity, and you can count on our mariners and airmen to be aware of that," Dempsey said.
harper.jon@stripes.com Twitter: @JHarperStripes
---
---
---
---