Greitens scandal casts shadow on Mission Continues veterans charity
---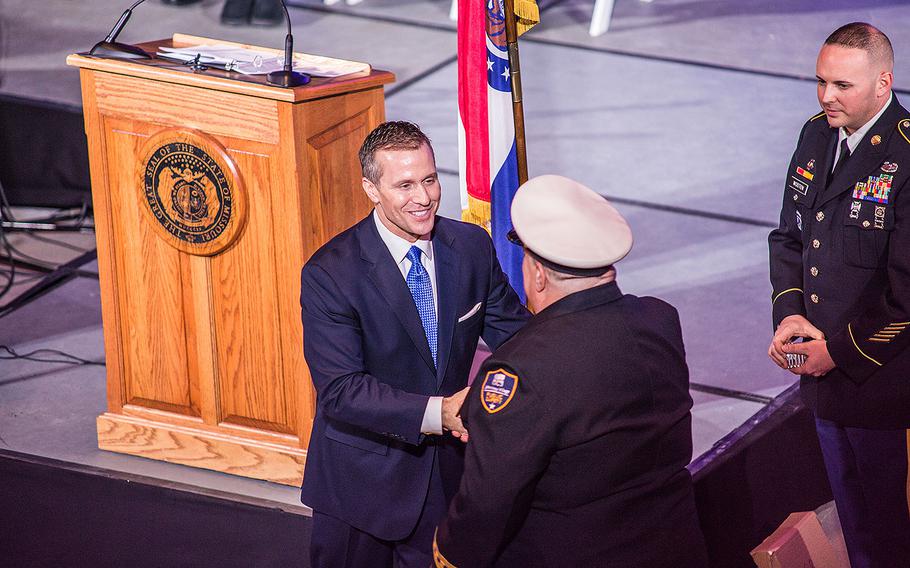 WASHINGTON — Political boy wonder Eric Greitens did his military background proud when he won his bid for Missouri governor in 2016.
But the humanitarian turned Navy SEAL, who built his powerful combination of heart and might into an enterprise, is now beset by scandals and calls for his resignation over allegations that he bound, slapped and threatened a woman with whom he was having an affair. He's been indicted on one felony count of invasion of privacy for allegedly taking a compromising photograph of her against her will to use as blackmail, and is losing support even in his own Republican party.
While that tawdry investigation plays out in the headlines, a second probe is casting shadow over another aspect of Greitens' military success – the veterans charity he founded.
Three separate investigations are now looking at reports that a donor list belonging to The Mission Continues was obtained and used by the Greitens for Governor campaign — which would violate laws governing nonprofits and could cost the charity its tax-exempt status.
The Missouri Ethics committee fined the campaign after Greitens acknowledged his campaign had such a list. Missouri Attorney General Josh Hawley – a Republican running for a U.S. Senate seat — announced last month that his office issued at least 15 subpoenas to current and former staffers of the charity, Greitens separate business entity called the Greitens Group, and his campaign.
Meanwhile, the circuit attorney's office in St. Louis, where the Mission Continues is based, confirmed it is looking into the allegations. And a committee of the Missouri House of Representatives, which issued its investigative report into the Greitens affair this week, said in released transcripts that it is working on a second report relating to the allegations surrounding The Mission Continues. No date has been given for that release.
The charity has steadfastly denied sharing its donor list and says it is cooperating with the investigations. It is also maintaining a public presence, acknowledging the misuse of its donor data.
"The Mission Continues did not provide nor authorize use of donors' information to the Greitens campaign or any persons or groups for political or campaign purposes," President Spencer Kympton wrote to donors March 6. "The list in question was created and saved for legitimate purposes prior to Greitens' departure from The Mission Continues. Recent reports indicate this was later transmitted without our knowledge or permission to individuals who would become central to the Greitens for Governor campaign."
The charity now faces the worst-nightmare Catch-22 for nonprofits: Trying to remain out front and transparent while not adding to media hype that could harm donations.
"It sounds like they are doing what they should in being communicative with their donor base and being transparent," said Rick Cohen, the chief communications officer for the National Council of Nonprofits, the nation's largest network of charitable nonprofits.
That said, how it's hitting donors is "difficult to say when you are looking at everything in balance, with people seeing and hearing everything in the news in a bad light vs. them continuing to share what's going on, what's steps they are taking," he said. "My hope is the veterans the organization works with won't be negatively affected while this goes on."
So far, Kympton told Stars and Stripes, it seems to be working. But he acknowledged that the probe is taking the organization's leaders away from their work.
"It's been a big distraction for us at the leadership level," Kympton said.
The Mission ContinuesGreitens founded his charity in 2007 with a vision of giving veterans back some of the biggest things that servicemembers lose when they leave the military: a sense of service and community.
The charity deploys veterans individually and in teams or platoons to do community service work – often in their own communities or neighborhoods. They serve in local organizations, or join one of the 78 platoons around the country building parks or classrooms or working with kids at risk. They can get involved in "mass deployments," where vets are flown in from around the country to participate in a large-scale weeklong project like helping revitalize a downtrodden area, or partake in one of the organization's fellowship programs.
The charity has drawn high-profile names to its board, including former undersecretary of defense for policy Michele Fluornoy and former presidential adviser David Gergen, according to its 2016 990 tax form.
The charity was a natural next step for Greitens, who had spent his early years doing humanitarian work around the globe. But he grew disillusioned with his inability to help people before they become victim to violence, and, after studying humanitarian history as a Rhodes Scholar, Greitens shifted gears to become a Navy SEAL, believing he could right wrongs in the world as a warrior.
As the charity grew into the $11 million entity it is today, Greitens wrote books about the need to use heart and might to do good, building a name for himself. He was named by Fortune Magazine as one of the World's 50 Greatest Leaders in 2014 and resigned as CEO of The Mission Continues the same year.
Kympton, who was president, remained on as the organization's leader. Less than two years later, Greitens was running for governor.
In October 2016, The Associated Press filed the first report linking Greitens campaign donors to a list generated by The Mission Continues for its charity work. The news organization obtained a spreadsheet showing top donors at the charity, with markings that indicated the document was created May 6, 2014, shortly before Greitens left the charity, and was last saved on May 24, 2015, by Michael Hafner, who later briefly became a Greitens campaign staffer.
Hafner has testified before the House committee, according to the transcripts released this week.
The St. Louis Post-Dispatch reported recently that a staffer at the Greitens Group, who had previously worked at The Mission Continues, emailed the list to Hafner and another Greitens campaign staffer in early 2015.
In November, the same month that Greitens won the election, the Mission Continues was notified by the Missouri Ethics Commission that the campaign had used its donor list, Kympton wrote in his email to donors.
Six months later, Greitens, his campaign and his company acknowledged that it had failed to report receipt of the donor list, valued as a campaign contribution, and paid a fine of $1,000.
A distractionKympton said the organization took the breach seriously.
"We fully refrain from any political activities," he said. "That was true prior to Eric running for office and certainly remains true now."
The charity has "very specific and identifiable policies" for what it deems confidential, he said, and "any use of that information outside the organization would have been unauthorized."
The Mission Continues did its own investigation to determine how the list was shared, he said.
"Of course when we learned there is a list out there that bore attributes of a list we generated, we wanted to understand how that could have happened," he said. "When we did, we remained confident that that The Mission Continues would not have provided that. I expect the findings of these organizations will reflect that."
Kympton said that while he and other leaders in the organization are quite busy supplying information to the investigations, that has not slowed the pace of its work.
The Mission Continues has had 455 events, with over 6,000 attendees, this calendar year – up more than 60 percent from the same period last year.
"And that's with this emerging in January," he said. "That's emblematic (of the fact) that we are not taking our foot off the gas in the work of this organization."
He also said that the model of the organization has so far protected it from suffering much donor loss. Unlike other charities, where the donors give money but are not connected to the work, The Mission Continues is community-service based and many of its biggest donors have employees in those communities who often participate in its events.
"They recognize the great impact our model is having on veterans and the communities in which the live," he said.
In March, when Hawley, the attorney general, announced his investigation into The Mission Continues, he said it was "pursuant to Missouri law that governs charities, including their activities, registration, the use of charitable resources and the responsibilities of charity directors.
"This is a very active investigation, and it is progressing by the day."
cahn.dianna@stripes.com Twitter: @DiannaCahn
---
---
---
---