Graham: US drawdown in Afghanistan possible, but some troops must stay to fight terrorists
by
Corey Dickstein
December 18, 2019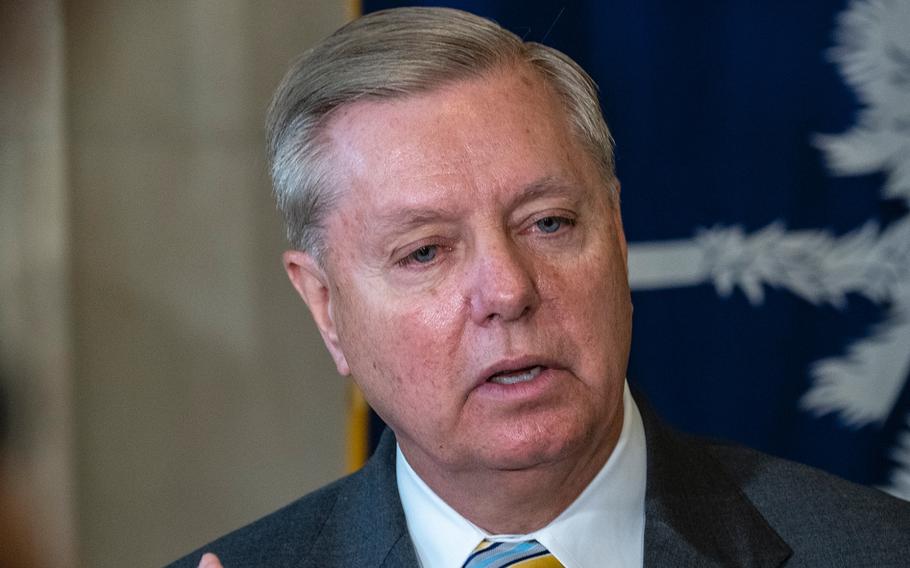 WASHINGTON — The United States could conduct its missions in Afghanistan of fighting terrorist groups and supporting the Afghan military with about 8,600 troops, Sen. Lindsey Graham said Wednesday.
But he also told reporters on Capitol Hill that an official announcement of a U.S. military drawdown there might not be imminent.
Graham, R-S.C., said Army Gen. Scott Miller, the top commander of U.S. and NATO forces in Afghanistan, had convinced him during his visit to Kabul this week that the 12,000 to 13,000 troops serving there now were more than are needed in the country. But the senator, a key ally and confidant to President Donald Trump, said he had not discussed the issue in depth with the president, seeming to clarify reporting this week that an announcement of a drawdown would come before the end of the year.
"We have some people there probably in redundant roles, and the capability of an 8,600 force is sufficient to maintain our counterterrorism mission and provide basic support to the Afghan military," he said.
Graham has long been adamant that the United States maintain forces in Afghanistan and in the Middle East. He backed plans, eventually adopted by Trump, to increase the U.S. force in Afghanistan from about 8,400 troops when former President Barack Obama left office to more than 14,000 in 2017.
Trump has long called for an end to American operations in Afghanistan, and in a surprise Thanksgiving Day visit to Bagram Air Base said he planned for a significant force reduction. Yet, the Pentagon has not received orders to draw down. Pentagon officials referred questions Wednesday to the White House, which did not reply to a request for comment.
Graham said he has highlighted the potential value of Afghanistan's rare minerals, in an attempt to convince the president to maintain an American interest in that country. He compared the effort to another recent strategy to convince Trump to leave troops in a country that he desired to leave – using U.S. troops to secure oil fields in eastern Syria.
"The minerals in Afghanistan could be well over $1 trillion. Lithium and other really valuable minerals," Graham said. "One thing President Trump really wants to do is look at those resources differently."
The senator, a retired Air Force lawyer and former member of the Senate Armed Services Committee, warned the United States must maintain a presence in Afghanistan or risk "a second 9/11." He said he was told during his recent visit to Afghanistan and neighboring Pakistan that the so-called Islamic State group's affiliate in that country sought to attack the U.S. homeland.
"There was actual intelligence coming out of ISIS-[Khorasan] regarding plots against our homeland," Graham said. "Elements in Afghanistan are reaching back to America trying to radicalize people here and attack us here at home."
The senator declined to provide additional details about the plots. The revelations came as U.S., Afghan and Taliban forces have all hammered ISIS-K in its stronghold in eastern Afghanistan's Nangarhar province in recent months. Graham said some 400 ISIS fighters had been taken captive after locals stopped supporting the terrorist fighters and essentially "starved them out."
Those fighters, held now by the Afghans, are almost exclusively foreign fighters, many of them from Pakistan, Graham said.
While the ISIS group has been hit hard, it retains hundreds of fighters and continues to constitute a serious threat, Graham said. American support – especially air power – remains critical to fighting ISIS and other terrorist groups, including al-Qaida, which has maintained a presence in Afghanistan.
Graham's visit came as the United States revamped – and quickly paused – peace talks with the Taliban in Doha. The negotiations stalled following a Taliban attack Dec. 11 outside Bagram Air Base that killed two Afghans and wounded dozens. The state of future negotiations was not clear Wednesday. In September, Trump abruptly called off peace talks with the group following a Taliban attack that killed an American soldier.
The Taliban has sought the full removal of American forces from Afghanistan in exchange for ensuring terrorist groups cannot thrive in the country. But Graham said a full withdrawal was not an option and opined the Taliban was not serious about negotiations.
"If they were serious, they wouldn't have attacked Bagram. I don't think they are there yet," he said.
Nonetheless, Graham said he supports the negotiations because the potential for a breakthrough does exist – especially if the Taliban, the Afghan government and the Pakistani government could work together to broker a region-wide deal to end the violence.
"We've put a hurting on them," Graham said of the Taliban. "I am OK with talking. It's always good to talk, but you don't want to reward bad behavior."
He added later: "I know what happens … if we don't get this right. We're closer today to getting it right than we've been in a long time, and it's still hard."
dickstein.corey@stripes.com Twitter: @CDicksteinDC