Google project shows scale of global small arms 'ecosystem'
---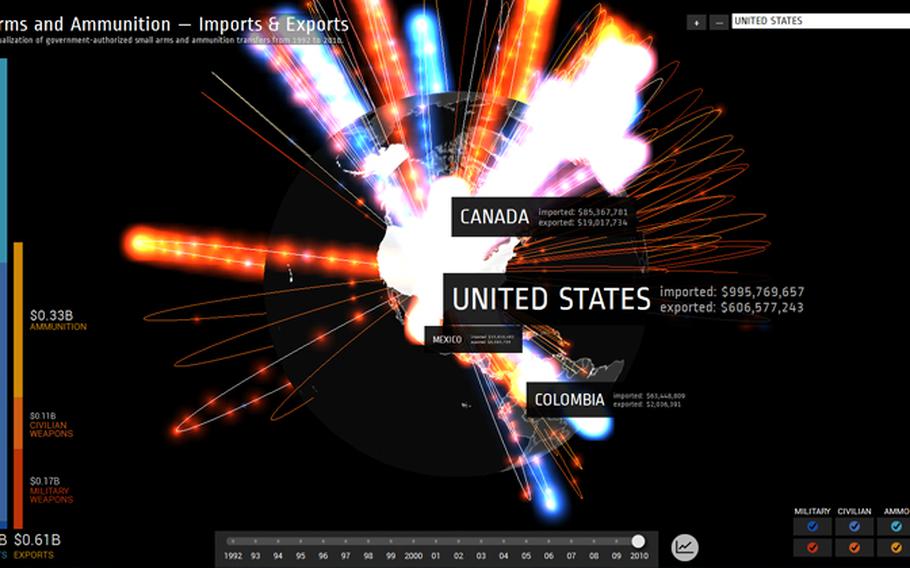 A new interactive media project combines almost 20 years of small arms research around the globe and the latest in Google technology to show the business side of where the deadly weapons begin and end.
According to the joint project, 60 percent of violent deaths in the world are due to small arms and light weapons—weapons that include handguns, assault rifles, light machine guns, RPGs and the ammunition they shoot.
In a presentation to launch the joint venture with Google, Robert Muggah of the security think tank Igarape Institute, said it was neither weapons of mass destruction nor fighter jets, but the small arms "which are contributing to the vast majority of 20th and 21st century deaths around the world."
The info graphic uses technology from Google's Creative Lab and import-export data from the Peace Research Institute in Oslo to create a sleek interface of the global small arms trade from 1992 to 2010.
The data—or money for small arms entering and leaving a country—is represented by red and blue grid lines. The annual import and export data can be analyzed by civilian or military amounts, or accumulative.
For example, in 2010 the U.S. military imported almost $16 million in small arms and exported about $170 million, according to the project. On the graphic, the larger export figure transforms into pulsating red lines that grow in size and illumination depending on the amount. Some of the bigger small arms recipients from the U.S. military in 2010 include Mexico ($16M), Afghanistan ($23M) and Colombia ($57M).
Across all sectors in 2010, the U.S. imported about $996 million in small arms and exported $606 million.
Users can pick and choose up to 250 different countries and territories to analyze the data, which Muggah called the global small arms "ecosystem."
Of the 875 million small arms and light weapons in circulation, almost 25 percent are in the U.S., with civilians in Afghanistan and Yemen joining Americans as the most heavily armed on the planet.
---
---
---
---