Gen. Milley: Military services working to remove all identifying information from promotions processes
---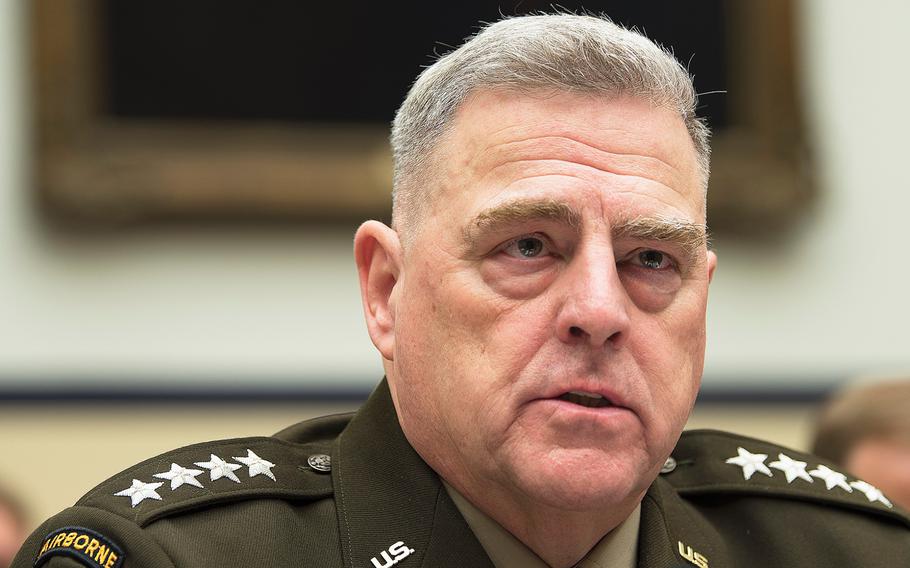 WASHINGTON — Top leaders for each of the Defense Department's military services are working to remove all personal identifying information from promotions packets, the top U.S. military officer said Thursday.
The top uniformed officers and the civilian secretaries of the Army, the Navy and the Air Force have agreed to remove not just official photographs but also other personal identifiers from promotions packets, such as name, gender and racial information, said Army Gen. Mark Milley, the chairman of the Joint Chiefs of Staff. The changes come as the Pentagon has faced criticism that its highest ranks lack diversity, and the military works to promote inclusion.
"We are the world's biggest meritocracy. We take great pride in that," Milley said during a virtual town hall session at the Pentagon alongside Defense Secretary Mark Esper and the military's top enlisted service member, Senior Enlisted Advisor to the Chairman Ramon Colon-Lopez. "Certainly, we have areas to improve in, but on balance, we recognize that knowledge, skills, attributes and the content of your character are what should advance you in the system, not any particular personal identity or characteristics."
Removing personal information from promotions boards packets should remove any biases members of those boards might have, whether conscious or unconscious, Milley said.
The decisions are part of a wide-ranging look at diversity in the military, which Esper ordered in June as civil unrest against systemic racism and police brutality spread across the nation. The following month, the defense secretary ordered the military to take steps to remove photos from promotions processes, but some service members worried simply removing pictures would not go far enough.
Milley described the changes as a "sterilization" process, meant to ensure complete neutrality in deciding what troops advance in rank. It was one of several recommendations levied by a board of military officials examining racial and other diversity issues in the services. That panel, the Defense Board for Diversity and Inclusion led by Air Force Secretary Barbara Barrett, has made at least 16 recommendations on changes that can be implemented quickly across the Defense Department, Esper said Thursday. He did not detail those recommendations.
"They are being fine-tuned and I'm confident that they are making good progress on that front," Esper said during the town hall. He added he is "frequently updated" on the panel's progress.
A second, outside panel of experts charged with finding long-term solutions to diversity issues in the military should begin meeting in December, Esper said.
Colon-Lopez, who serves on the internal diversity board, said the group was reviewing studies dating to the 1940s on racism and other diversity issues in the military. The board, he said, could propose other changes to ensure all troops get a fair shot at promotion no matter their background or race.
"At the end of the day, we need to first define what those problems are, whether it's racism, discrimination, bias, or other forms that actually segregate a specific group of people based on their own likeness to other groups," Colon-Lopez said. "By December, we're going to have some changes implemented, [and] see if we need to rewrite policy to see if we need to better identify what is being done by the department."
Milley said he believed a promotions system based entirely on merit would ensure diverse groups of service members are promoted.
"It's not just diversity for diversity's sake," he said. "It's diversity to improve the system, to improve the military, improve our problem-solving capabilities and improve our [combat] readiness in order to protect and defend the Constitution."
dickstein.corey@stripes.com Twitter: @CDicksteinDC
---
---
---
---