Gallery
From the archives: Cold War chronicles
---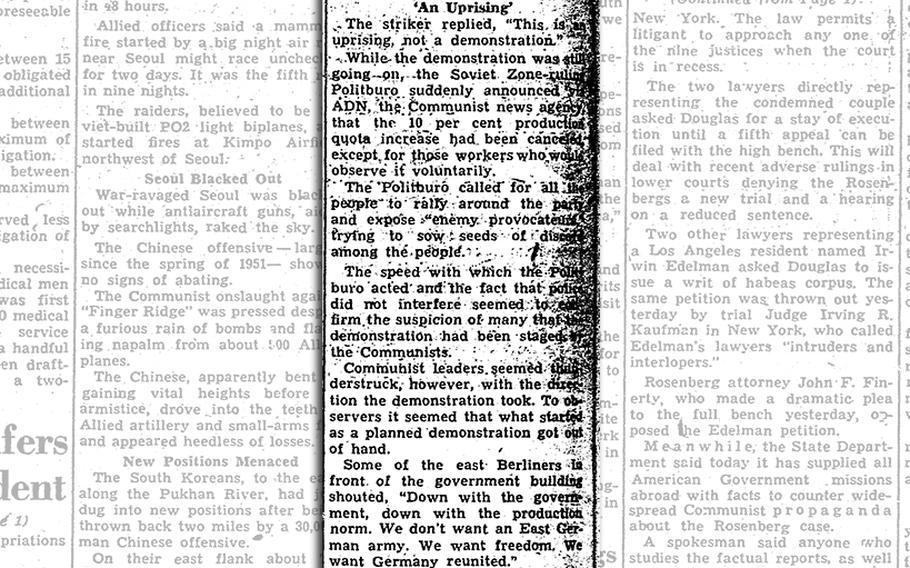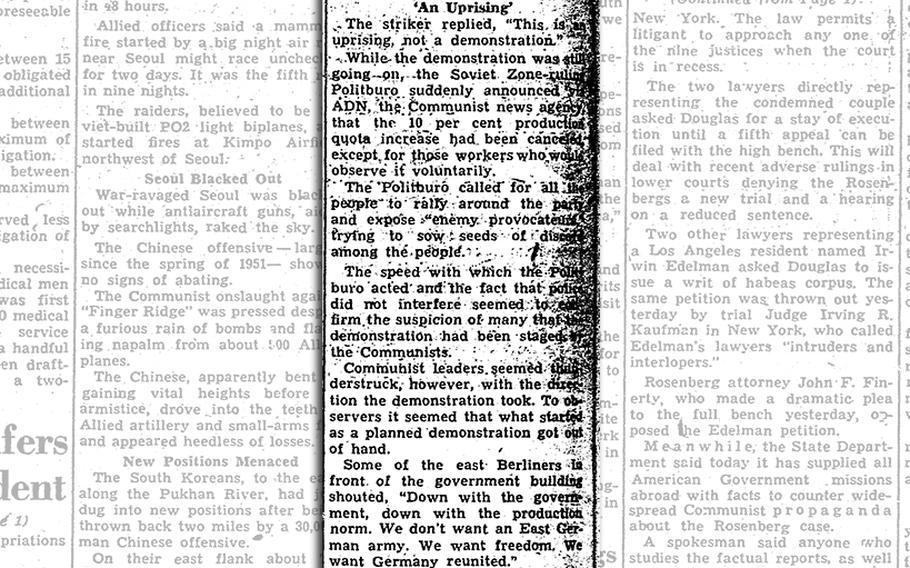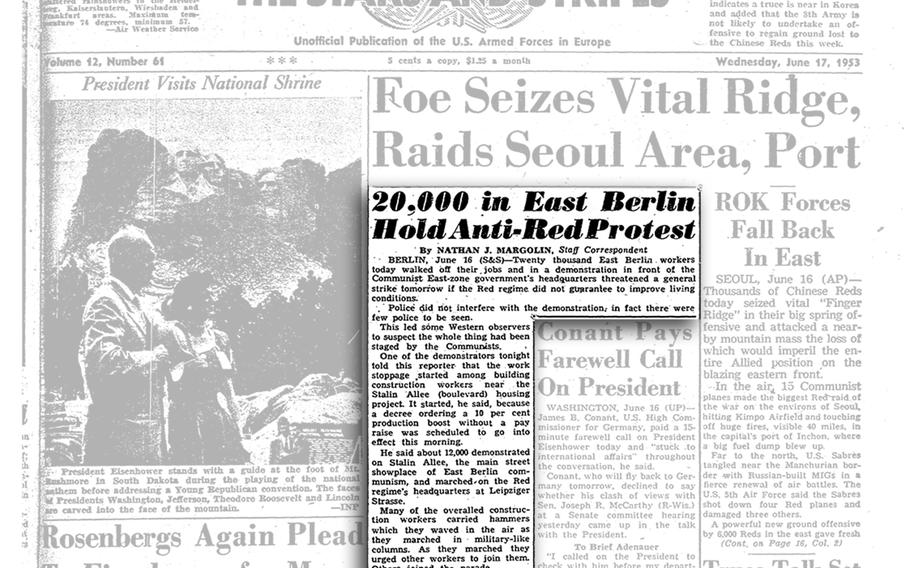 Stars and Stripes reporters and photographers – stationed all over the European and Pacific theaters – were in prime Cold War territory, at the ready to report every rise in temperature. In the early years of the East and West divide, before the Berlin Wall and barbed wire made border crossing impossible, reporters were able to witness the suppression of fundamental human rights in person. In later years, they would wait at the border as eye witnesses fled across to freedom and safety.
East Berlin rising
June marks the 30th anniversary of the Berlin Uprising, when a strike of East Berlin's construction workers turned into a nationwide uprising against the communist government of East Germany. Stars and Stripes reporter Nathan Margolin witnessed the first demonstration and covered it on the front page the next day.
Bullets over Berlin
When the demonstrators refused to back down despite the declaration of Martial Law, Soviet tanks rolled into the streets of East Berlin to assist the East German Volkspolizei and squash the uprising. As bullets started to fly, Margolin was in the thick of it: "This reporter was walking down Friedrich Str. toward the Communist administration headquarters when bursts of machinegun fire scattered the thousands in the demonstration."
Prague Spring turns into Soviet Summer
When the Soviets once again sent in the tanks in 1968 to put an end to the Prague Spring, Stars and Stripes reporter Nick Stavriotis positioned himself at the German-Czechoslovak border, asking those Western tourists who managed to get out what was happening.
"They are fighting with paint brushes and flags"
As he stood by the border crossing, he came across the James Nemic family. James Nemic, an American of Czech descent who was staying with friends in downtown Prague when the tanks rolled in, had made a tape recording of the invasion. Stavriotis and the Nemic family listened to the 2 ½ hour tape together. "As the tape played, James Nemic, his wife and six children stared in disbelief at the little tape that was recreating the nightmare of Wednesday morning."
A team of Stars and Stripes reporters and photographers continued to interview refugees as they fled across the border into West Germany and relayed the increase in violence as students battled the Soviet tanks. Visit the Stars and Stripes digitized archive to see additional articles as well as photos.
---
---
---
---