Francis J. 'Red' Grandy: Stripes' prolific veteran photographer, dead at 96
by
NANCY MONTGOMERY
August 9, 2018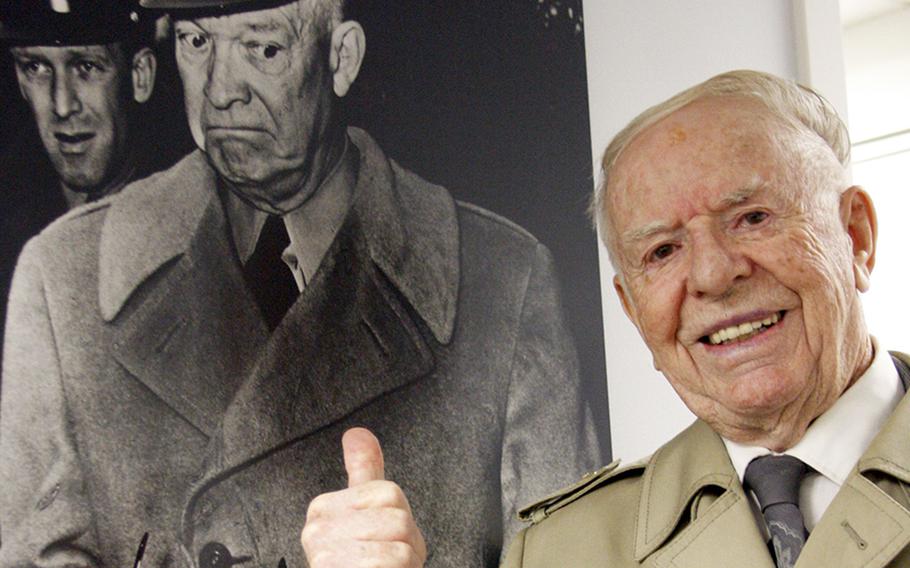 Francis J. "Red" Grandy, Stars and Stripes chief photographer for more than three decades, died Wednesday in Ogdensburg, N.Y. He was 96.
Grandy was known for some of the most iconic photos in the world, including one that caught the priceless look on Gen. Dwight D. Eisenhower's face at the precise moment he learned that Gen. Douglas D. MacArthur had been dismissed as Korean War commander by President Harry Truman. The photo was published all over the world and was named by the Associated Press as best news photo of the year for 1951.
The usually besuited Grandy was born in 1922 on a dairy farm in upstate New York. Starting in 1942, he spent four years in the Army Air Corps, then studied photography at the University of Southern California. In 1950, he sailed for Europe to work on a master's degree in cinema. In 1951, he hired on as a photographer at Stars and Stripes, and quickly made an impression.
Grandy was soon promoted to chief photographer, a post he held for the next 35 years.
"I had many successes in getting pictures, often under very difficult circumstances," he said on his website, redgrandy.com. "Many times the story behind the picture was more interesting than the story itself."
Grandy was competitive. The small Stars and Stripes staff of six shooters won major newspaper photo contests year after year under his supervision.
His enviable assignments took him to military maneuvers, natural disasters, plane crashes, sporting events and film and jazz festivals in 37 countries. It was "movie stars, cocktail bars and shiny cars," he told one interviewer at age 91.
Grandy lived in upstate Hermon, N.Y., on the Grass River, where he was proprietor of the historic Lazy River Playground.
Funeral arrangements are incomplete.