'Foul play' now suspected in case of Fort Hood soldier missing for two months
---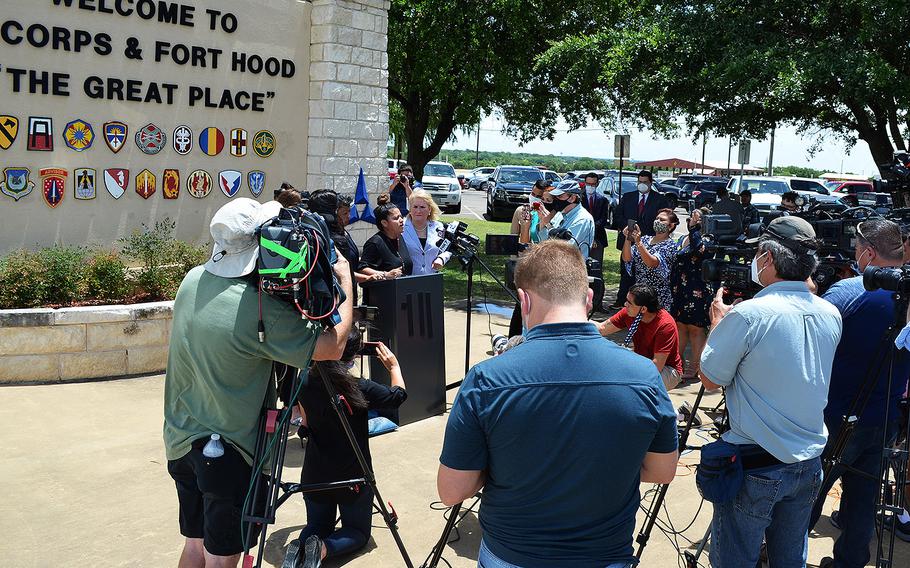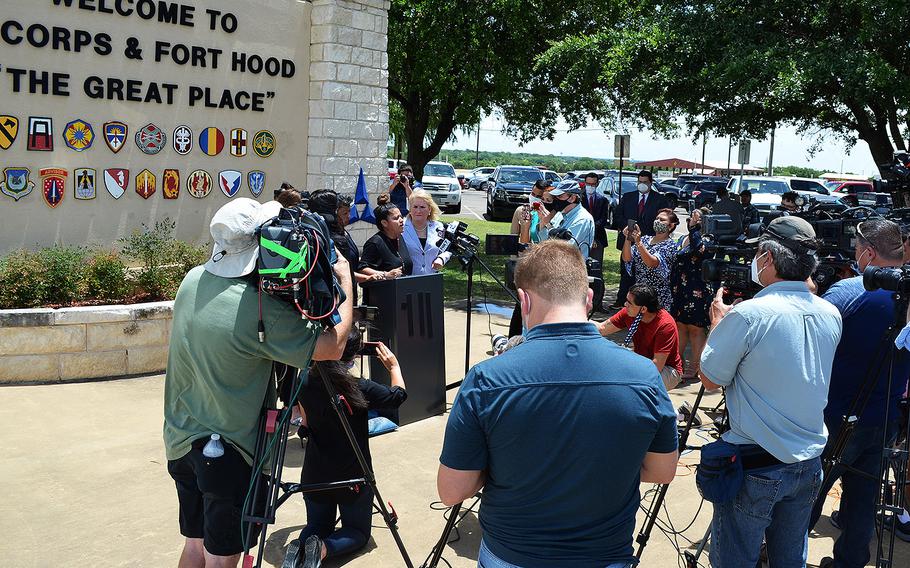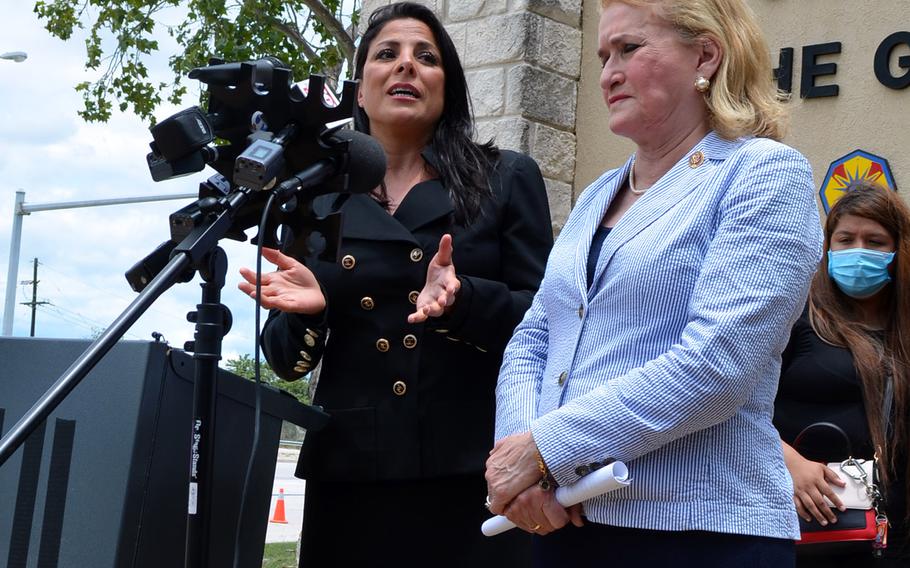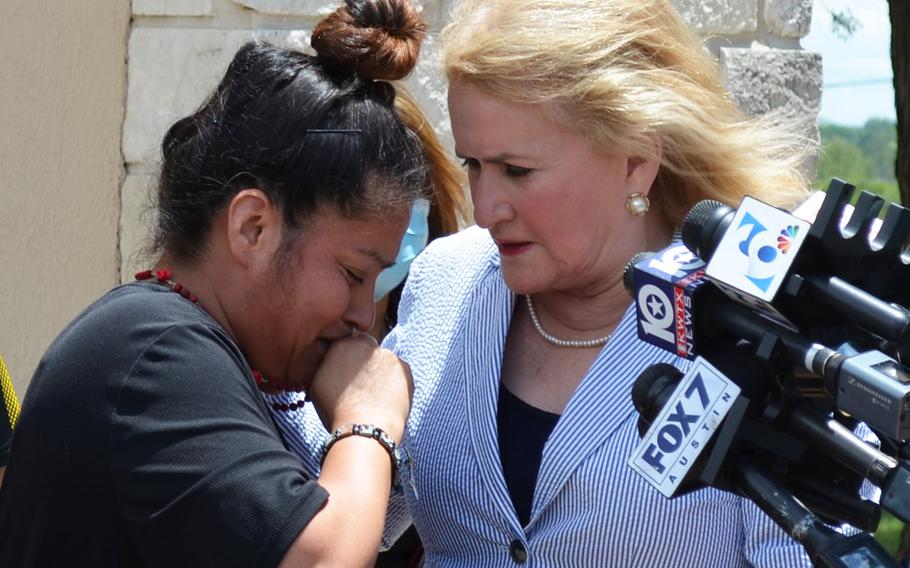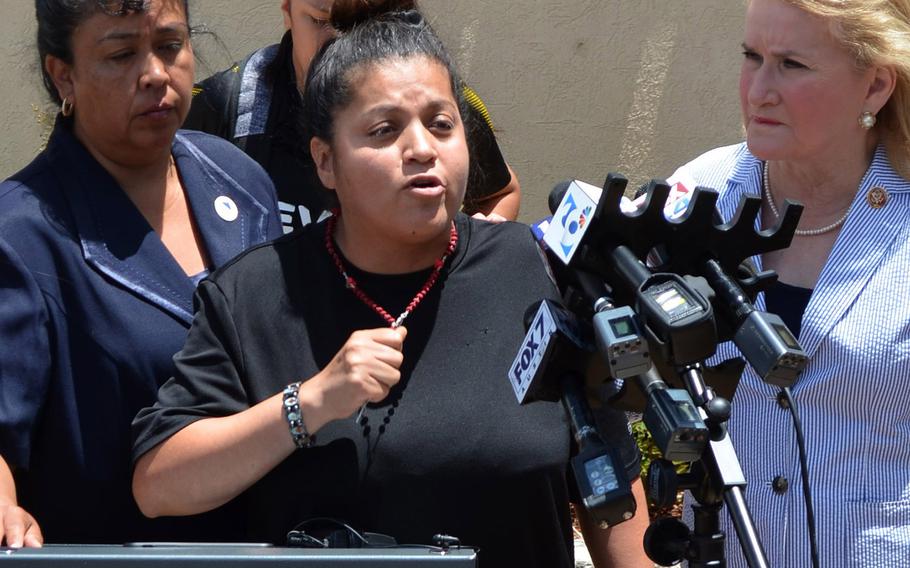 FORT HOOD, Texas – Fort Hood commanders on Tuesday told the family of Pfc. Vanessa Guillen and Rep. Sylvia Garcia that they suspect "foul play" led to the soldier's disappearance two months ago.
"They are using the words now, 'foul play,' and they are looking for potential criminal activity," Garcia, D-Texas, said during a news conference outside the main gate of the central Texas Army base. But they were not told what led investigators to this decision, she said.
"They were as forthcoming as they could be" considering there is still a criminal investigation underway, Garcia said.
Guillen, a 20-year-old Houston native, went missing between 11:30 a.m. and 12:30 p.m. April 22 in the parking lot of 3rd Cavalry Regiment's engineer squadron headquarters, where she worked in the armory room as a small arms repairer, according to the Army Criminal Investigation Command. Her car keys, barracks room key, identification card and wallet were later found there.
Garcia said she began working with the Guillens earlier this month and will continue working to "get this base the access and resources that they need."
Before speaking with reporters, Guillen's parents and two sisters, the family's attorney, and Garcia met with Maj. Gen. Scott Efflandt, deputy commander of III Corps and Fort Hood, and Col. Ralph Overland, commander of Guillen's regiment, for an update on the investigation. The two officers provided the family a loose timeline of the soldier's last known whereabouts, based on phone records, credit card records and interviews with other soldiers who saw her that day.
Due to an altered schedule because of coronavirus precautions, Guillen wasn't supposed to work April 22, but was called in, which is why she wasn't in uniform when she was last seen at the armory room, said Garcia and Natalie Khawam, the family's attorney.
At some point in the day, she also filled her car up with gas. She didn't enter any of her security codes at work and she wasn't caught on any video cameras.
Phone records from Sprint were shared that show the last activity on the soldier's cellphone was at 11:30 a.m. April 22, Garcia said. The physical location of the device is not known.
When it came to answering where Guillen was during the multiple check-ins required for soldiers living in the barracks each day, the commanders "tip-toed around that," Khawam said. The supervisor responsible for one of those checks admitted he did not see Guillen, though he had said everyone was accounted for in the barracks on April 22.
"We don't care who messed up," Khawam said. "We just want answers. We want to know what time, who, where and why."
Unfortunately, the timeline didn't include the actual times that much of those events took place, Garcia said. They weren't told who exactly called Guillen into work or who was supervising her that day.
"Who sent my sister to work that day?" Lupe Guillen, the soldier's 16-year-old sister, asked through tears. "I demand justice and I demand answers. After two months, they show footage of their searching. They are searching like she's dead. She's not dead. I know it because she's my sister. I want justice and I want answers."
The meeting included an update on Overland's command inquiry that began last week into sexual harassment allegations. The Guillen family provided him the name of a sergeant who Vanessa told her family had been harassing her on base. This person had even walked in on her while she was showering, Khawam said.
A social media campaign #IAmVanessaGuillen began this week and encourages veterans and service members to share their own stories of sexual harassment and assault in the military as a way to keep Vanessa's story alive, Lupe Guillen said.
"They're the ones protecting us and serving the nation. No one should be seen as a sexual object," she said. "Like my sister, they want to fight for us."
The Guillen family also is calling for a congressional investigation into base's search efforts, believing protocols in place to prevent such an event were not followed and delayed an early start to finding the soldier.
"There are so many gaps and holes we demand Congress investigate for the family," Khawam said. "I feel like we are not going to resolve this down here. We need the higher ups now."
Garcia has already helped coordinate meetings with the base leadership, including the one held just before Tuesday's news conference. She's also enlisted support from the two Republican lawmakers who represent Fort Hood, Reps. John Carter and Roger Williams, as well as Sen. Ted Cruz, R-Texas, a fellow Houstonian. She said she has also begun conversations about the case with the secretary of the Army and the White House.
Garcia credited the family for continued media coverage and highly visible social media activity for keeping the case at the forefront of people's minds.
"All those things have worked to bring attention to this case. We don't want just attention, we want action and we want results," she said. "We will not stop until we find Vanessa."
Thayer.rose@stripes.com Twitter: @Rose_Lori
---
---
---
---