Fort Benning-based Army Ranger is killed in parachute training in Arizona
by
Corey Dickstein
March 21, 2019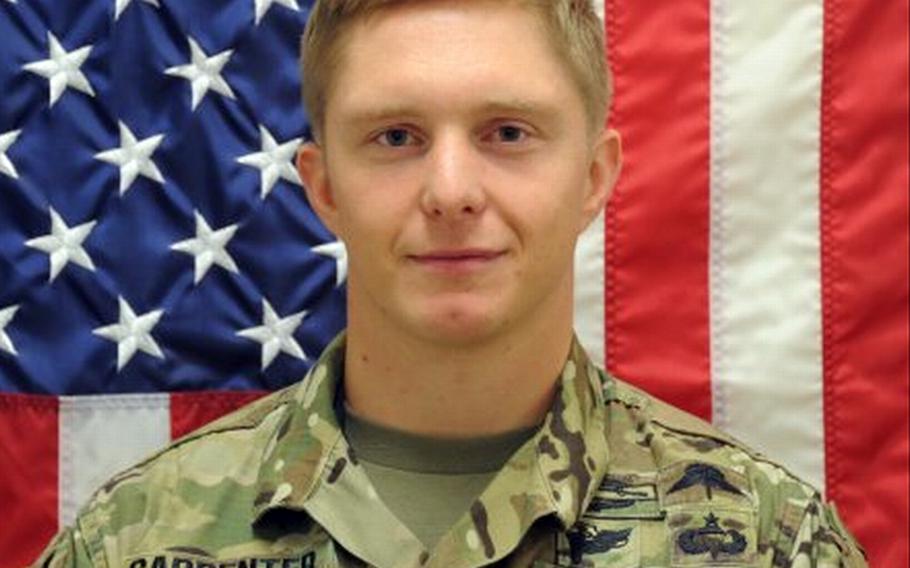 WASHINGTON – An Army Ranger from New York was killed during a free-fall parachute training jump last week in Arizona, the Army announced Thursday.
Sgt. 1st Class Ethan Carpenter was killed March 15 during the routine training exercise, according to Army Special Operations Command. Carpenter was a reconnaissance specialist assigned to the elite 75th Ranger Regiment's special troops battalion at Fort Benning in Georgia.
Carpenter, 30, of Trumansburg, N.Y., was a veteran of eight combat deployments – seven in Afghanistan and one in Iraq – since he enlisted in the Army in August 2007, according to the service. He initially served with the 1st Battalion, 75th Ranger Regiment at Hunter Army Airfield in Savannah, Ga. He served there as an assistant machine gunner, a team leader and a squad leader before moving to Fort Benning in June 2017.
The Army declined to provide details about what led to Carpenter's death during the jump or where in Arizona it occurred. Military free-fall parachute jumps are conducted from high altitudes, designed to insert troops without enemy forces detecting an aircraft. They can include jumps in which troops open their parachutes at either high or low altitudes.
Carpenter's decorations, which included the Military Freefall Parachutist Badge and the Senior Parachutists Badge, indicate he was an expert parachutist who would have completed dozens of jumps similar to the one in which he was killed.
Carpenter was also a recipient of the Purple Heart for injuries sustained in combat. His other awards included the Combat Infantryman's Badge, the Ranger Tab and two Joint Service Commendation Medals.
His battalion commander described Carpenter as an exemplary Ranger and leader.
"He did the toughest jobs well and was the consummate team member when it counted the most, both in garrison training and in deployed combat," Col. Joseph Ewers, commander of the Ranger Regiment's special troops battalion, said in a statement. "He represented our nation's best, and we'll miss him dearly."
Carpenter is survived by his wife and daughter, according to the Army.
dickstein.corey@stripes.com Twitter: @CDicksteinDC