Former Marine Commandant Neller calls for 'justice and fairness' in wake of George Floyd's death
---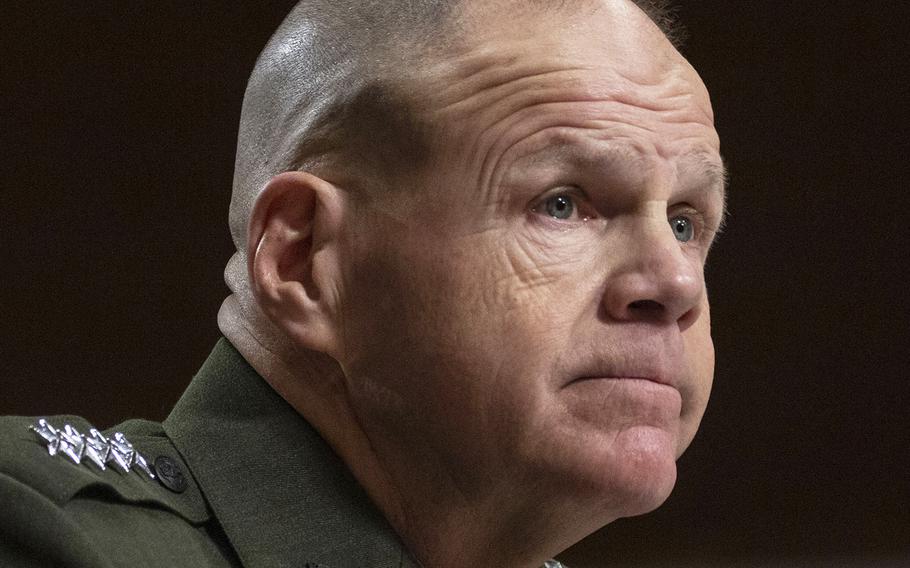 Former Marine Corps commandant Gen. Robert Neller on Thursday became the latest high-ranking retired U.S. military official to weigh in on the death of George Floyd, urging national leaders in an open letter to "speak out for justice and fairness."
"The time for being silent has passed, at least for me," Neller said in a post on LinkedIn.
Floyd's death on May 25 sparked protests throughout the world. The 46-year-old African American died in police custody after a Minneapolis police officer pressed his knee into Floyd's neck for nearly 9 minutes while he was handcuffed and lying on the pavement.
"We know what happened in Minnesota to George Floyd was not right," Neller said. "He deserved better. And his death like those of too many others needs to count for something. We are better than this."
Neller's lengthy post avoided criticism of President Donald Trump or any other top officials, unlike scathing letters this week by former Defense Secretary Jim Mattis and retired Adm. Mike Mullen, the former chairman of the Joint Chiefs of Staff.
Mattis, who resigned in December 2018 over Trump's decision to withdraw troops from Syria, excoriated his former boss for divisiveness and poor leadership.
The closest Neller got to criticizing political figures was a swipe at extreme partisanship.
"I could go on and address social media, the media, and those on the far left and the far right," he said. "For the latter two, there is sadly likely nothing I can say to make them moderate their views. But each are a small minority but a vocal one. We who are the majority of all races, ethnicities and genders must stand up for what is right and reasonable."
The 67-year-old Neller, who retired in July after four years as commandant, faced questions during his tenure about the presence of white nationalists among the Marine Corps ranks.
After service members, including Marines, participated in a march by white supremacists in Charlottesville, Va., in August 2017, Neller tweeted that the ideology at the center of the event was contrary to the service's core values.
"Bigotry and racial extremism run contrary to these core values," he tweeted.
In his post Thursday, Neller pondered the way forward from the protests and riots.
"Do we as white Americans just take comfort in our own view that 'I am not a racist and I raised my children to judge people by the color of their heart and character and not the color of their skin, their religion or their sexual preference?'" he said.
"I am sure that today this is not enough," he said.
"We will hear many words about improving policing, on maintaining law and order, about being more empathetic to our fellow citizens," he said. "Just as we have before. And I am not naïve enough to think that these words will change something that is deeply rooted in our culture which started the day the first African slave was brought to what we know as America."
Neller cajoled the nation's political and cultural leaders to continue speaking out for justice and fairness.
"At the same time work to address the conditions of any group in the Country who is disadvantaged by any reason," he said. "You cannot make everyone in the Country succeed but we must create opportunities for success not conditions for failure. Life is hard and all Americans expect to work hard … but don't make it harder than it is."
olson.wyatt@stripes.com Twitter: @WyattWOlson
---
---
---
---