Florida military bases, National Guard prepare for Dorian's landfall
---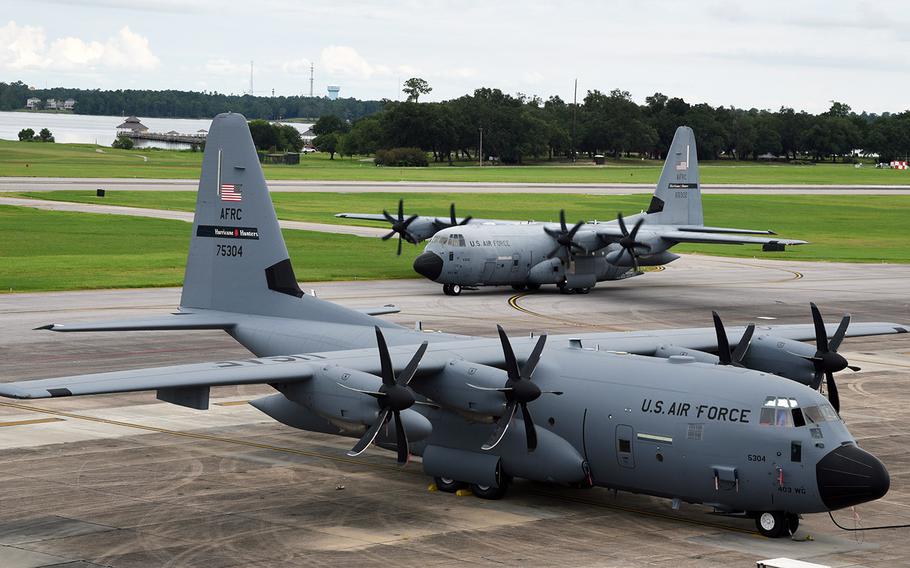 Military bases along Florida's eastern coast are stowing aircraft, securing equipment and placing sandbags in preparation for Hurricane Dorian to make landfall Monday morning.
Projection models from the National Hurricane Center show the storm, which has already passed over the U.S. Virgin Islands, traveling through warm waters and rapidly gaining strength before making landfall somewhere along the Florida coast. On track to become a Category 4 storm, Dorian could bring winds stronger than 130 mph. Storm force winds could begin Sunday evening.
On Thursday afternoon, projections show the storm hitting in central Florida, but the storm could change directions and head north or south, so the entire state of Florida and parts of southern Georgia are on alert.
Florida Gov. Ron DeSantis issued a state of emergency across the entire state, allowing him to activate the state's National Guard.
"With a track like this, it's uncertain where to deploy them, but obviously the National Guard is going to be on deck for this," he said Thursday during a news conference.
Officials at the National Guard headquarters in Washington, D.C., are monitoring the situation to determine where support will be needed, said April Cunningham, National Guard Bureau spokeswoman.
"The National Guard is prepared to support local authorities as needed should Tropical Storm Dorian make landfall on the East Coast of Florida," she said. "The National Guard is the military first-responder supporting civil authorities, helping to facilitate a unified and rapid, whole-of-government response."
In the northern portion of Florida, personnel at Naval Air Station Jacksonville began moving its P-8A Poseidon fixed wing aircraft and P-3C Orion surveillance aircraft have moved to Selfridge Air National Guard Base in Michigan, Rickenbacker Air National Guard Base in Ohio, Wright-Patterson Air Force Base in Ohio and Fort Worth Joint Reserve Base in Texas, according to a news release.
Meanwhile, base personnel are securing gear, hazardous materials and workspaces. Servicemembers worked Thursday to place sandbags around base facilities. At this time, no evacuations or closures have been ordered.
South of Miami, Homestead Air Reserve Base is also preparing for Dorian to impact operations by flying its F-16 fighter jets to "a safe location out of harm's way," according to Timothy Norton, base spokesman. No one lives at the installation, but about 2,000 personnel work at the base.
Georgia bases are also keeping a close eye on the storm.
Fort Stewart in Savannah is "educating soldiers and families on levels of preparedness and actions to take in the event of severe weather," said Kevin Larson, base spokesman.
Each base said officials will continue to share the latest information about the storm through their social media pages.
Thayer.rose@stripes.com Twitter: @Rose_Lori
---
---
---
---