Flags In at Arlington sets stage for Memorial Day
---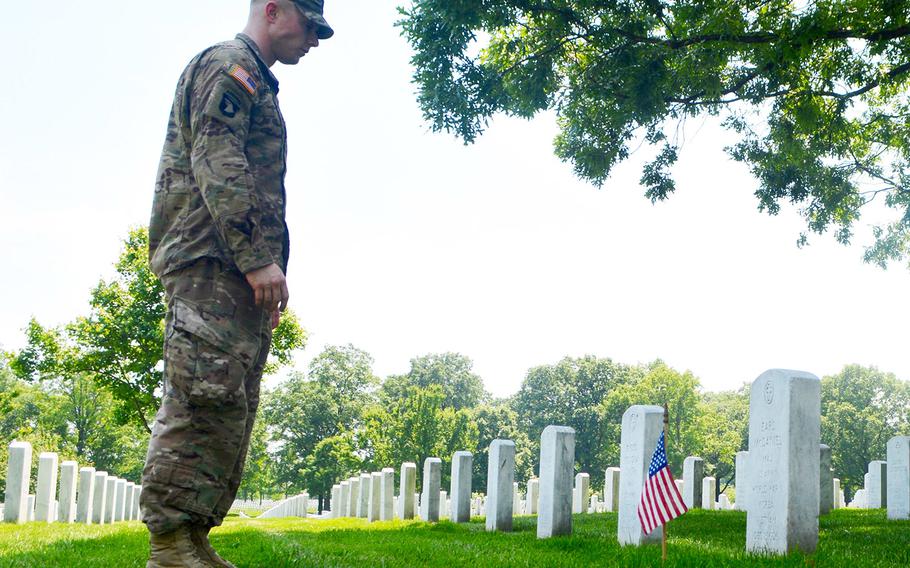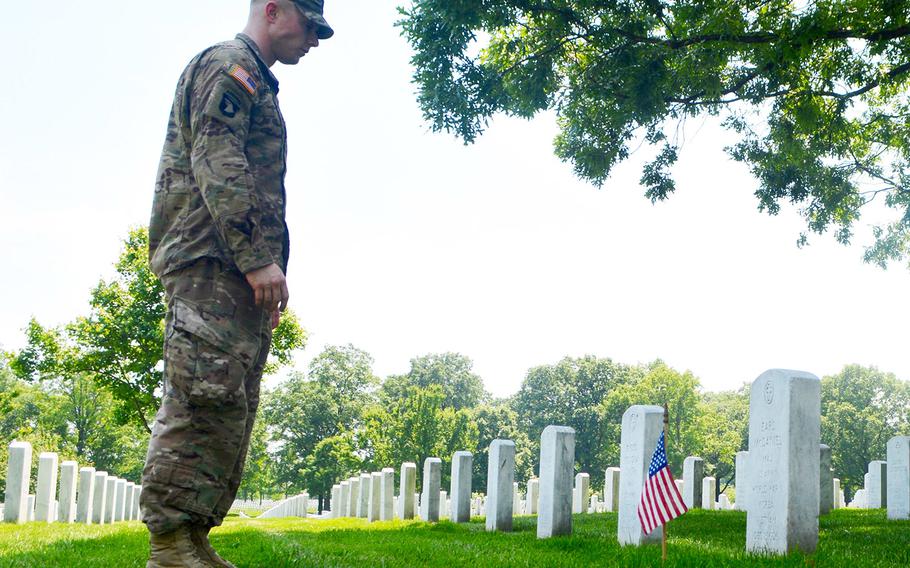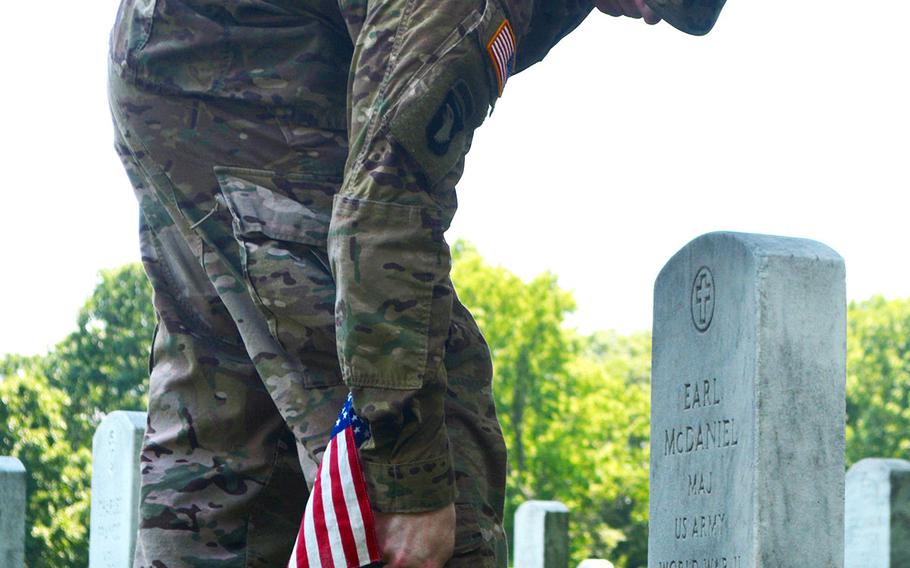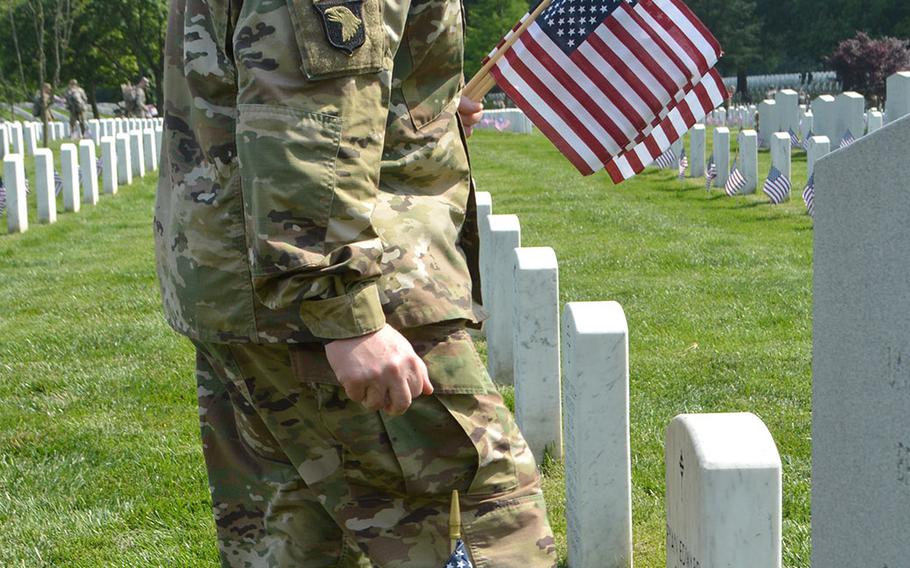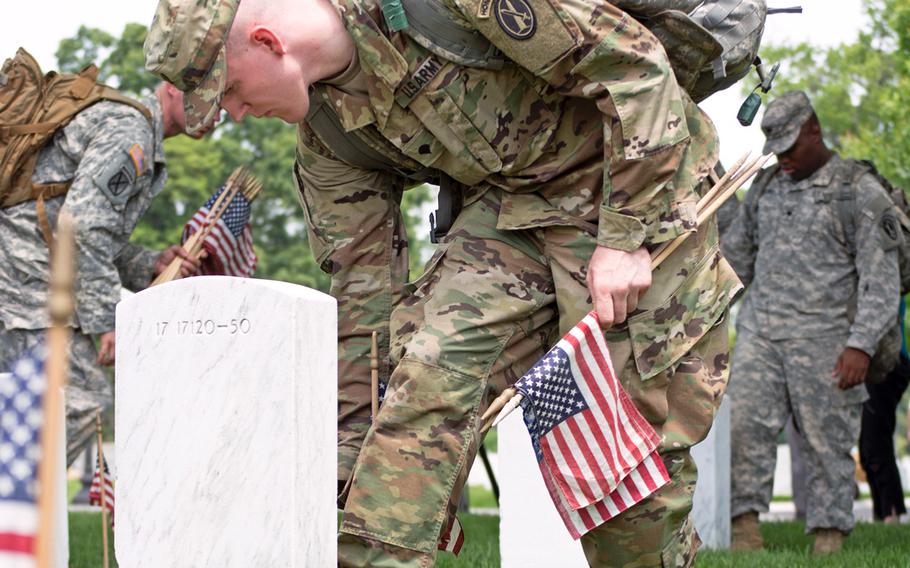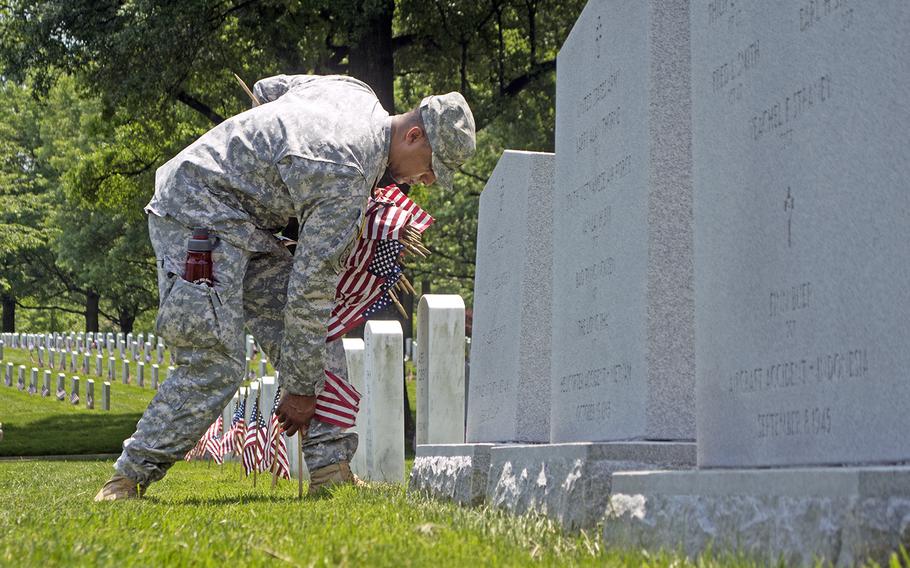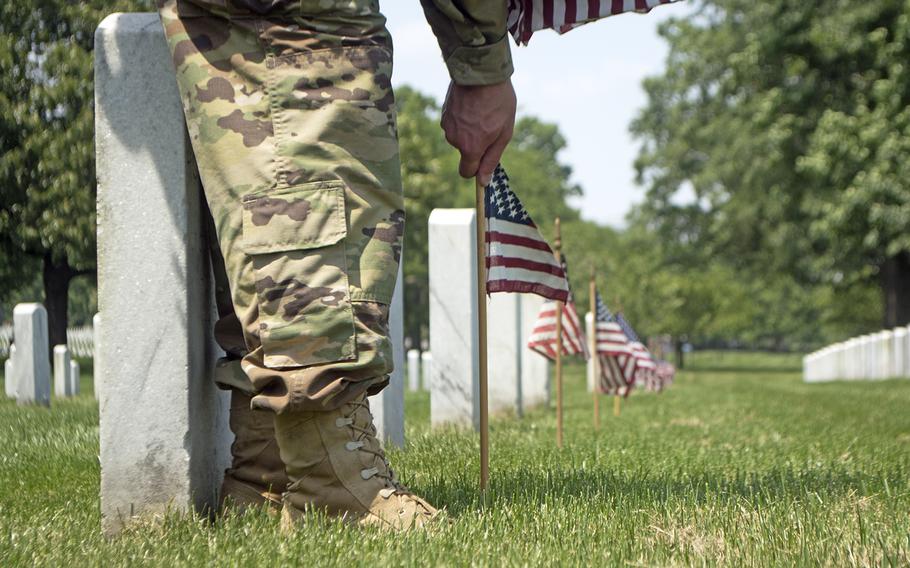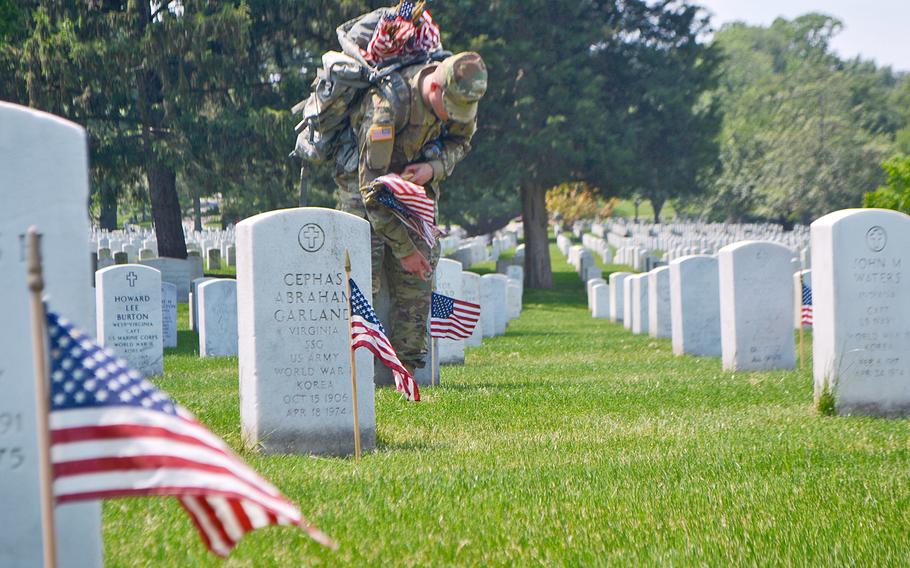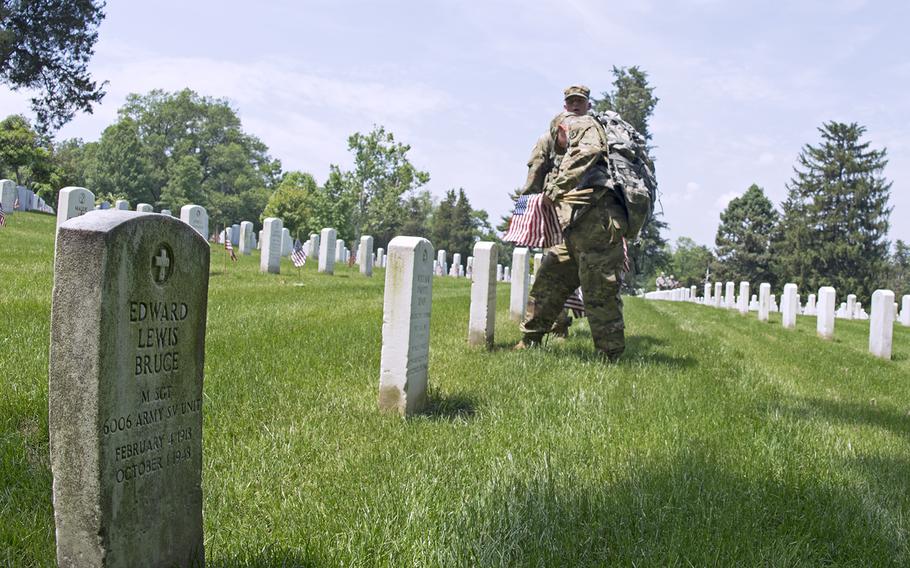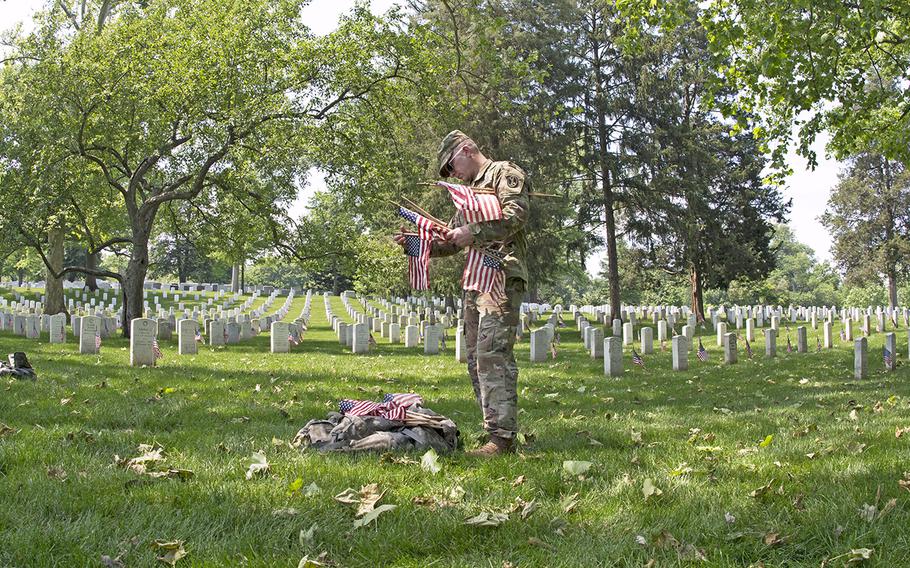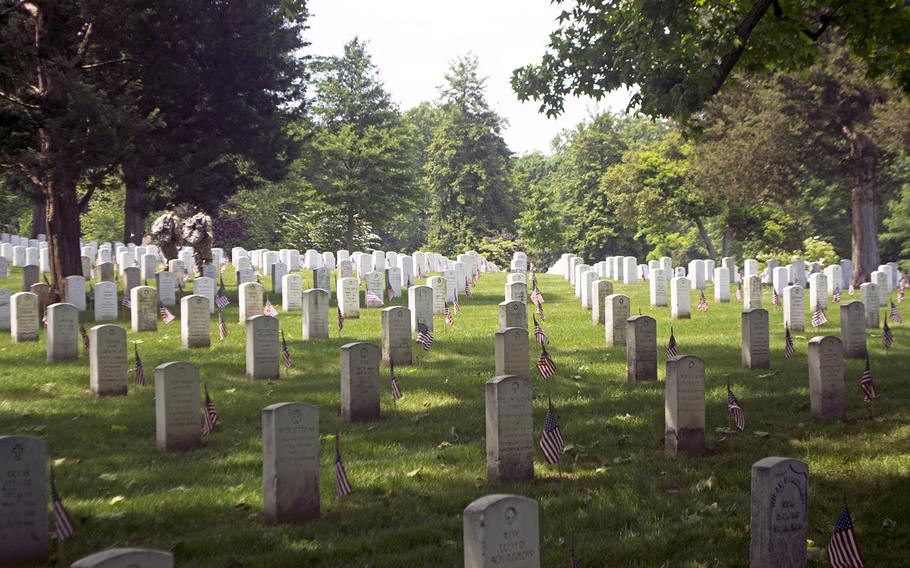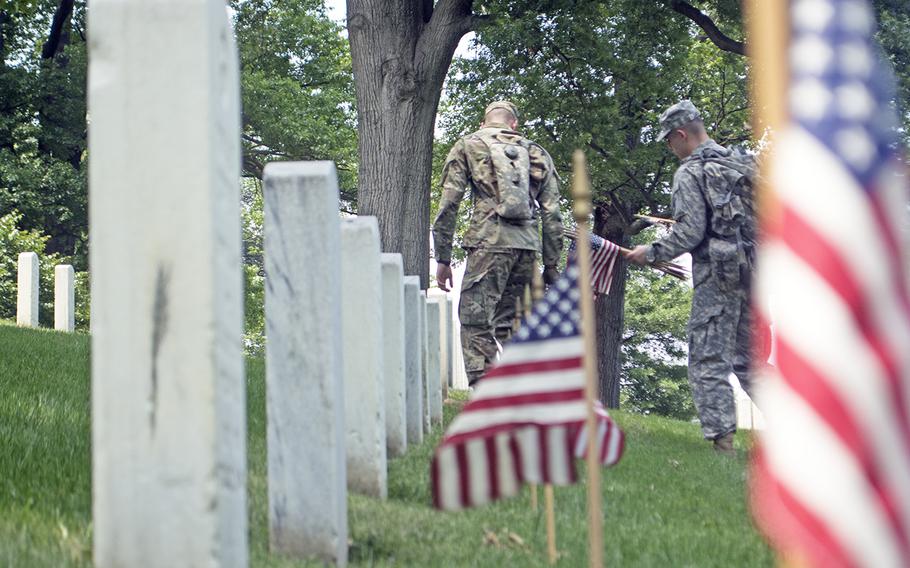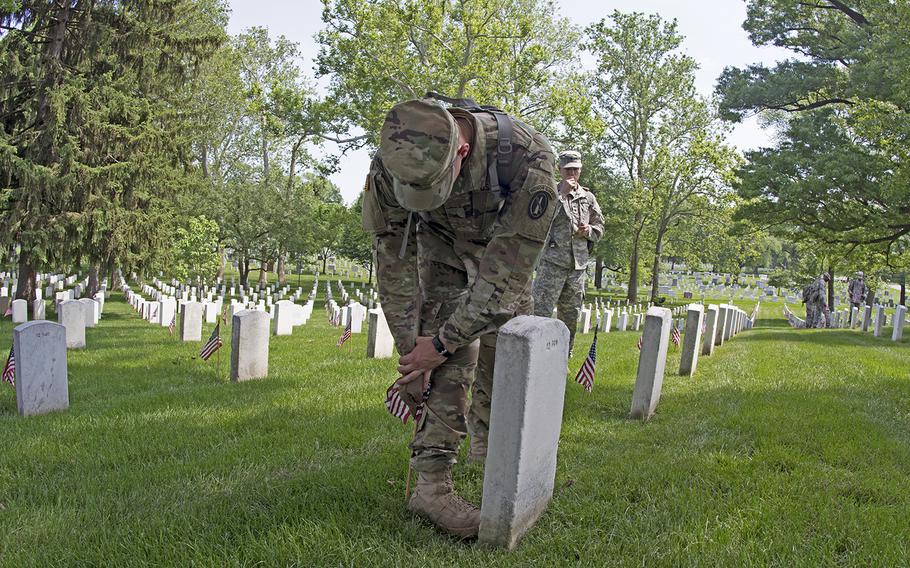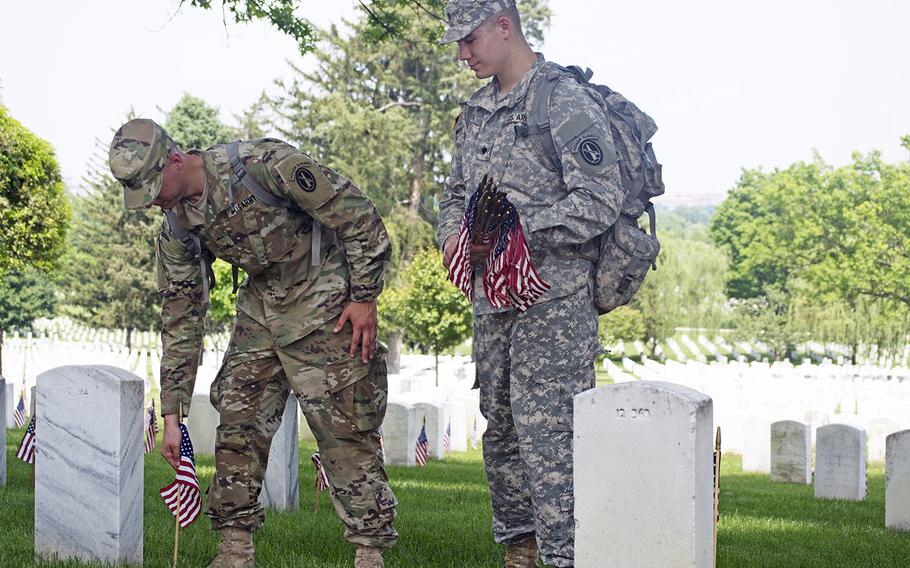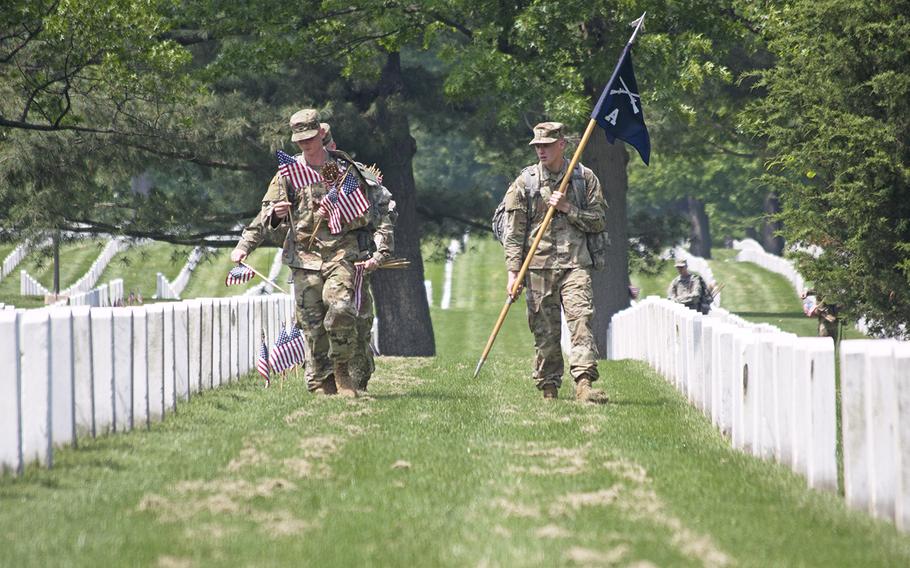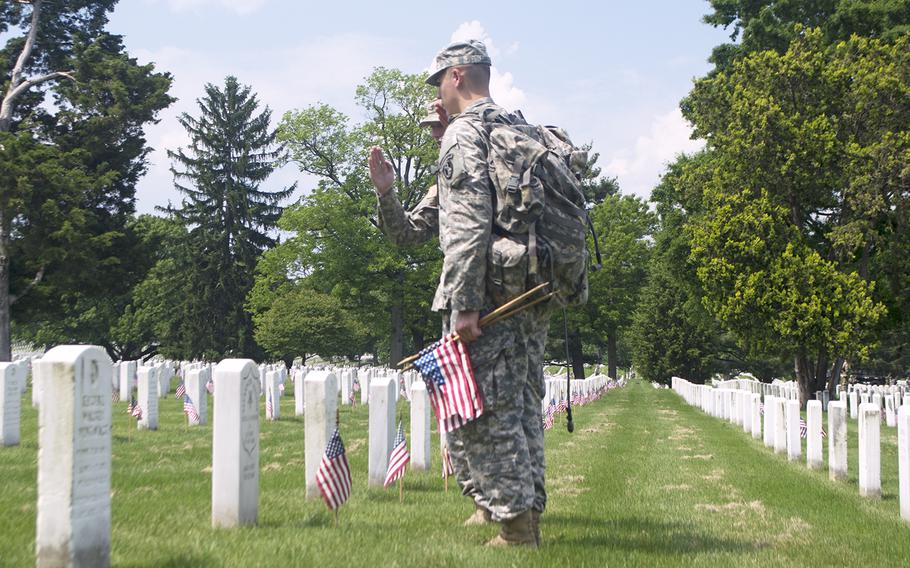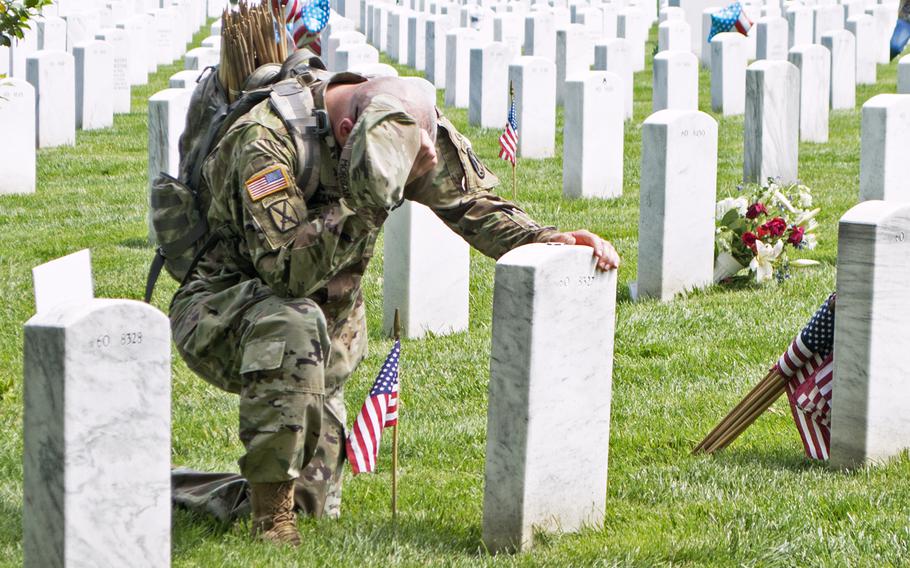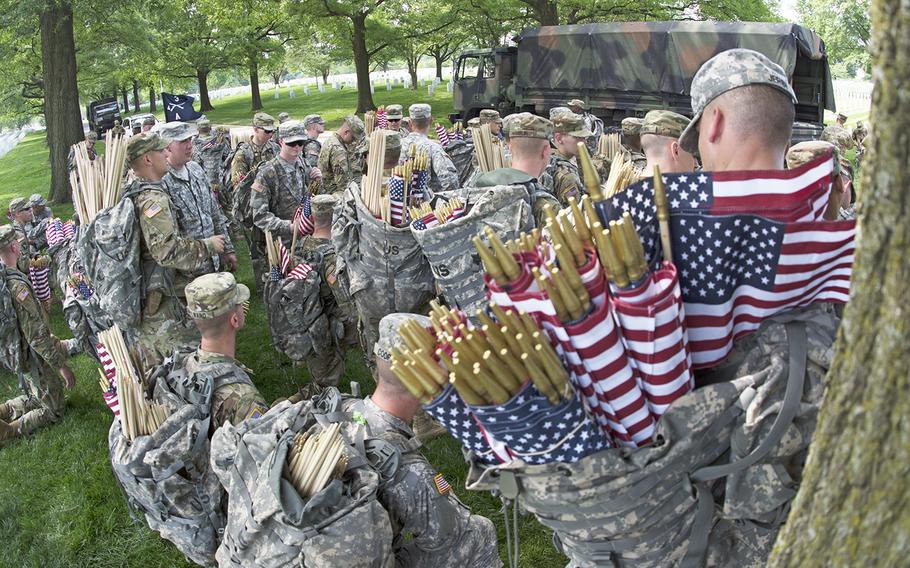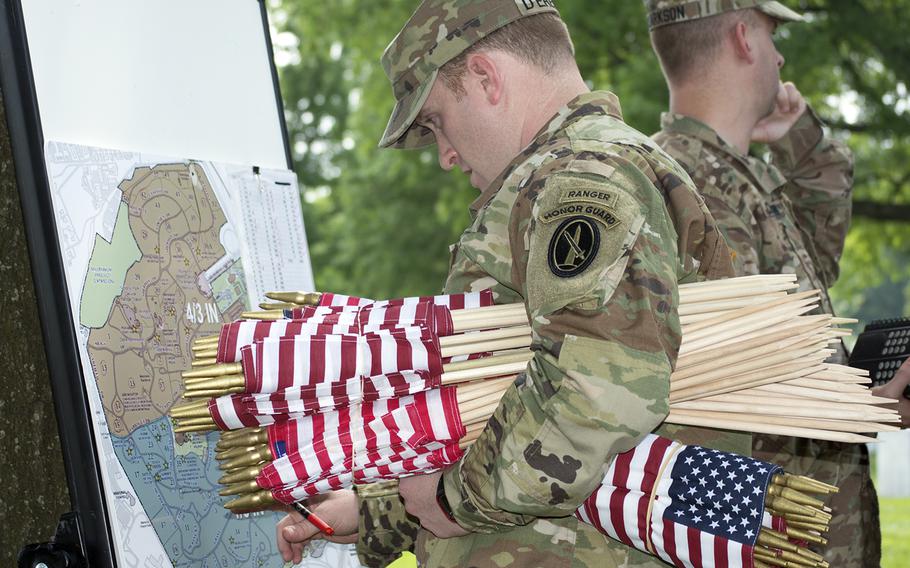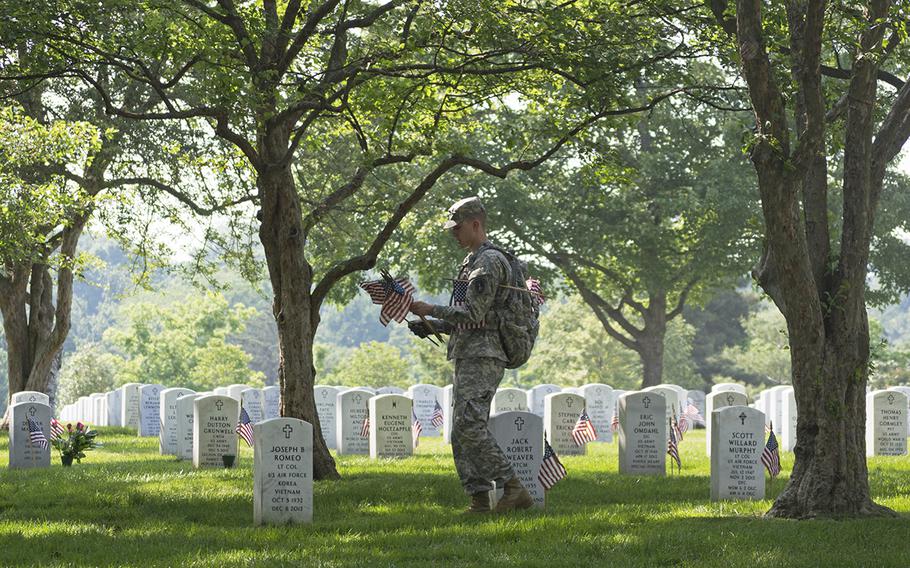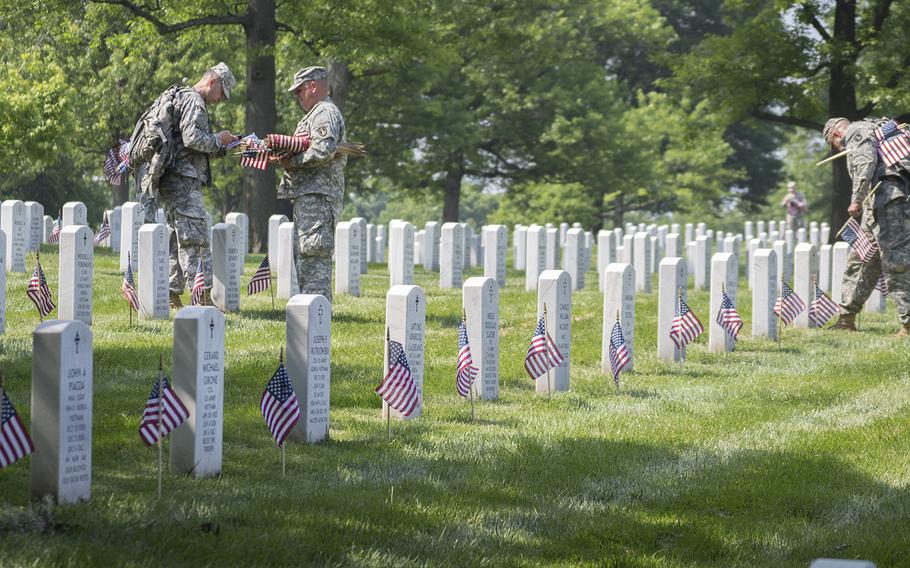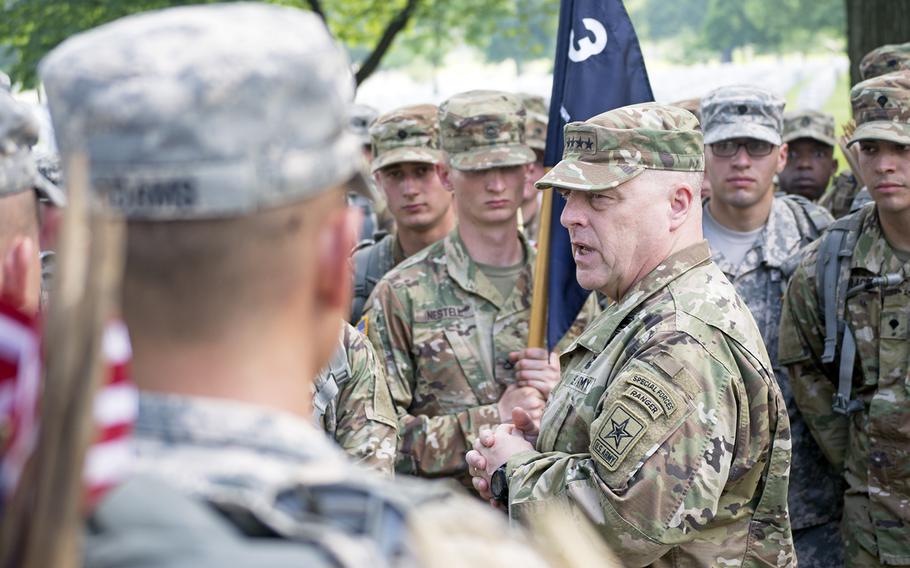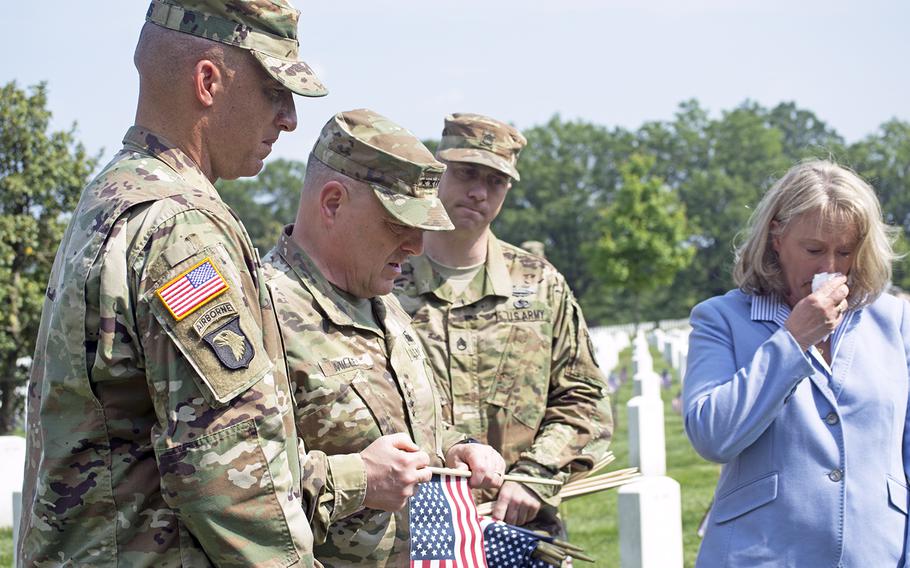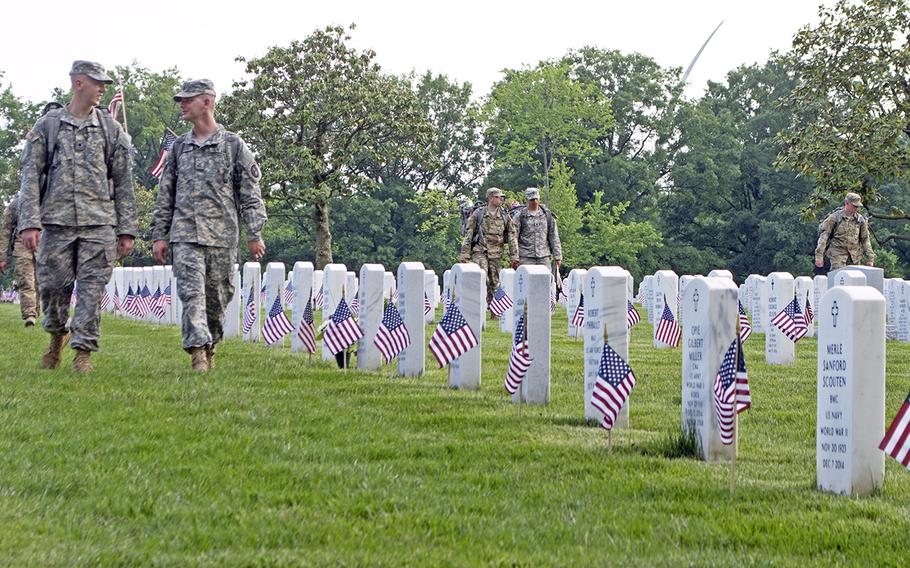 ARLINGTON, Va. — His grandfather died four years before Capt. Andrew McDaniel was born, but was the reason why he decided to join the Army.
McDaniel stopped in front of Maj. Earl McDaniel's grave at Arlington National Cemetery Thursday, touched his boot toe gently to the gravestone, and inserted a flag placed behind his heel into the ground.
McDaniel stood silently at the grave for a moment before he continued with Flags In, the annual Old Guard tradition of placing flags in front of every headstone at the cemetery just before Memorial Day.
This was the second year that McDaniel participated in the event and honored his grandfather, who fought in World War II, the Korean War and the Vietnam War.
Despite never having the opportunity to meet the man himself, McDaniel said his father gave him a good idea of who his grandfather was.
"He was the complete and utter military father. He led by example," McDaniel said.
McDaniel was commissioned into the Army after ROTC at West Virginia University. He plans on bringing more of his family to the Arlington event next year.
Flags In has been conducted annually since 1948, and every available soldier in the 3rd U.S. Infantry Regiment participates. In four hours, every single headstone — more than 228,000 — and row at the Columbarium Courts and Niche Wall receives a small American flag.
Lt. Col. Ryan Morgan took a moment to place American flags at the headstones of two friends in Section 60, where many casualties of the most recent wars are buried.
U.S. Army Capt. Ian Patrick Weikel, killed in action on April 18, 2006 in Iraq, was a 1997 West Point classmate and friend of Morgan. Sgt. Brett Thomas Christian died under Morgan's command during Operation Iraqi Freedom.
"Ian was a good friend," Morgan said, but he added that he represents all his fallen West Point comrades, most notably his good friend Lt. Col. Jaimie Leonard.
Leonard was killed on June 8, 2013, and is buried on the grounds of West Point. According to the Associated Press, she was killed along with Lt. Cols. Todd Clark and Joseph Morabito by an Afghan soldier they were training.
Christian was a driver who was killed by an IED outside of Mosul, Afghanistan. "He was a good soldier," Morgan said.
Army Chief of Staff Gen. Mark Milley also stopped by Section 60 with his wife, Hollyanne. Milley, who thanked the troops for their service upon his arrival, then took several flags and placed them at the headstones. He paused before each stone, sometimes listening to the history of the servicemember buried there.
tibbetts.meredith@stripes.com Twitter: mjtibbs
---
---
---
---