Family shocked by loss of Fort Hood soldier who collapsed during PT
by
Rose L. Thayer
September 4, 2020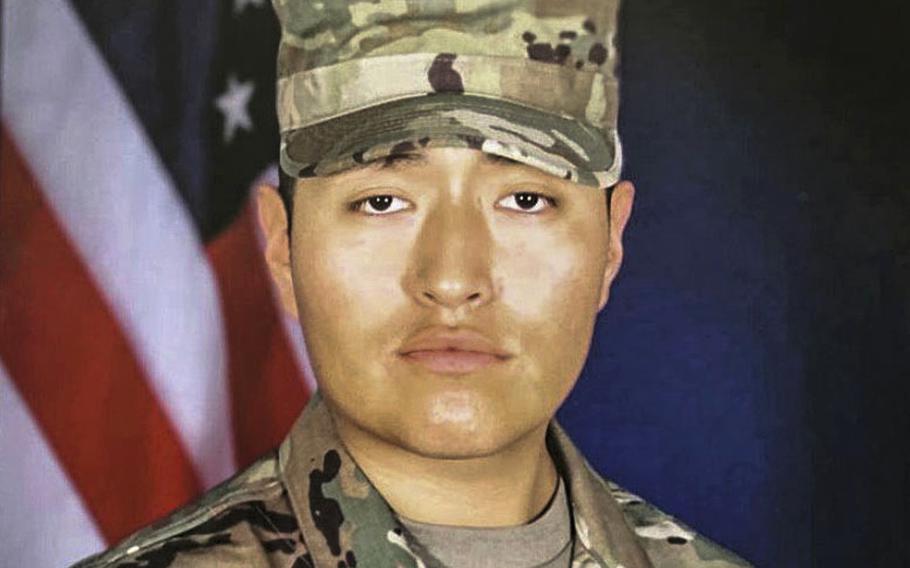 AUSTIN, Texas – Pvt. Corlton L. Chee's family had been planning for a wedding and a celebration of the soldier returning home later this year to New Mexico from his assignment at Fort Hood to marry his fiancé and finally meet his now 3-week-old son in person.
Instead, they are planning a funeral for the soldier who collapsed during physical training on his 25th birthday and died days later in a hospital.
"We're shocked," said Carma Johnson, Chee's older sister, who called her brother by the nickname "Stormy." "There's so many things that could have happened that we've waited for that did not happen and that's breaking our hearts right now. My mom's not the same because of it."
Chee collapsed Aug. 28 during training and he was taken to Fort Hood's Carl R. Darnall Army Medical Center, according to a news release from the central Texas base. Two days later, Chee was transported to Baylor Scott and White Medical Center in Temple, where he died Wednesday.
An autopsy is scheduled with the Southwestern Institute of Forensic Sciences in Dallas and his death is under investigation, according to the release.
"We want to know what really happened to him. We were told too many different stories," Johnson said. "We will not rest until we find out through the investigation and the autopsy. My brother was very fit. He was a good man, a family man. He had two boys."
Johnson said the family had last heard from Chee the morning of his birthday. He said he would call them back after his run. At about 10 a.m., he texted his fiancé, "oh my babies, my boys."
His family soon learned Chee was hospitalized and traveled to be at his side, but the soldier never woke up.
"We thought we were going to see a miracle," Johnson said. "We prayed for that. We had time to sit there and talk with him. We talked about things of the past. We sang traditional songs to him. We picked on him the way he used to do with us."
Chee grew up with five sisters in Pinehill, part of the Ramah Navajo Indian Reservation, where he was known for his love of fitness, Johnson said. He enlisted in the Army in February as a tank crewman, and he has been assigned to the 2nd Battalion, 12th Cavalry Regiment, 1st Armored Brigade Combat Team, 1st Cavalry Division since July.
"Our team is devastated by the loss of Pvt. Chee. Corlton was an amazing trooper and so full of life and potential," said Lt. Col. Ron Sprang, battalion commander. "Every loss affects every single person in this battalion because we are a family of warriors, but this is exceptionally heartbreaking. The entire Thunderhorse team sends our condolences to his family members and friends. Our thoughts and prayers are with them during this difficult time."
Chee enlisted in the Army because he believed it was one of his callings, Johnson said. His given name from a Navajo elder was Haash'keh yil haas' wod, which translated from Navajo means "warrior who came upon war," she said.
"He wanted to show others that he can be brave and strong and that he can make it," Johnson said. "He wanted to prove to anybody else that they can't do anything wrong. If you really want to do something, you do something, it can be done."
Chee is the 30th soldier to die while assigned to Fort Hood this year, with more than one-third of soldiers' deaths caused by an accident either on or off the base, according to information provided by Fort Hood Public Affairs Office. However, five of those soldiers' deaths were ruled homicides, which has generated heightened scrutiny for Fort Hood and resulted in two Army-directed investigations into base leadership.
Johnson said the family is aware of the difficult year that Fort Hood has faced, but they will wait to decide exactly how to feel about Chee's death once they have all the answers about why he died and the circumstances of that morning.
Yet, she admits it is difficult not to feel angry.
"But we remember him as a strong, brave, caring man," Johnson said. "He was loved, and he will never be forgotten. He was our true Dine' [Navajo] warrior."
Thayer.rose@stripes.com Twitter: @Rose_Lori