Experts: Mitigating factors could affect Bergdahl case
---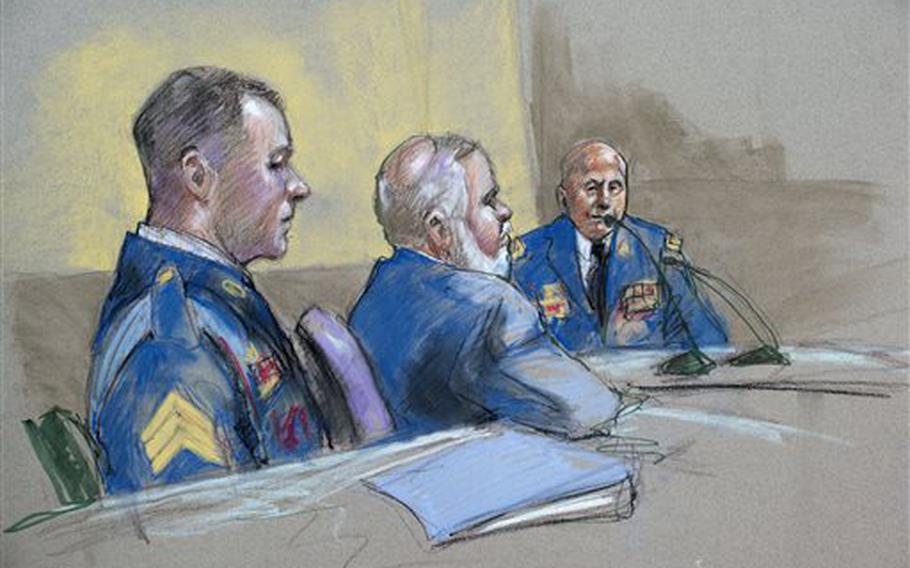 Five years of torment at the hands of what one witness called "psychopathic sadists" make it likely that Sgt. Bowe Bergdahl would serve little if any jail time, military lawyers said, even if he were court-martialed and found guilty of desertion and misconduct.
Testimony about Bergdahl's horrific treatment by the Taliban-associated Haqqani network — as well as other evidence largely undisputed by prosecutors at his Article 32 probable-cause hearing on whether he should face court-martial — revealed significant mitigating factors, experts said. That evidence, if left unchallenged, would probably spare him confinement were he convicted, the lawyers said, and could replace court-martial with another disposition.
"It's hard for me to imagine either a judge or a military panel sentencing him to any additional confinement with the facts of this case," said Victor Hansen, a former Army lawyer who's now an associate law professor at the New England School of Law. "From a fairness point, what more do we want to punish him for?"
Lt. Col. Mark Visger, who presided over Bergdahl's two-day hearing in San Antonio last month, is expected to provide his recommendations Monday to Gen. Robert Abrams, commander of the U.S. Forces Command. Abrams inherited convening authority in the case after Gen. Mark Milley, who in March charged Bergdahl, was promoted to Army chief of staff.
But the recommendation is just that; Abrams could disregard it. It's also possible that prosecutors, who did not dispute evidence nor introduce aggravating evidence, might do so if Abrams sends the case to court-martial.
Testimony at the preliminary hearing painted a sympathetic picture of Bergdahl, one at odds with public speculation on the case, including his motives for slipping away from his observation post in eastern Afghanistan in June 2009, his state of mind, his actions while in captivity and whether U.S. soldiers were killed searching for him.
The unusual charges against Bergdahl — desertion with the intent to shirk or avoid hazardous or important service, and misbehavior before the enemy that endangered troops who had to search for him — carry a maximum potential of life in prison along with dishonorable discharge. Maximum sentences under the Uniform Code of Military Justice are rarely levied, however, even in cases without the extensive mitigating circumstances of the Berdahl case.
According to undisputed testimony, just weeks into his 2009 deployment to Afghanistan, then-Pfc. Bowe Bergdahl hatched a quixotic plan to alert the highest levels of command to what he considered serious leadership issues in his unit that were endangering troops. He would disappear from his outpost, creating a crisis reaching all the way to the Pentagon, run to the forward-operating base 19 miles away, and demand that a general officer hear him out.
Maj. Gen. Kenneth Dahl, who did the "15-6" command investigation that led to the charges, described Bergdahl as an "unrealistic idealist" who often misperceived situations, including inflated views of his own abilities and the flaws of others and felt honor-bound to bring his concerns about his command to light.
"He felt that it was his responsibility to intervene," Dahl testified, no matter the repercussions to himself or his chances of success.
Dahl testified that his investigation found no evidence that troops were killed during the search for Bergdahl and said it would be "inappropriate" to send him to jail.
Bergdahl was captured by the Taliban within hours after leaving post. For the next five years, he was beaten with hoses and chains, tied spread-eagled to a bed until his muscles atrophied, starved, humiliated and kept in a cage, according to testimony by Terrence Russell, an official with the Joint Personnel Recovery Agency, a survival specialist who debriefed Bergdahl. Russell, no stranger to harsh treatment, teared up recalling Bergdahl's treatment. He said that Bergdahl had tried valiantly to escape, to resist and to stay alive to bring back intelligence.
Bergdahl, 29, sustained permanent disabilities in captivity, according to testimony of medical personnel.
"If we say Bergdahl is to blame for what happened to him — then what?" said Zachary Spilman, a former active-duty U.S. Marine lawyer who served in Afghanistan in 2010 and is now a reservist in private practice and the lead writer of a military criminal justice blog. "Do we as a society just cast this kid out? Any objective observer would say whatever Bergdahl did wrong, he has suffered enough."
Army prosecutor Maj. Margaret Kurz agreed, saying at the hearing: "Indeed, he has suffered greatly." But if someone robbed a bank, crashed the getaway vehicle and ended up an amputee, she said, he would be prosecuted for bank robbery.
"He's not allowed to say, 'I shouldn't be punished,' " Kurz said.
Bergdahl was discharged from initial training in the Coast Guard for depression and failure to adapt, and had required a waiver to enlist in the Army in 2008, when the service had lowered its standards, according to his defense lawyer, Eugene Fidell.
He was a stellar soldier, one of Bergdahl's sergeants testified, but with such obvious emotional difficulties that the sergeant had asked the company first sergeant to intercede. The first sergeants' creed vows that he or she will "dedicate my time and energy to (soldiers') needs; their health, morale, discipline and welfare."
But the first sergeant ignored the lower-ranking sergeant, saying that his opinions were worthless, according to testimony.
Any failures by Bergdahl's chain of command would likely be mitigating evidence, experts said, that would reduce Bergdahl's culpability.
"I wouldn't want to be the prosecutor," Spilman said. "I wouldn't want to have to prove this case."
A retired senior military official agreed that the facts of the case present an uphill battle for prosecutors at court-martial.
"Bergdahl's going to say his higher duty is to file a complaint," said the official, who declined to be identified to discuss an ongoing, sensitive case. "You can argue that that's not his business. But in the court of public opinion, which the Army's concerned about, that's not going to play well."
Yet the charges against Bergdahl appear to be correct under the law, the official said.
"If you believe this is what he did and why he did it, the charges fit the facts. Just saying, 'He's a screwball,' is not good enough," the official said. "The foreseeable consequences of his actions was putting his unit in danger. There has to be some kind of accountability."
Once the Army had the facts from Bergdahl's voluntary interview with Dahl, it had little choice but to charge Bergdahl, in part for the optics, the official said.
"It's a commander exercising the prerogative to put a label on behavior and communicate to the entire force that this is abhorrent," the official said. "Messaging is important."
That argument was not universally accepted.
"What message do you send to the other troops? 'Don't be delusional?' " Hansen said.
"And the capture is a message in itself. The Taliban did that for us. Message received."
Taking the case to court-­martial, Hansen said, expending the time and resources, "would be really stupid."
Several military lawyers suggested that a reasonable outcome would be for Bergdahl's defense to request a so-called Chapter 10 discharge — an other-than-­honorable discharge in lieu of court-martial — and for the Army to grant it. That would spare Bergdahl any possibility of confinement, criminal record or dishonorable discharge denying him a medical disability and other benefits.
But a Chapter 10 discharge would jeopardize VA benefits for Bergdahl, experts said. Fidell maintains that Bergdahl should be medically retired with an honorable discharge. His client could reasonably be held responsible for, at most, being absent without leave for one day.
The minute he was taken captive, Fidell said, Bergdahl became a kidnapping victim.
---
---
---
---