Esper says he does not support use of Insurrection Act, did not plan to participate in Trump photo-op
by
Corey Dickstein
June 3, 2020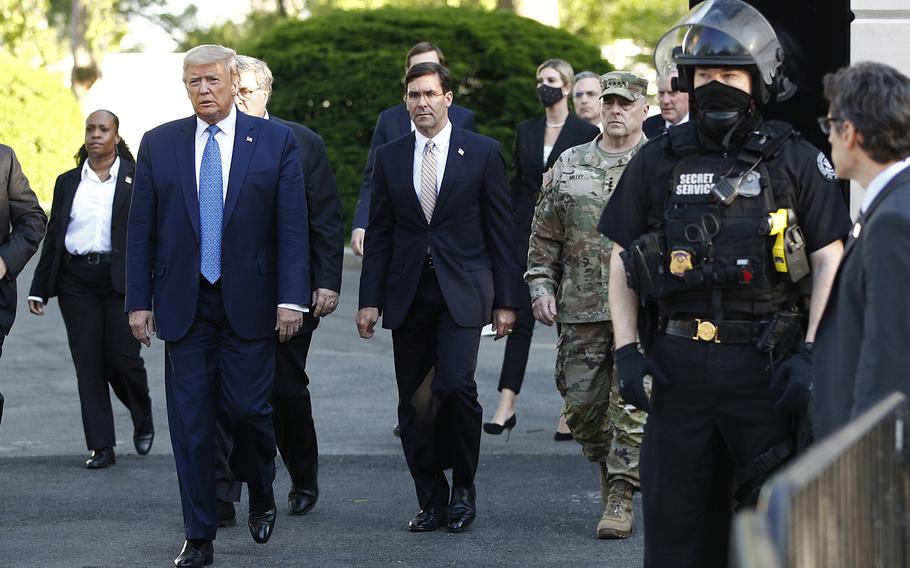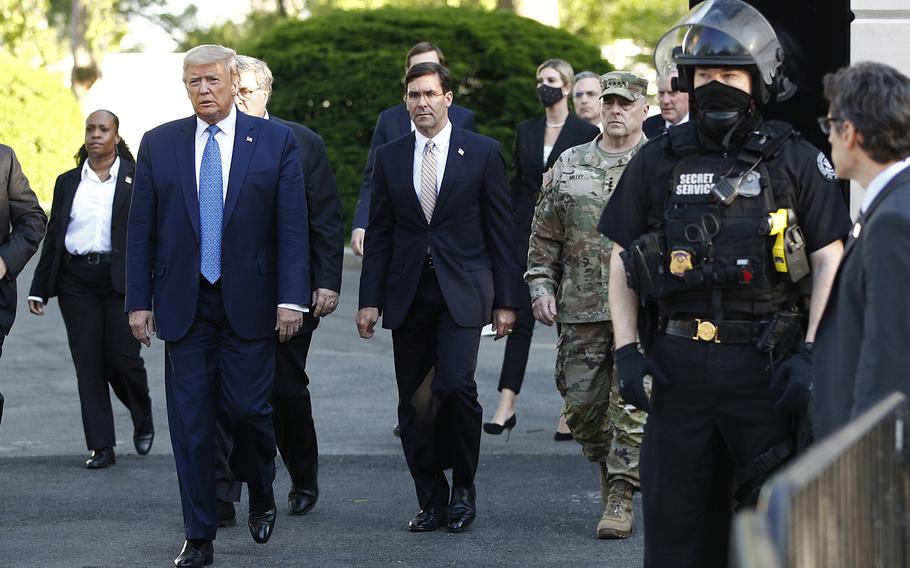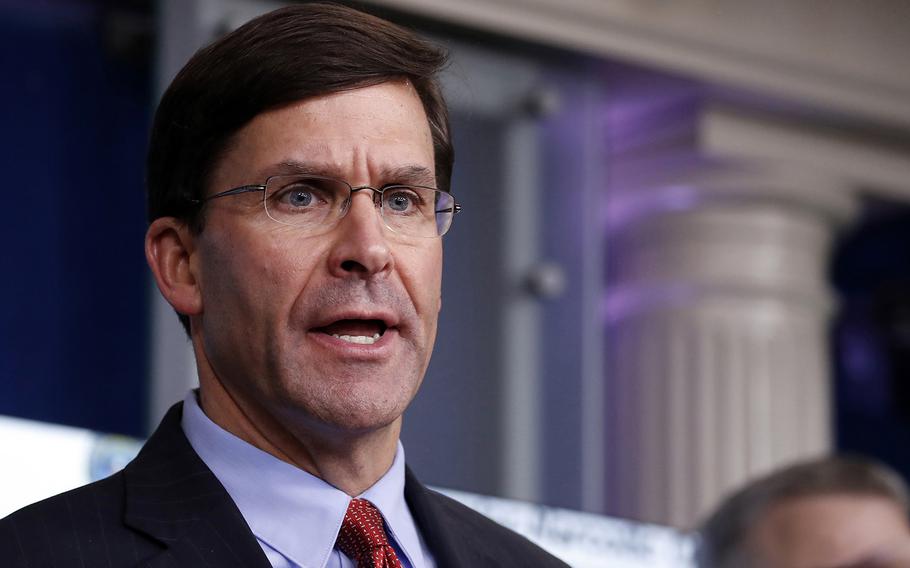 WASHINGTON — Defense Secretary Mark Esper on Wednesday said he does not support the use of active-duty troops to quash the violence that has stemmed from protests in many U.S. cities over police brutality and racism.
"The option to use active-duty forces in a law enforcement role should only be used as a matter of last resort and only in the most urgent and dire of situations. We are not in one of those situations now," Esper said during a Pentagon news briefing. "I do not support invoking the Insurrection Act."
Esper's statement came as he faced mounting criticism over his role Monday alongside President Donald Trump, who demanded governors take a strong stance against violent demonstrators and vowed to use the military to crack down on the protests if they did not. In comments to those state leaders and later in a Rose Garden address to the nation, Trump hinted at invoking the Insurrection Act, a rarely used statute that would allow him to deploy federal troops to conduct certain domestic law enforcement duties.
At Trump's request, Esper ordered the short-notice deployment this week of some 1,600 active-duty troops to the Washington, D.C. area. Officials said those forces remain at military installations outside the city, where Pentagon officials hope they will stay until civil unrest in the area calms.
Esper has faced criticism in recent days — including from several former top military officials and Democratic lawmakers — for his assertion to the governors that they must "dominate the battle space," in reference to American streets where violence had broken out. The defense secretary was also criticized for his appearance in an apparently politics-motivated photo opportunity alongside Trump later that day.
In his Wednesday morning news briefing, Esper told reporters that he takes his charge seriously to maintain the apolitical nature of the Defense Department. He said he did not know the photo opportunity would be stage when he joined Trump and other top administration officials — including Army Gen. Mark Milley, the chairman of the Joint Chiefs of Staff — on the walk from the White House to nearby St. John's Church, where the president posed for photographs with a bible in his hand after protesters had been cleared from the area by force.
"I did know we were going to the church," said Esper, who added he also planned to visit with National Guard troops on the way. "I was not aware a photo op was happening.
"Look, I do everything I can to try to stay apolitical and to try to stay out of situations that may appear political. Sometimes I am successful at doing that and sometimes I'm not as successful. But my aim is to keep the department out of politics, to stay apolitical."
Of his use of the term "battle space" in the call with governors, which was leaked to the media, Esper said "in retrospect" he should not have used the term. He told reporters that it was simply a "part of our military lexicon" to describe an area of operations.
"It's not a phrase focused on people, and certainly not on our fellow Americans," he said.
Among those critical of Esper's use of those words were a former Joint Chiefs of Staff chairman and a former U.S. Special Operations Command chief.
In separate posts on Twitter, retired Army Gens. Martin Dempsey and Tony Thomas expressed their dismay at the defense secretary's wording.
"The 'battle space' of America??? Not what America needs to hear...ever, unless we are invaded by an adversary or experience a constitutional failure...i.e. a civil war…" wrote Thomas, who served as SOCOM commander from 2016 until retiring last year.
Dempsey, who served as the nation's top general from 2011 to 2015, wrote: "America is not a battleground. Our fellow citizens are not the enemy."
Rep. Adam Smith, D-Wash., was among Democratic lawmakers to join in condemning Esper's comments. Smith, the chairman of the House Armed Services Committee, said Tuesday that he would call the defense secretary and Milley to testify before the committee next week over his "concerns about using military forces to respond to protesters."
Esper's Wednesday message came as some 30,000 National Guard troops have been activated across the nation by at least 31 governors in recent days to support law enforcement efforts after the protests have spread since the May 25 killing of George Floyd by a Minneapolis police officer. Floyd, who is black, was handcuffed when the officer, who was white and has since been charged with third-degree murder, kneeled on his neck for more than 8 minutes, killing him.
Esper was critical of Floyd's killing on Wednesday, his first public comments on the matter.
"Racism is real in America. And we must all do our very best to recognize, to confront it and to eradicate it," he said. "While we still have much to do on this front, leaders across DOD and the [military] services take this issue very seriously and we are determined to make a difference."
In Washington, where weekend protests spawned by Floyd's killing grew violent, the 1,300 members of the D.C. National Guard and another roughly 2,000 Guard troops from other states have been sent to the city in an effort to support local and federal policing efforts.
Photos Tuesday showed Guard members interspersed with law enforcement around the city and deployed in front of the Lincoln Memorial, which was defaced over the weekend as was the nearby World War II Memorial.
National Guard troops, when activated by their home governors, can legally provide some law enforcement capabilities. Esper, who once served in the D.C. National Guard, said those service members deployed across the nation are meant only to augment police forces. In Washington, most Guard troops are not armed with anything more than riot gear, which typically includes helmets, shields and batons. Some Guard troops, however, in the area are armed with firearms, officials said Tuesday.
Esper said the Guard is "best suited" for those duties alongside police forces as opposed to active-duty service members.
The Pentagon, however, this week sent 1,600 active-duty troops from Fort Bragg, N.C., and Fort Drum, N.Y., to military installations on the outskirts of the city. Those troops — infantrymen from Bragg's 82nd Airborne Division's Immediate Response Force and military police from Bragg's 16 MP Brigade and Drum's 91st MP Battalion — are on "heightened alert status" on undisclosed bases, but they have not entered Washington, said Jonathan Hoffman, the Pentagon's chief spokesman.
Other Pentagon officials on Tuesday said the Defense Department preferred not to deploy those troops onto Washington's streets.
The National Guard forces in Washington have faced criticism for some of the tactics they have used in recent days.
Esper said Wednesday that he had directed the Army to investigate the use of a National Guard helicopter in a potentially dangerous fashion Monday evening in the city.
That evening, images and video on social media captured the helicopter hovering low over demonstrators in a maneuver typically used on faraway battlefields as a show of force meant to intimidate enemy fighters. Video shows the UH-72 Lakota helicopter with medical markings flying close to the ground over demonstrators as its rotors blow around debris.
Esper said Army Secretary Ryan McCarthy would lead the investigation and declined additional comment on the incident until it is completed.
The D.C. National Guard said Wednesday that the helicopters that conducted such maneuvers were under its control. And its top officer directed his own probe of the incident.
"I hold all members of the District of Columbia National Guard to the highest of standards," Army Maj. Gen. William Walker, the D.C. Guard's chief, said in a statement.