Esper: Iraqi government has not asked US troops to leave
by
Corey Dickstein
January 7, 2020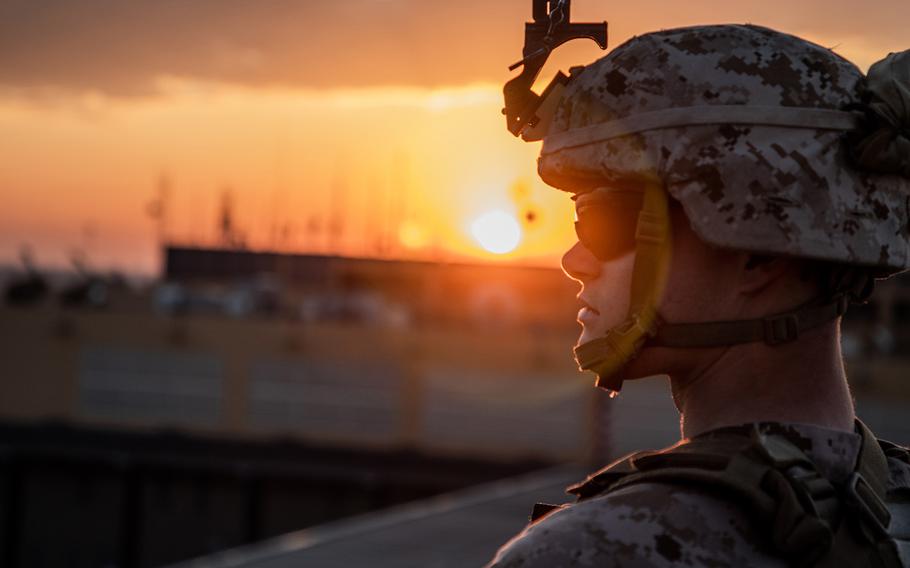 WASHINGTON — Iraq's government has made no formal request that American forces leave its country, despite a nonbinding vote Sunday to expel U.S. and other troops after the Pentagon killed a top Iranian commander in Baghdad, Defense Secretary Mark Esper said Tuesday.
Some U.S. troops are in the process of repositioning across Iraq to bolster their defenses, but they have not made preparations to leave the country, where they are deployed primarily to train and advise Iraqi forces fighting the remnants of the Islamic State, the defense secretary said. Esper spoke to reporters at the Pentagon for the second consecutive day as confusion continued in Washington and Iraq over a letter from Marine Brig. Gen. William Seely, the commander of the coalition's Iraq task force, that seemed to announce an impending U.S. troop withdrawal from Iraq.
"Our policy has not changed. We are in Iraq, and we are there to support Iraqi forces and help the Iraqi government become a strong, independent, prosperous country," Esper said, stating publicly again that the letter was a draft that should not have been delivered. "Many Iraqis recognize the strategic importance of our partnership with them."
However, the anti-ISIS mission in Iraq has been temporarily paused as U.S. forces take measures to protect themselves from expected Iranian attacks. Yet, Esper said he expects that mission to continue eventually.
Esper also criticized the nature of the Iraqi vote Sunday, which saw dozens of that country's lawmakers decline to participate in protest. Most Kurdish and Sunni members of parliament did not vote, he said. He also claimed many of the Shiite lawmakers voted to expel American troops "at threat of their own lives" from powerful Iran-backed militias in Iraq.
Even if the Iraqis do ask the United States to leave their country, Esper added, it would require "procedural mechanisms and hurdles," and it would be unlikely that American troops would leave immediately after such a request. U.S. forces have operated in Iraq since 2014 at the request of the Iraqi government, who sought help with its fight against ISIS.
The defense secretary again defended the airstrike last week that killed Maj. Gen. Qassem Soleimani, the powerful leader of Iran's Quds Force. Its elite military organization focused on training and controlling proxy forces throughout the Middle East. Soleimani was a terrorist leader responsible for the deaths of hundreds of American troops killed by advanced Iranian roadside bombs during the war in Iraq, Esper said.
He described a threat Soleimani was coordinating against Americans in the Middle East as likely to come within days before the United States killed him Jan. 3 at Baghdad's international airport using a drone-fired Hellfire missile. Esper and other senior U.S. national security officials were scheduled Tuesday to brief the so-called Gang of Eight on Capitol Hill on the information that led the White House and Pentagon to order Soleimani's death. The Gang of Eight is made up of the top Democratic and Republican leaders in the Senate and House and the chairpersons and ranking members of both chambers' intelligence committees.
In Iraq, outgoing Prime Minister Adil Abdul-Mahdi expressed frustration Tuesday over the errant U.S. letter, which he interpreted as a "withdrawal announcement," according to The Washington Post.
Mahdi reported he received the letter, which appeared to be official, and the Post also reported it had been signed, citing an unnamed U.S. military source. Esper was adamant Tuesday that the letter was not signed.
The Iraqi government plans to ask the U.S.-led coalition for a timeline to implement its withdrawal of some 5,000 American troops and a few thousand other civilians, contractors and foreign troops, an unnamed Iraqi official told the Post.
"Of course it's not going to happen within days or weeks, it will take a while, so of course coordination will continue," the official said. "We won against ISIS. Having them [the Americans] here now complicates things more."
Several American allies also announced Tuesday that they would at least partially withdraw their troops from Iraq, including Germany and Canada. Those troops were expected to be moved to Kuwait, the nations announced.
Esper said he spoke this week with his counterparts in Germany and several other anti-ISIS coalition nations, and they remain committed to that cause.
"They are fully supportive of us, they are fully with us," he said. "I have been told by them that some of their movements are simply in regard to force protection."
The Pentagon chief did not telegraph what kind of action the United States expected from Iran, which has vowed to retaliate for Soleimani's killing. He urged the Iranian regime to "de-escalate" and return to the negotiating table to avoid further violent confrontation between the two nations.
"What happens next depends on them," Esper said. "I think we should expect that they will retaliate in some way, shape or form – either through their proxies … and, or by their own [Iranian military] hand.
"We will respond appropriately to whatever they do."
Esper and President Donald Trump said Tuesday that the United States would follow international law governing armed conflict and would not attack protected Iranian cultural sites in retaliation for further Iranian violence. Trump in recent days had vowed to strike such locations in Iran if further provoked.
The president, during an Oval Office meeting with Greek Prime Minister Kyriakos Mitsotakis, expressed frustration with international law protecting cultural sites, but ultimately said he would follow those regulations.
Nonetheless, Trump vowed to strike Iran hard if they retaliate for Soleimani's death.
"If Iran does anything that they shouldn't be doing, they are going to suffer the consequences," Trump said.
Stars and Stripes reporter Chad Garland contributed to this report.
Dickstein.corey@stripes.com Twitter: @CDicksteinDC