Esper calls George Floyd killing a 'wake-up call' that opened his eyes to military racial issues
by
Corey Dickstein
August 5, 2020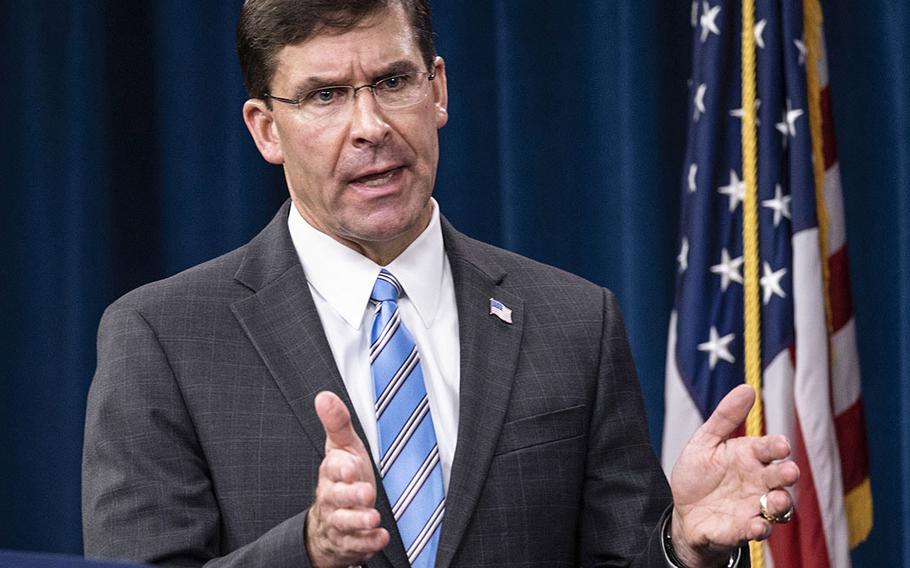 WASHINGTON — Defense Secretary Mark Esper on Wednesday called George Floyd's killing on Memorial Day by Minnesota police a "wake-up call" to military leadership about the racism and inequality minority Americans face, including those serving in the armed forces.
"I don't think what everybody [in the Defense Department's leadership] appreciated, at least me personally, is the depth of sentiment out there among our service members of color, particularly Black Americans, about how much [impact] the killing of George Floyd … had on them, and what they are experiencing in the ranks, as well," Esper told an audience for the annual Aspen Security Forum, which is being conducted virtually this week due to coronavirus concerns. "We took it upon ourselves as a leadership team — we had to do better. We must do better."
In June, as protests spread across all 50 U.S. states over Floyd's death and other cases of police brutality, Esper said he was moved to look more deeply at race relations within the military, where Black and other minority troops were speaking out about injustices that they felt they had faced.
In recent weeks, Esper and other top Pentagon leaders have met with groups of service members as they travel throughout the United States and abroad to discuss race issues. Those meetings, time and again, revealed minority service members faced discrimination in their lives, he said.
"You get a true sense of what they've experienced," Esper said. "Anecdotes, story after story, and … it's all consistent. Everywhere I go, regardless of service, regardless of location, same type of stories, same types of experiences."
Among the service members who shared publicly issues that they have faced in uniform were some of the military's most senior minority personnel — including Gen. Charles "CQ" Brown, who on Thursday will become the Air Force chief of staff, the first-ever Black leader of a service branch. In a video in June, Brown talked about the discrimination that he had faced as a young fighter pilot, including disbelief among others that he was a pilot because of his skin color.
Last month, Esper ordered the creation of two separate panels to study the military's handling of racial issues, its diversity and equal opportunity for troops of all races and ethnicities. One panel, which began work last month, is made up of military officials tasked with quickly establishing recommendations for Esper to implement department-wide by December.
The internal panel is led by Air Force Secretary Barbara Barrett and Senior Enlisted Adviser to the Chairman Ramon Colon-Lopez, the military's top enlisted service member. The 15-member board includes high-ranking and mid-ranking officers and enlisted troops with varying backgrounds. Esper said he expected the younger members to provide fresh perspectives for the Pentagon.
"We knew they would own the future," he said of including troops in ranks as low as a Marine Corps captain and an Army sergeant. "They really know they have to help lead us on this."
The second board — to be called the Defense Advisory Committee on Diversity and Inclusion in the Armed Forces — will be made up of outside experts and is intended to stand permanently, charged with looking critically at the military's race issues and regularly providing Pentagon leaders recommendations for improvement. Esper said he expected the group to begin work in November.
Pentagon leaders, including Esper, have long said they were committed to racial and other equality within the military. But still, the military services have reported in recent months unexplained disparities such as minority troops being promoted at a lower rate into senior ranks than their white colleagues and Blacks and other minorities facing a significantly higher likelihood of facing punishment while in uniform.
The services have launched investigations meant to determine the root causes of those issues, and Esper has charged the diversity panels to consider them as well.
"It is a profound issue," Esper said. "It's critical because, first of all, it's the right thing to do, but secondly, it's important to [combat] readiness. If we're going to deploy and employ a ready, capable force, we have to have Americans of all walks, of all colors, ethnicities, etc., filling out the team and [being] part of the team."
dickstein.corey@stripes.com Twitter: @CDicksteinDC