Eielson AFB airmen build ice bridge for Red Flag-Alaska exercises
---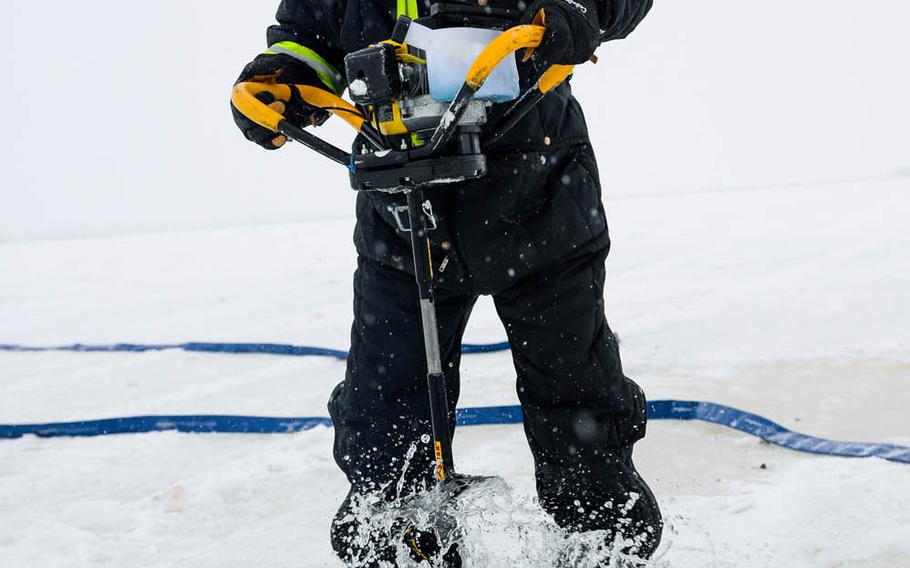 Airmen from Eielson Air Force Base recently ventured into the Alaskan wilderness in below-freezing temperatures to build an ice bridge in preparation for this year's Red Flag-Alaska exercises.
The bridge, constructed annually over the Big Delta River by the 354th Civil Engineer Squadron, provides access to Oklahoma Range, a $20 million complex near Fort Greely used to train pilots from around the world four times each year.
The realistic air-combat drills, which involve all services and multiple nations, are scheduled to take place April 28-May 13; June 2-17; Aug. 4-19; and Oct. 6-21.
"The main purpose of the ice bridge is to bring in equipment and save on helicopter costs during the summer," Tech. Sgt. John Jockusch said in an Air Force statement. "We build all the targets for the pilots to destroy during the Red Flag-Alaska exercises."
The airmen also construct mock tanks and bring in shipping containers to set up mock villages used during training.
It normally takes about a week to finish the ice bridge in optimal weather, but this year's build took three weeks because of warm temperatures, Jockusch said. There were times when the airmen had to suspend construction and wait for temperatures to drop back below zero.
"It's a dry river," he said. "It is glacier fed and freezes in the winter. When it's frozen, we go in with a bulldozer to break up the rotten ice and turn it into a fine powder. Then we spread water across it."
With the bridge finished, the squadron will create a system of trails within the training area to help them set up the targets and take out destroyed pieces after each exercise.
"Whatever we bring out to the range, we bring back," said Ryan Lucke, a 354th CES engineering equipment operator.
This year marks the first time the Army's primary attack helicopter, the Apache AH-64, will take part in Red Flag drills. The Apaches, armed with Hellfire missiles, Hydra rockets and a 30mm chain gun, began arriving at Fort Wainwright, Alaska, in August.
kidd.aaron@stripes.com Twitter: @kiddaaron
---
---
---
---