Dunford: No change to Pentagon transgender policy until Trump provides guidance
by
Corey Dickstein
July 27, 2017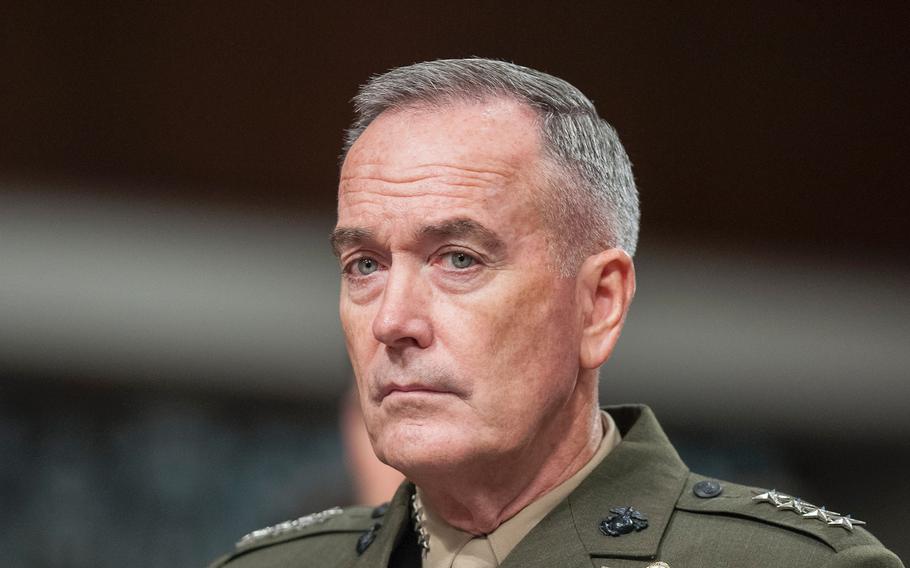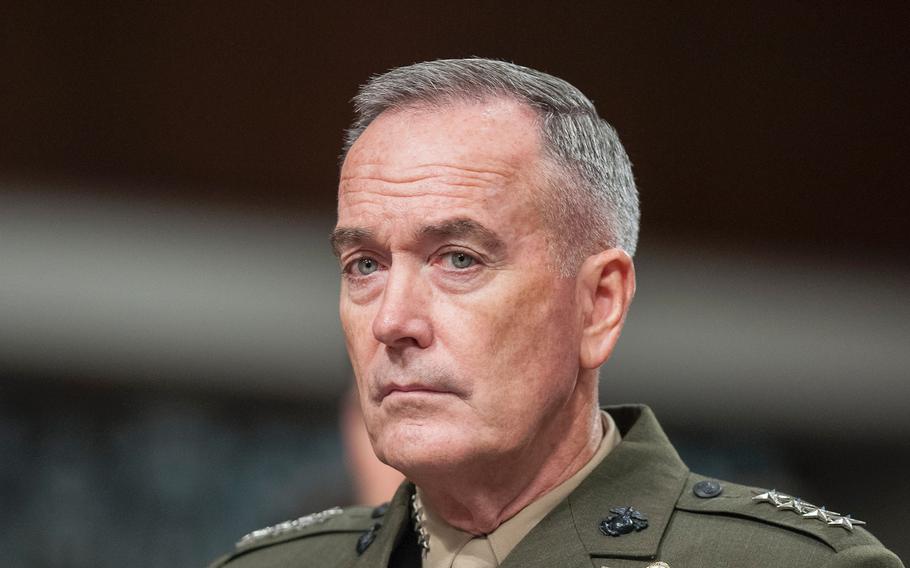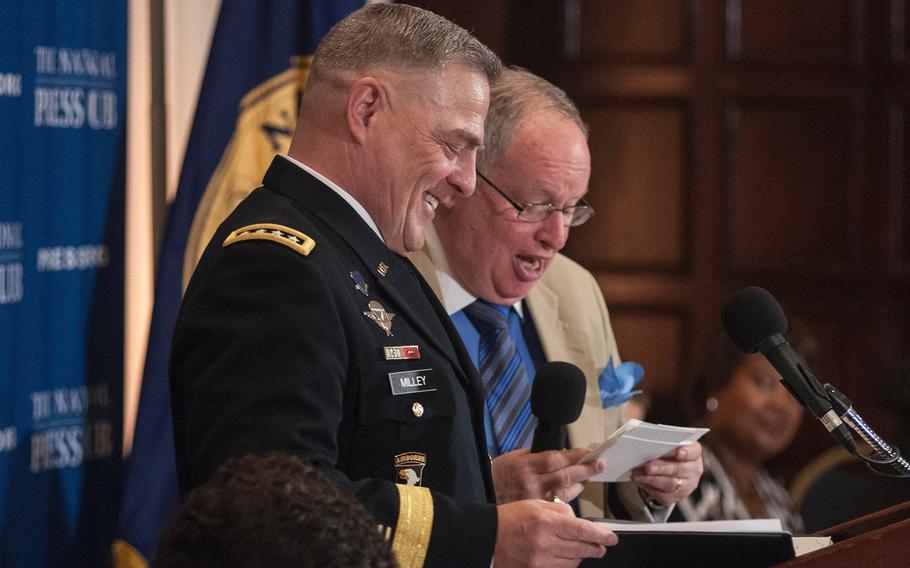 WASHINGTON — There has been no change to the Pentagon's transgender policy, the top U.S. general wrote to senior military leaders Thursday, a day after President Donald Trump announced on Twitter that he would ban transgender people from military service.
"There will be no modifications to the current policy until the president's direction has been received by the secretary of defense and the secretary has issued implementation guidance," Marine Gen. Joseph Dunford, the chairman of the Joint Chiefs of Staff, wrote in a two-paragraph letter to the military service chiefs, commanders and senior enlisted leaders.
"In the meantime, we will continue to treat all of our personnel with respect," the general also wrote in his letter, which was obtained by Stars and Stripes.
Trump wrote Wednesday in a three-tweet message that he had consulted with generals and other military experts before his announcement that transgender people would no longer be allowed to serve "in any capacity" in the military. But the president's message caught many defense officials at the Pentagon off guard. They said top generals, including some members of the Joint Chiefs of Staff, were not informed of Trump's decision before he tweeted.
The Army's top general was among the military leaders in the dark about Trump's decision.
"I saw it on the news," Army Gen. Mark Milley, the service's chief of staff, said Thursday of how he learned of the announcement. However, he said he had no expectation he would be alerted before a decision was made public.
"I personally did not know, nor would have I expected to," Milley said during a speech at the National Press Club in Washington, D.C.
Trump's tweet-announced policy shift was met with almost immediate condemnation from lesbian, gay, bisexual and transgender advocacy groups as well as Republican and Democratic lawmakers, including Sen. John McCain, the chairman of the Senate Armed Services Committee.
"Any American who meets current medical and readiness standards should be allowed to continue serving," McCain, R-Ariz., said in a statement that called Trump's message "unclear" and criticized his use of Twitter to announce a major policy change.
"There is no reason to force servicemembers who are able to fight, train and deploy to leave the military — regardless of their gender identity," McCain said. He also indicated that like top Pentagon officials, lawmakers were not made aware of the president's decision before his tweets.
Sen. Kirsten Gillibrand, D-N.Y., and the top Democrat on the Senate Armed Services subcommittee on personnel, called Trump's tweets "an insult" to transgender servicemembers' "brave and honorable service."
However, some lawmakers expressed agreement with Trump's announcement. Rep. Duncan Hunter, R-Calif., said the decision would help "restore the warrior culture" to the military.
Defense Secretary Jim Mattis, who is on vacation this week in Washington state, had yet to publicly address the president's announcement as of Thursday morning. White House spokeswoman Sarah Huckabee Sanders said Wednesday that Mattis had been informed of Trump's decision Tuesday.
Trump cited "tremendous medical costs and disruption" to the military to justify his decision in his Wednesday tweets. Sanders, speaking to reporters at the White House later Wednesday, said it was solely a "military decision."
"This was about military readiness, this was about unit cohesion, this was about resources within the military," she said. "And nothing more."
Despite the guidance from Dunford, Trump's announced ban has left transgender troops with questions about their future in the service. Defense officials were unable to provide answers Thursday.
"Everybody is hurt, everybody is scared," said Rudy Akbarian, 26, who is in the military but did not want to identify his branch.
A Pentagon official said there are "hundreds" of servicemembers who have identified themselves to the Defense Department as transgender. The official, who spoke on condition of anonymity because of the sensitivity of the subject, could not provide a specific number of troops who were currently receiving medical treatment – such as hormone therapy or gender-reassignment surgery – for transgender-related issues.
A Rand Corp. study commissioned last year by the Pentagon to help it determine its transgender policy estimated there were between 1,320 and 6,630 transgender people among about 1.3 million active-duty servicemembers.
A study last year by the Williams Institute, a think tank dedicated to sexual orientation and gender identity studies at the University of California at Los Angeles, found that about 700,000 American adults, roughly 0.6 percent of the U.S. adult population, identified as transgender.
Transgender servicemembers have only been allowed to serve openly for about a year, when then-Defense Secretary Ash Carter ended the ban in June 2016.
Carter gave the military services through July 1 to determine policies that would allow transgender men and women to join the military if they met current standards and had been stable in their current gender for 18 months. Last month, Mattis extended the deadline to Dec. 1, citing remaining questions from top military officials.
It was unclear Thursday what would become of those policy reviews and Pentagon officials declined to discuss the status of those studies.
For the time being, officials from the military services said servicemembers should continue their duties just as they had before Trump's Wednesday tweets.
In a memo sent Thursday to senior Navy officials that was viewed by Stars and Stripes, the Navy's personnel chief Vice Adm. Robert Burke wrote no transgender servicemember was to be discharged from the service immediately.
He wrote transgender sailors currently undergoing medical treatment would continue to receive it until an official policy is in place.
"Treating servicemembers with dignity and respect is something we expect from our sailors at all times," Burke wrote.
The Associated Press contributed to this story.
dickstein.corey@stripes.com Twitter: @CDicksteinDC