DODEA students make strides in SAT scores
by
Jennifer H. Svan
September 21, 2010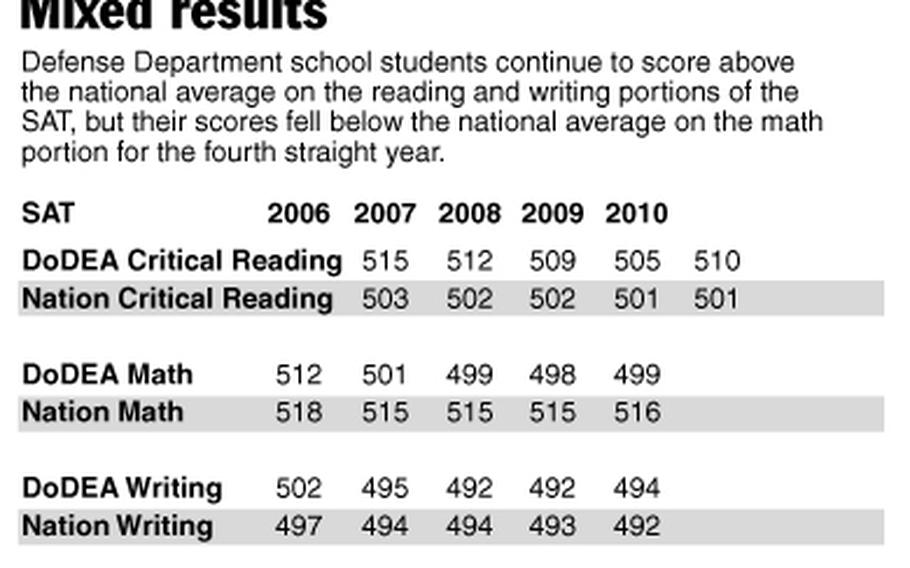 KAISERSLAUTERN, Germany — After three straight years of decline, SAT scores for students at Defense Department schools improved in all three categories, school officials announced Monday, but combined scores still lag slightly behind the national average.
On the 2010 SAT, considered an indicator for college readiness, Department of Defense Education Activity students scored above the national mean for critical reading and writing, but below the national average for math, according to DODEA.
Compared to their national peers, DODEA students were strongest in critical reading, where average scores climbed 5 points from last year, exceeding the national mean by 9 points. In writing, DODEA scores increased 2 points, beating the national average by the same. In math, DODEA's average score was up by one point, but still 17 points below the national average.
The slight improvements in the three areas assessed bumped up DODEA's total 2010 average SAT score by 8 points, to 1503, out of a maximum of 2400. That's still 6 points below this year's national average. But it's the education activity's highest composite score since 2006, when DODEA students scored an average of 1529.
Nationwide, SAT scores remained virtually flat, with a slight improvement in mathematics, no change in reading, and a slight decline in writing.
Each portion of the SAT is worth 800 points. The 2010 results reflect scores of this year's graduating seniors.
Collectively, seniors attending overseas military schools – in the Department of Defense Dependents Schools Europe and Pacific – scored higher in all three areas than students in the stateside military schools, the results show.
Additionally, DODEA's African-American and Hispanic test-takers scored higher than their national peers. On critical reading, for example, African-American students scored 49 points higher than the national average in their ethnic category, according to results from DODEA.
DODEA officials said they were pleased that scores are on the rise, but "we want significant gains in our average scores," Marilee Fitzgerald, acting DODEA director, was quoted as saying in a DODEA statement.
"As we analyze this year's results, we will be reviewing how well our curriculum standards, sequence of course offerings, instructional practices, and SAT preparatory programs work together to bring about the desired results — increased achievement for all of our students who take the SAT," Fitzgerald said.
Mathematics will continue to remain a specific area of focus, DODEA officials said.
Last year, concerned by a continuing decline in math scores, DODEA officials said they were revising grade nine through 12 math standards, with a plan to organize them by subject rather than by grade. And schools were also considering ways to get more juniors and seniors interested in taking upper-level math courses.
Officials from the College Board, which administers the test, said the data showed that students who reported taking more rigorous coursework, such as honors or Advanced Placement courses, performed better on the SAT. The College Board also administers AP tests.
---
---
---
---