Defense Department reviewing security of US installations following two deadly base shootings
by
Caitlin M. Kenney
December 9, 2019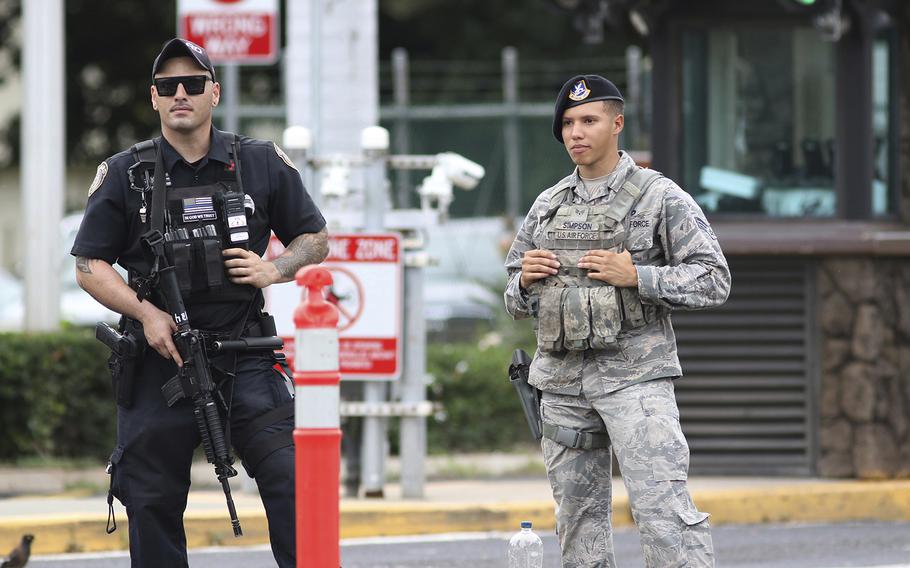 WASHINGTON — Military bases across the United States are being directed to reassess their security measures following the two deadly shootings last week at Navy installations.
Defense Secretary Mark Esper said Saturday that the Defense Department has "taken precautions" following Friday's shooting at Naval Air Station Pensacola in Florida by ordering bases to review their security measures.
"Yesterday, I directed that we look at our security precautions across the services in all of our installations and bases and facilities to make sure that we get the appropriate degree of security to protect our service members and their families and our communities. And that's underway," he told an audience at the Reagan National Defense Forum in California.
The Defense Department is also reviewing its vetting procedures for foreign nationals training in the United States, Esper said. People who come to train are vetted by the State Department, Department of Homeland Security and Defense Department, he said.
Vetting procedures include cross checking students with law enforcement databases, according to Chris Garver, a Pentagon spokesman.
There are more than 5,100 foreign nationals from 153 countries in the United States for Defense Department security cooperation-related training, Garver said. On Friday, Capt. Timothy Kinsella, the commanding officer of NAS Pensacola, said about 200 foreign nationals were at the base.
The FBI identified the shooter at Naval Air Station Pensacola as 2nd Lt. Mohammed Alshamrani of the Royal Saudi Air Force. He had been in the United States for naval aviation training. The FBI said Sunday that they are investigating the shooting on the presumption that it was an act of terrorism, The Associated Press reported.
Garver said each base has its own policy regarding procedures for bringing personal weapons onto the installation.
Alshamrani killed three sailors and injured eight others before a local sheriff's deputy shot and killed him. Of the eight injured, five have been released from the hospital, according to a statement Monday from Naval Air Station Pensacola.
Last Wednesday, a junior enlisted sailor, Gabriel Antonio Romero, 22, shot three civilians at Joint Base Pearl Harbor-Hickam in Hawaii, killing two of them, before killing himself.
Following the two shootings, Air Force Gen. Terrence O'Shaughnessy, commander of U.S. Northern Command, directed leaders at every Defense Department installation, facility and unit in the United States to immediately look into their protection measures and start to increase random security checks, Lt. Cmdr. Mike Hatfield, a spokesman with NORTHCOM, wrote Monday in a statement.
NORTHCOM is responsible for overseeing the protection of Defense Department installations, facilities, and people in North America, and for setting the Force Protection Condition — now at Bravo — for installations.
The five levels of the Force Protection Condition start at normal, then escalate to Alpha, Bravo, Charlie and Delta, with increases in security at every level in relation to threats. Due to operational security, NORTHCOM does not say what specific security measures are taken for each level.
As the third out of five increasing levels for installation security, BRAVO security measures are for when "an increased or more predictable threat of terrorist activity exists," according to the NORTHCOM statement.
Military leaders were also directed to remind workers to be alert and if they see something suspicious to report it.
kenney.caitlin@stripes.com Twitter: @caitlinmkenney