Defense chief Carter to unveil 'road map' for new DOD cyber strategy
by
Jon Harper
April 23, 2015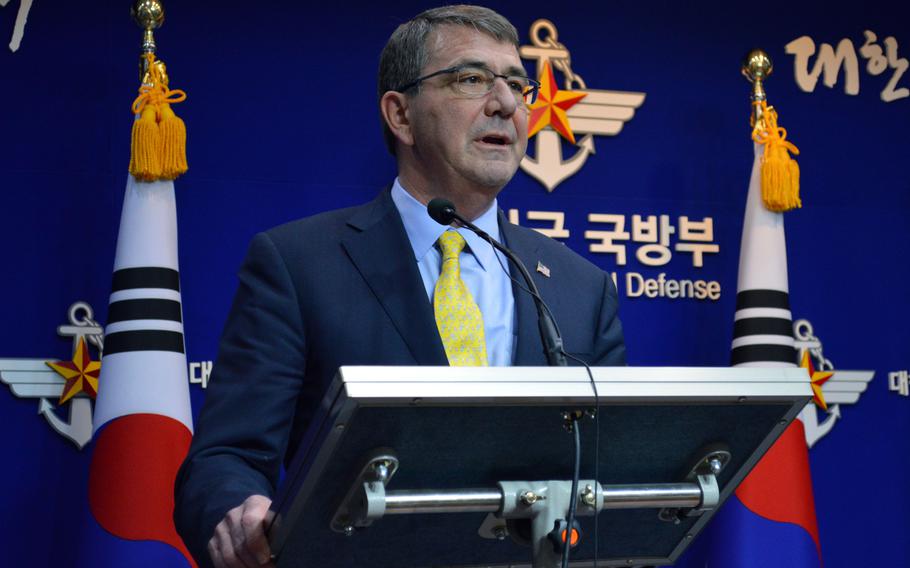 WASHINGTON — Secretary of Defense Ash Carter is heading to Silicon Valley this week to unveil the Pentagon's new cyber strategy and announce initiatives aimed at strengthening cooperation between the Defense Department and high-tech firms.
Carter's travel to California, which will include a high-profile speech and meetings with technology company executives and venture capitalists, comes at a time when potential adversaries are developing more advanced cyber capabilities.
Senior defense officials, who briefed reporters about the trip on condition of anonymity under ground rules set by the Pentagon, said the new cyber strategy, which Carter will unveil at Stanford University on Thursday, will provide a "road map" that will guide the development of DOD cyber forces over the next several years.
The strategy update will be the first since the Pentagon put out its first official cyber strategy in 2011. Since then, DOD's role in defending the nation against cyber threats has been clarified, and countries such as China, Russia, Iran and North Korea have been accused of launching high-profile cyberattacks against American organizations.
"The severity and sophistication of the cyber threats to U.S. interests has really progressed over the last several years, and so we wanted to make sure the department was focusing on doing things that would help mitigate that threat," the official said.
There are five main pillars of the new strategy, according to a fact sheet provided to reporters:
Beef up DOD's operational capabilities in cyberspace; Defend DOD networks from malicious attacks; Be prepared to defend the U.S. homeland and vital interests from "disruptive" or "destructive" cyberattacks of "significant consequence;" Provide the commander-in-chief a range of options for managing conflict escalation during times of crisis; Build the cyber capabilities of foreign allies and partners.On a broader level, U.S. officials are concerned that the American military's technological edge is eroding, and Carter and other Pentagon leaders believe DOD needs to partner more closely with high-tech commercial firms to stay ahead of the curve.
"We're now moving through a fundamental shift in where consequential innovation happens," said a senior defense official.
During the Cold War, DOD created major technological breakthroughs that were later adopted by the private sector, including the Internet, microelectronics and GPS.
But today, much of the expertise necessary for revolutionary innovations resides in the non-defense commercial sector, including start-up companies, according to the official. Examples of this trend include recent advances in robotics, biotechnology, additive manufacturing and "big data" analysis, all of which have military implications.
Carter is expected to announce several initiatives Thursday aimed at helping DOD learn from Silicon Valley, including:
The creation of "Defense Innovation Unit Experimental," a fulltime outreach presence in Silicon Valley staffed by an "elite cadre" of active duty troops, reservists and civilian personnel, who will focus on scouting emerging and breakthrough technologies and building direct relationships between high-tech firms and DOD. A plan to invest in In-Q-Tel, an organization that has worked with the intelligence community to support start-up companies working on emerging technologies that could deliver national security advantages. Reform and expansion of the Secretary of Defense Corporate Fellows Program, which sends U.S. military officers to top commercial companies for a year and brings them back to DOD to implement relevant business practices learned in their experience with industry.On Thursday, following his cyber strategy speech at Stanford, Carter will go to Facebook headquarters to talk to executives about how DOD can better recruit, retain and manage technical talent. While there, he will also meet with military veterans who now work for the social media juggernaut.
"This is to highlight some personal examples of how our people are going on to some of the nation's leading tech companies," the senior defense official said.
On Friday, Carter will participate in a roundtable discussion with venture capitalists and corporate executives before returning to Washington.
harper.jon@stripes.com Twitter: @JHarperStripes