DC National Guard officer refutes police accounts of June 1 protest outside White House
by
Steve Beynon
July 28, 2020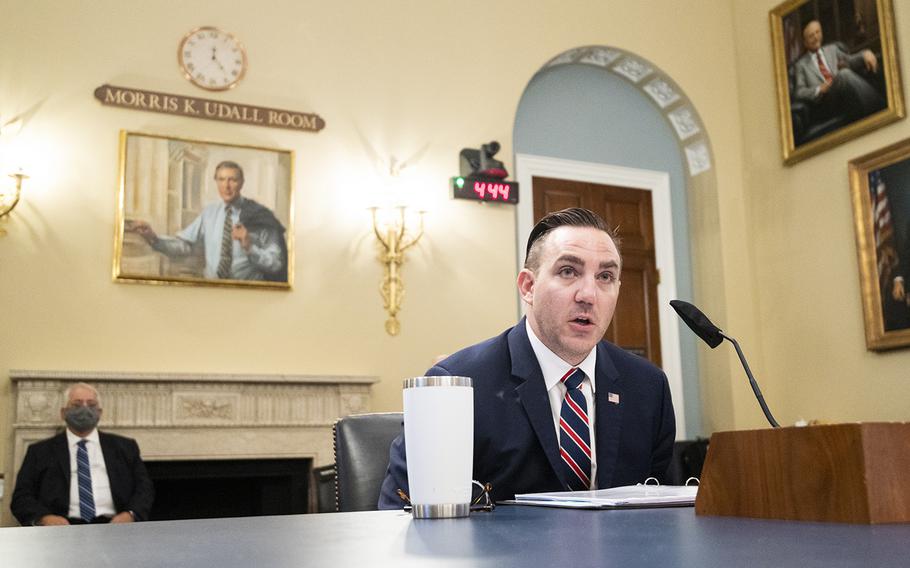 WASHINGTON — An Army officer for the National Guard told House lawmakers Tuesday that protesters at Lafayette Square last month were subjected to excessive use of force by police prior to President Donald Trump's photo opportunity at a church across the street.
"The events I witnessed at Lafayette Square on the evening of June 1 were deeply disturbing to me, and to fellow National Guardsmen," said Maj. Adam DeMarco, a member of the District of Columbia National Guard and an Iraq War veteran. "Having served in a combat zone, and understanding how to assess threat environments, at no time did I feel threatened by the protesters or assess them to be violent."
Last month, Lafayette Square became a focal point of protests in cities across the country expressing outrage for the death of George Floyd, a handcuffed Black man at the hands of a white police officer. To clear the park, police used smoke grenades and flashbangs and fired rubber bullets into the crowd and attacked protesters with batons and riot shields.
On Tuesday, Democratic members of the House Committee on Natural Resources pressed DeMarco and acting Chief Gregory Monahan of the Park Police on whether the use of weapons by police was a political tool by Trump to allow him to take a photo in front of the historic St. John's Episcopal Church.
"I firmly believe what happened in Lafayette Square was a consequence to create a photo opportunity for President Trump," said Rep. Raul Grijalva, D-Ariz., the committee chairman.
DeMarco's statements to the House committee about the incident contradicted the depiction from White House and law enforcement officials about the protests.
"From my observation, those demonstrators — our fellow American citizens — were engaged in the peaceful expression of their First Amendment rights," he said.
But Monahan offered a different account to committee members.
He said protesters at Lafayette Square were armed with "bricks, rocks, caustic liquids, water bottles, lit flares, fireworks and 2x4 sections of wood." However, no officers were injured during the day before police moved protesters out of the square, he added.
Monahan also denied the actions of Park Police using aggressive tactics to clear the area had anything to do with clearing a path for Trump to walk across the street. However, he said he knew Trump was going to visit Lafayette Park amid the protests. Police cleared the protesters from the area about 30 minutes before Trump and his entourage walked to the church. But Monahan asserted Tuesday that he did not know when the White House planned to move across Lafayette Square.
"We were notified earlier in the day that the president was going to visit Lafayette Park to view the damage that was done to the park over the course of the preceding days, but we were not given a time on when he was visiting," he told House lawmakers.
Monahan also denied police pushing or beating protesters or firing less-than-lethal munitions at the crowd was directed by the White House. Normally, there would be a digital recording of radio communications, but records between police and Secret Service do not exist due to a technical failure, Manahan said.
House lawmakers are now demanding the written logs of all Park Police communications from that day.
DeMarco said the National Guard troops were taken by surprise by police attacking protesters. He said he never felt like he was in danger and there were no indications of violence that day. He said he crowd was largely under control ahead of the advance by police, calling actions by law enforcement an "ineffective way to deescalate the situation."
Monahan said 50 Park Police were injured during the days leading up to June 1. One officer was injured once they advanced on protesters in Lafayette Park.
House lawmakers pressed Monahan repeatedly for two hours for an explanation on why police cleared the area ahead of Trump's photo-op. Monahan said police needed to clear the area so a fence could be built around the White House to expand security. However, he offered no explanation about why police used aggressive tactics roughly 30 minutes before D.C. Mayor Muriel Bowser's curfew went into effect. Monahan did not cite a triggering event.
Rep. Ruben Gallego, D-Ariz., a former Marine, said the police acted unprofessionally.
"Deescalating the violence does not mean sending in men swinging batons and using … gas, it doesn't make any sense," he said. "No one was injured until you advanced, it makes no sense. ... If I acted this way when I was in the Marine Corps, I probably would've been busted down [in rank]."
beynon.steven@stripes.com Twitter: @StevenBeynon