Cruz, Rubio find common ground on not wanting women to be drafted
by
Travis J. Tritten
February 26, 2016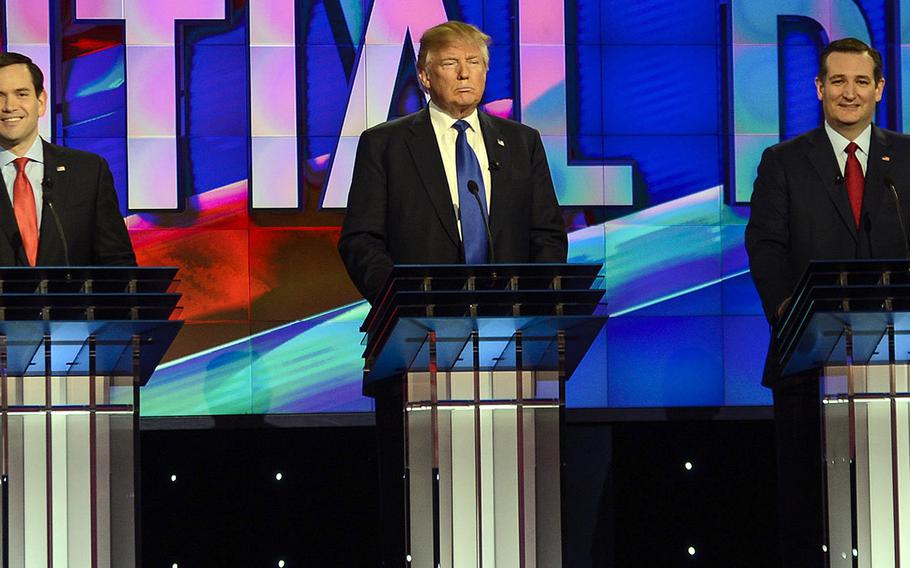 WASHINGTON — It's official – Sens. Ted Cruz and Marco Rubio agree on something.
The two presidential candidates paused their political brawl with Donald Trump this week to cosponsor a bill aimed at keeping women out of the military draft.
The legislation — sponsored by Sen. Mike Lee, R-Utah — is called the Only Congress Can Change the Draft Act, and does what the name implies. If passed, it would attempt to block any action by President Barack Obama that would require women to register with the Selective Service following the military's decision in December to integrate all combat positions that had remained all male.
Interactive graphic | Breaking down Super TuesdayCruz, R-Texas, said it is immoral to require women between 18-25 years old to register for a potential military draft.
"We have had enough with political correctness and social engineering by executive fiat, especially regarding our military. Political correctness is dangerous, and the idea that we would draft our daughters to forcibly bring them into the military and put them in close combat is wrong," Cruz said Thursday in a released statement.
Down at the bottom of his Senate office news release, he noted the other cosponsors of Lee's bill, which include Rubio, R-Fla.
Rubio's office did not immediately provide comment on the legislation, though his staff confirmed earlier this month that he was working with Lee on the issue.
Cruz and Rubio had waged brutal campaigns, breathing fire at each other in the early GOP primaries to gain a foothold to go after Trump. But on Thursday, both turned their focus on the billionaire front-runner during the last televised debate before Super Tuesday.
The move could be a solid political hit for both as opposing the registration of women has become a popular Republican issue on Capitol Hill.
A sudden groundswell of opposition came this month after military brass and Sen. John McCain, R-Ariz., came out in favor of drafting women. A bill has been introduced in the House that would completely abolish the draft.
Marine Commandant Gen. Robert Neller and Army Chief of Staff Gen. Mark Milley testified to the Senate this month that they believe the exemption should be ended.
The Supreme Court upheld the all-male draft in 1981, finding women could be excluded because they would not be called to fill critical combat positions during a war. But since the Pentagon began full integration of women that rationale might no longer be valid.
Lee said the debate over solutions is in full swing, with proposals to end the Selective Service program, add women as a contingency option and to register women for military positions other than combat.
"This is an unsettled debate. So it's a decision that should be made by the American people's elected representatives – not unelected bureaucrats or judges," he said in a released statement.
tritten.travis@stripes.com Twitter: @Travis_Tritten