Corpsman's new lease on life to be center stage at NYC Fleet Week event
by
Michael S. Darnell
April 12, 2019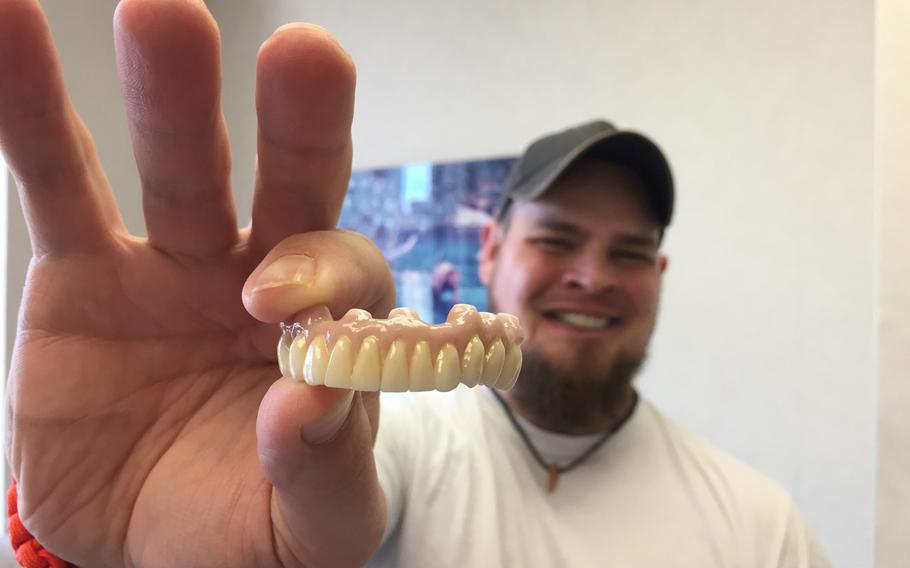 WASHINGTON — Thirteen years ago, an Iraqi sniper's bullet almost ended Dustin Kirby's life.
As a Navy petty officer third class and a corpsman embedded with Marine infantrymen, he was tasked with keeping warfighters healthy during one of the bloodiest years of the Iraq War.
Kirby was on a rooftop at Outpost Omar, near Fallujah, during a routine personnel change when he was shot by a sniper.
The bullet tore through his jaw, taking seven of his teeth and fracturing his jawbone and part of his skull. That moment triggered a decade of constant agony and alcohol use that left the combat medic hopeless.
Thanks to his own tenacity, a mother's undying love and a team of dedicated doctors, he's well on his way to recovery.
Kirby will share his story of recovery in May at a special concert event for servicemembers and veterans held in New York during Fleet Week 2019. The Georgia native plans to talk how a team of doctors freed him from a prison of pain and, quite literally, gave him back his smile.
What he left behind
Kirby had deployed with 2nd Battalion, 8th Marine Regiment as part of the 26th Marine Expeditionary Unit in 2005, which he said was relatively uneventful. His second trip downrange with 2/8 just a year later was just the opposite.
The unit arrived in Iraq in July and had its first casualty by August. Lance Cpl. James Hirlston was shot and killed by sniper fire in the town of Karma, near Fallujah. Not long afterward, the truck Kirby was riding in was hit by an improvised explosive device. Kirby survived but was ordered to take a week off.
"That was worse than getting blown up," Kirby said. He didn't want to leave his Marines behind.
On Oct. 30, 2006, during a patrol in Karma, a close friend and former roommate of Kirby's was shot in the head as he manned the turret of a vehicle. Lance Cpl. Colin Smith was hit by a 7.62 mm round, according to an account written in The New York Times.
"It was, realistically, the most grievous injury I treated," Kirby said. Smith was in such bad shape that Kirby questioned how much his treatment was going to help, if at all. "What am I really saving here — what's his life going to be like?" Kirby asked himself.
Smith is alive today largely because of Kirby's battlefield triage and now resides with his mother, Melissa Smith, in Ohio.
"He did exactly what he needed to do," Melissa Smith said in a phone interview. "Colin's life has drastically changed, but he …"
Her voice trailed off, searching for the right word. Colin Smith, also on the phone, found it.
"Survived."
While still on the road to recovery — Smith has had to relearn how to walk, communicate and live again — he is well enough now to have gone on a recent Colorado ski trip.
Just a few weeks after Smith was hit, Kirby — known simply as "Doc" to his Marines, as many corpsmen are —himself was shot on Christmas Day.
After the bullet tore through his face, the 22-year-old corpsman refused to allow his Marines to carry him to the medevac. Finding himself unable to breathe due to the mangled mass of flesh, bone and teeth, Kirby performed an emergency tracheotomy on himself, slicing open his neck with the tip of a Ka-Bar knife to open an airway.
That bullet effectively ended Kirby's career. Until he was medically separated in 2012, Kirby's military service was marked by procedures — 32 in all — that left him with constant pain and a 14-inch metal plate holding his jaw together.
"They felt like they had done all that they could," Kirby said of his doctors.
But their best wasn't enough to give the battlefield medic his life back. Pain, he said, was his constant companion.
The failures of the VA system
After his release, Kirby's care was largely in the hands of the Department of Veterans Affairs. Communication between the string of doctors he saw was poor, he said, and they were content to fix his jaw bit by bit.
Kirby remained in immense pain and turned to alcohol to self-medicate. Constant pain, the lack of attention from the VA and alcohol use led Kirby to lose hope.
"Anytime I really needed help, I couldn't get it," he said. "I thought I was going to be in that terrible spot, feeling that pain all the time, watching my body slowly fall apart forever."
The VA was so backlogged that there were long times between his appointments. At one point, Kirby said, he was told an emergency extraction for an infected tooth would take nine months to schedule.
Kirby couldn't wait that long, so he took two shots of liquor and pulled his own tooth out with a multi-tool. The first tooth was the wrong one, he said, so he yanked out the second tooth days later.
When Kirby's mother, Gail Kirby, heard about his do-it-yourself dental surgery, she got more involved in his care.
"She said, 'I'm going to figure this out. I'm going to be the mom and pull you out of this mess,'" Kirby said.
Doctors who cared
Years earlier, Kirby and his mother had been at an event during which well-wishers offered their services to help the former petty officer. Kirby brushed them off, thinking they were simply being polite.
After the tooth-pulling incident, his mother reached out to one of them through email with a simple message: "My son needs your help."
It took just minutes for a reply to come back. Dr. Spero Theodorou, a New York plastic surgeon, sent a follow-up reply: "We got this."
What followed was a series of consultations in New York that didn't seem much different than previous visits with specialists. Nothing could be done, he was told, until the last of the appointments, which involved two doctors from Lenox Hill Hospital, part of the extensive Northwell Health network.
Dr. Lawrence Brecht and Dr. David Hirsch, director of maxillofacial surgery at Lenox Hill, were so confident that for the first time in a long time, Kirby began to hope something could be done.
"Everything changed in that moment," he said.
The turnaround from appointment to procedure was quick. Unlike the VA, where appointments were months apart, the team had Kirby in surgery within weeks.
Hirsch's team removed the metal plate in Kirby's jaw and replaced it with custom-fitted titanium dental implants and artificial teeth. They also correctly aligned Kirby's jawbone with his teeth, allowing him to eat and talk more normally. Two of the procedures were done pro bono.
When Kirby awoke from the initial surgery, the major pain he had dealt with for 10 years was gone.
"When that happened, every door in my life turned into an open door," he said.
That door could open for other veterans. In an interview, Northwell's president and CEO stressed the importance the medical staff puts on caring for veterans.
"We're willing to be unbelievably collaborative in working with the person to make sure the ability to get care is not restricted by the resources that person has," Michael Dowling said. "If there is no revenue or there is no asset … and the circumstance is dire, we provide it anyway. We work with the person to make sure they get the care."
Veterans in need of care can reach out to Northwell at (516) 881-7020 or through their website at northwell.edu/veterans.
Celebrating health and helping others
In the three years since his life-altering operation, Kirby has been able to address his post-traumatic stress disorder more acutely. Briefly married, he now has four daughters. They're able to see him smile without pain, and he has a job as a surveyor for a pipe-laying business.
He said that thanks to the procedure and his continued mental health care, he's able to be "a better dad, a better man, a happier man."
Kirby, Smith and other 2/8 Marines remain in touch. Smith's family held a party on the 10-year anniversary of the Marine's injury, his mother said, to celebrate "the fact that he survived something horrific." Among the guests was Kirby, without whom the anniversary marked would be a much darker one.
Kirby remains fiercely proud of his service, saying that he'd do everything again, even knowing the pain he had to go through. And he's not afraid to share his story.
To that end, he has partnered with Northwell for a concert event at Rockefeller Center in conjunction with New York's Fleet Week — a massive event created by the health care provider in which Marines and sailors descend on the city for a weeklong celebration.
"I don't want a lot of attention," he said. "I understand that people want to celebrate a victory, but the reason I'm going out there is there have been a lot of losses. There have been a lot of losses because there are a lot of people without hope."
Called Side By Side: A Celebration of Service, the May 25 event will feature high-profile musical acts and military exhibits by the Navy. It also will feature speeches by former servicemembers — Kirby among them — who are using the elevated platform to reach out to wounded veterans and to let them know there are ways to get treatment. Much of the event is free. For more information, visit sidebysidenyc.com.
"We're going to shine a light on a good story to bring hope to those who don't have hope … to help them in their hour of need," Kirby said. "Ultimately, that's what a corpsman does. That's what I am. That's what I'll be until the day I die."
darnell.michael@stripes.com Twitter: @MikeSDarnell