Coronavirus leads Army to shut down its recruiting stations, focus on online recruiting
---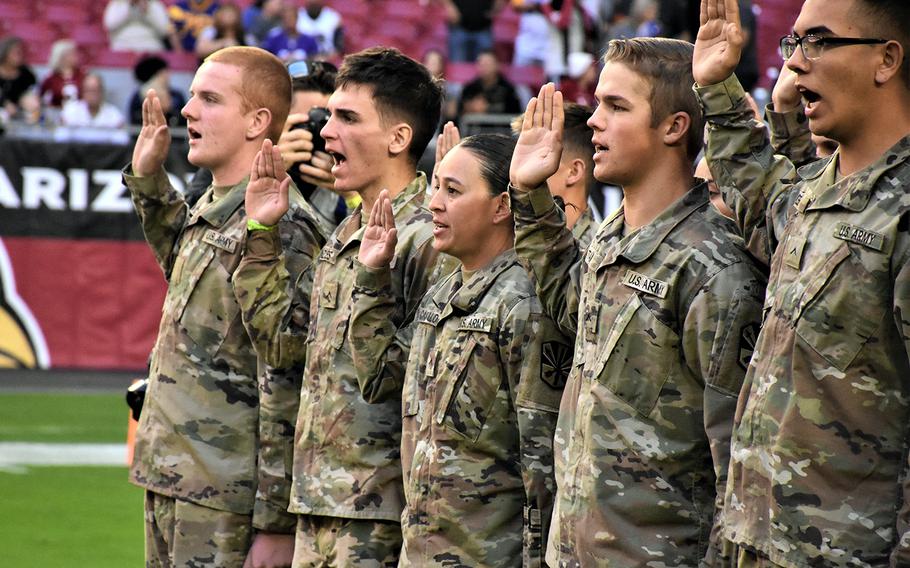 Stars and Stripes is making stories on the coronavirus pandemic available free of charge. See other free reports here. Sign up for our daily coronavirus newsletter here. Please support our journalism with a subscription.WASHINGTON — The Army on Friday began closing the doors of its more than 1,400 recruiting stations across the nation in an effort to protect its recruiters from the fast-spreading coronavirus, service officials said.
The Army's 10,000-plus recruiting force will shift to a nearly 100% focus on digital operations via social media, phone calls, text messages and video chats for an indefinite period, U.S. Army Recruiting Command announced. Recruiters are expected to work almost exclusively from home while social distancing practices to contain the virus remain recommended by federal health officials, a spokeswoman for the command said.
Maj. Gen. Frank Muth, USAREC chief, said he was confident the Army's recruiting mission would not grind to a halt without face-to-face meetings with potential recruits. Muth has been among the leading advocates for Army recruiters to focus heavily on digital operations during the last two years since the service fell short of its 2018 recruiting goal.
"We are very confident in our ability to operate in the virtual space, as it has become a primary method of talking to potential soldiers in recent years," Muth said Friday. "While face-to-face discussions are valuable when discussing options to serve in the U.S. Army, we are able to work around that, if necessary. Right now, I think that is necessary for the health and safety of our force and those around them."
The Army's top leaders said the service was in good shape in terms of recruiting so far in 2020. Army Secretary Ryan McCarthy told reporters that the potential impact of closing recruiting stations would depend on how long the shutdown across the United States continues.
"We've had a [positive] margin in our recruiting numbers this year," McCarthy said. "We are doing very well. I knock on wood, as I say this, but [if the outbreak continues] where are we going to be in a month?"
A nationwide effort to avoid nonessential travel championed by federal and state health officials to drastically limit human contact is meant to slow the deepening coronavirus pandemic that had sickened at least 16,638 people in the United States as of Friday, according to Johns Hopkins University.
The Pentagon said Friday that 67 of its service members worldwide had tested positive for the disease. That includes at least 21 soldiers, McCarthy said. None of the reported cases included recruiters, according to Lisa Ferguson, the USAREC spokeswoman.
Nonetheless, she said, Muth determined closing recruiting stations to the public was the safest way for his staff to work now.
USAREC officials have said they do not provide midyear recruiting data, but Muth has said several times in 2020 that the service had been on track to exceed its goals. The Army made it fiscal year 2019 recruiting goal after falling 6,500 enlistees short the previous fiscal year.
The 2018 recruiting failure, the service's first since 2005, forced service leaders to take a hard look at its decades-old recruiting practices. After a short review, Muth led efforts to change the Army's recruiting enterprise to focus largely on digital methods — interacting with young Americans on social media, targeting advertising to websites frequented by them, and building an e-sports team to increase competitors' awareness of the Army.
For now, recruiters will still have some face-to-face contact with recruits before they ship to Military Entrance Processing Stations and then on to initial entrance training, which has continued amid the outbreak.
McCarthy said recruits would continue to ship to basic training because "force generation is just so important."
The Army has taken steps to evaluate and monitor recruits before they enter their initial training, said Gen. James McConville, the Army chief of staff.
New recruits are screened in their home states, at military entrance processing sites and again when they arrive to their basic training post, McConville said. They are also briefly quarantined to "make sure they show no signs" of coronavirus infection.
To date, the Army has identified six recruits with symptoms potentially related to the coronavirus, but none of those cases have been confirmed, the general said.
Some recruits who had expected to ship to basic training in the coming weeks likely will not, McConville said. The Army is working on a solution to ensure those individuals are paid even before they arrive, he said.
"We're going to bring them on the payroll, on active-duty, and they can stay at home in their communities and get ready," McConville said. "And once they can, they'll ship out."
dickstein.corey@stripes.com Twitter: @CDicksteinDC
---
---
---
---