Conference sparks dialogue on preventing sexual violence at service academies, colleges
by
Caitlin M. Kenney
April 4, 2019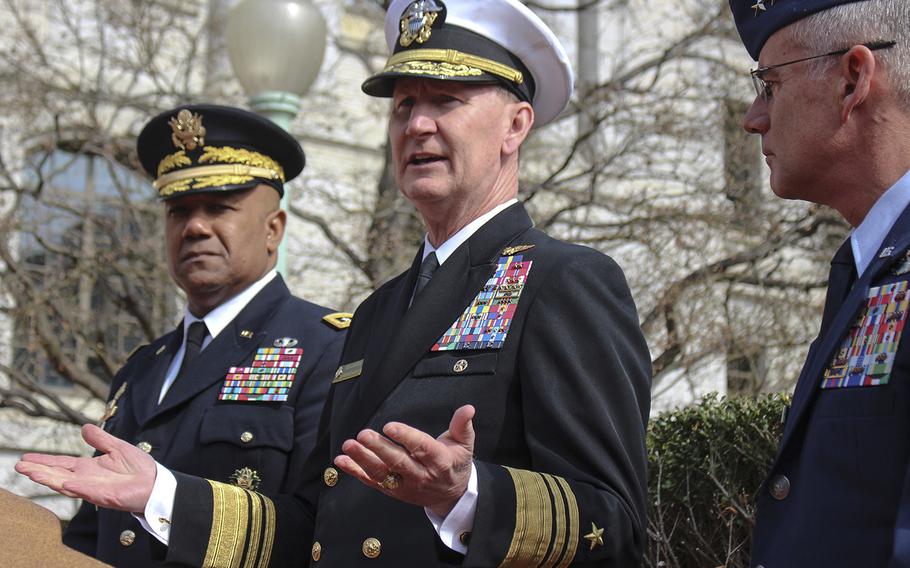 ANNAPOLIS, Md. — Secretaries of the Army and Navy on Thursday opened a "national discussion" of unwanted sexual contact at colleges, universities and service academies with a challenge: Find real ways to stop it now.
"These destructive behaviors violate the safety and security of our young men and women are entitled to in colleges and universities around the country," Army Secretary Mark T. Esper said. "To put it simply, the current situation is unacceptable."
The secretaries, along with the Air Force, invited academic leaders and experts to the U.S. Naval Academy in Maryland this week to find ways to prevent sexual violence and to share initiatives that have shown promise. This comes as a survey released in January showed a 50 percent rise in claims of sexual assault and harassment at the military service academics.
In his opening remarks, Navy Secretary Richard Spencer said that something has to be done now.
"We think we're making progress but we don't know where we are on a benchmark basis," he said of military efforts to stop the sexual violence. "That's why we wanted to have the discussion with you," he said.
About 325 people attended what is billed as the first-ever "National Discussion on Sexual Assault and Sexual Harassment at America's Colleges, Universities, and Service Academies." Esper said that 1,200 universities were invited to attend, but only 10 percent were represented.
"This is a national dialogue that has to happen across all college campuses, not just the service academies," said Vice Adm. Ted Carter, superintendent of the U.S. Naval Academy, during a news conference at the event. "And we do need to look for some best practices. ... We want to learn from each other."
The two-day conference consists of several expert panels and breakout sessions to discuss specific topics such as prevention, healthy relationships, and culture/climate and leadership.
Sen. Martha McSally, R-Ariz., used her forum as keynote speaker Thursday to talk about her decision to come forward as a rape survivor.
Days before a March 6 Senate Armed Services Committee subpanel hearing on sexual assault in the military, McSally said she decided to share that she had been raped by a superior officer when she served in the Air Force.
McSally said Thursday that she decided to reveal her experience because she wanted the panel of rape survivors to understand her perspectives on issues — such as whether commanders should be involved in decision-making in sex assault cases — not just as a former squadron commander but also as a survivor.
It's the responsibility of the academic intuitions to protect students and prevent sexual assaults from happening on campus, McSally said.
"I hope you can put a human face on what your mission is here today in going forward. And it's to do everything you can on every single day to make sure that there isn't another young man or young woman who has a sexual assault happen to them at your university, at your military academy. Not on your watch."
She charged the audience with making real change.
"Let's be honest about it, and let's figure out -- don't just do incremental stuff," she said. "Let's figure out how to do something that's going to be really meaningful, to change the environment, to change the culture."
The conference continues Friday, with Air Force Sec. Heather Wilson among the speakers.
kenney.caitlin@stripes.com Twitter: @caitlinmkenney