Coast Guard calls off Arctic operations after icebreaker catches fire near Alaska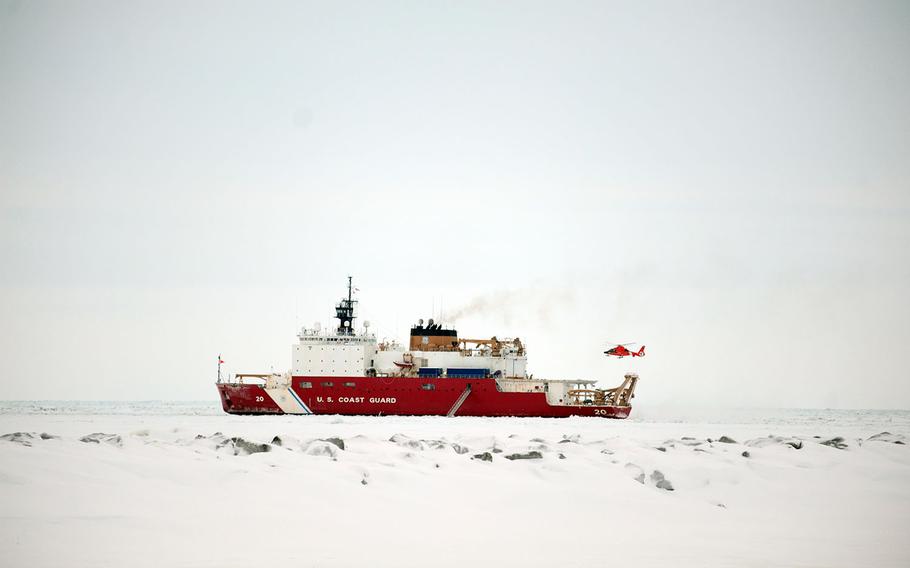 A blaze aboard the Coast Guard cutter Healy, one of only two U.S. icebreakers, has put a temporary end to U.S. patrols in the Arctic Ocean.
An electrical fire broke out in one of the Healy's main propulsion motors while en route to the Arctic on Aug. 18 and left the cutter unable to operate in ice, according to a Coast Guard statement.
The blaze was reported at 9:30 p.m. when the icebreaker was 60 nautical miles from Seward, Alaska, the statement said. It was extinguished 26 minutes later when the engulfed motor was disconnected by a member of the fire team.
There were no injuries reported, and the fire's cause was unknown Wednesday.
The Healy returned to Seattle, its homeport, for repairs and Coast Guard operations in the Arctic Ocean were canceled, said the statement, which gave no indication when Arctic operations might resume.
"I commend the crew of the Healy for their quick actions to safely combat the fire," said Vice Adm. Linda Fagan, Pacific Area commander, according to the statement. "This casualty, however, means that the United States is limited in icebreaking capability until the Healy can be repaired, and it highlights the nation's critical need for Polar Security Cutters."
The fire put the Healy's starboard propulsion motor and shaft out of operation, which effects the ship's ability to avoid varying shaft speeds in ice operations.
The Healy took on 11 scientists in Seward on Aug. 15 and departed Aug. 18 for patrol and research in the Arctic, the Coast Guard said. The cutter has 4,200 square feet of scientific laboratory space, numerous electronic sensor systems, oceanographic winches and accommodations for up to 50 scientists.
The vessel, built in 1997, is 420 feet long, displaces 16,000 tons and can break 4 ½ feet of ice continuously at three knots. It can operate in temperatures as low as minus 50 degrees, according to the Coast Guard.
Prior to the fire, the Healy completed a 26-day patrol demonstrating U.S. presence in the Bering Sea along the U.S.-Russia Maritime Boundary Line, according the statement.
In April 2019, the Navy awarded a $746 million contract to Mississippi shipbuilder VT Halter Marine for a new heavy polar icebreaker, called a Polar Security Cutter, with the option to build two more heavy icebreakers.
The company is expected to deliver the cutter by 2024.
lopez.christian@stripes.com Twitter: @CLopez_Stripes