Charges against Camp Pendleton Marines arrested in human smuggling probe include drugs, theft and weapons violations
by
Rose L. Thayer
September 27, 2019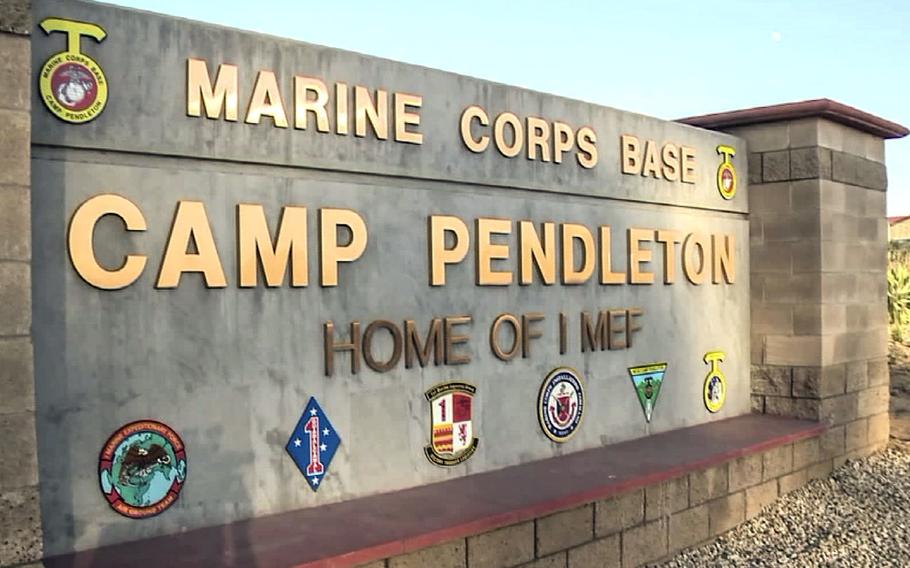 AUSTIN, Texas — Dealing drugs, stealing hand grenades and having an unregistered handgun are some of the charges facing the 13 Marines arrested at Camp Pendleton, Calif., in a human smuggling investigation that began in July, according to information released Friday by the 1st Marine Division.
Formal charges were announced last week against the Marines, about two months after their arrests during a morning formation at the Southern California base. In the charge sheets of the Marines — of which only two have been identified — are a myriad of illegal activity beyond the human smuggling accusations that initiated the investigation. All of the arrested Marines are lance corporals serving in two battalions of the 1st Marine Division.
The charges include a Marine in 1st Battalion, 5th Marine Regiment facing a larceny charge for stealing four smoke grenades, a parachute flare and 20 blank 5.56 ammunition rounds sometime between May 1 and July 24, according to the charge sheet. It does not specify from where on the base the military property was stolen. That Marine was also charged with human smuggling and failing to report the crimes of fellow Marines.
Another Marine in the same battalion was charged with distributing LSD and cocaine between March and July, as well as human smuggling, according to the charge sheets.
A Marine in 1st Battalion, 1st Marine Regiment was charged with failure to obey related to wrongfully possessing a Sig Sauer P320 9mm handgun on base without registration between April 3 and July 10, according to the charge sheet. The Marine is accused of keeping it in his barracks room and personal vehicle. He also faces an endangerment charge for unlawfully carrying a concealed handgun in Campo, Calif., on July 10 -- the day that he was arrested by Border Patrol for smuggling undocumented immigrants. He has not been named by the Marine Corps and though he faces a human smuggling charge in the military, it is unclear whether he faces similar federal charges.
Three Marines in 1st Battalion, 5th Marine Regiment were charged with perjury for their participation in destroying a cell phone or cell phones with the intent of obstructing justice.
All names on the charge sheets were redacted, including the names of two Marines previously identified as Lance Cpls. Byron D. Law and David J. Salazar-Quintero, both members of 1st Battalion, 5th Marine Regiment. Law and Salazar-Quintero also face federal charges for human smuggling. Both were arrested by Border Patrol on July 3.
The Marines will soon face investigative hearings on the charges. The hearings will determine whether they will move forward with court-martial proceedings, said Maj. Kendra Motz, a division spokeswoman. The Marines will be named if the charges lead to a court-martial, she said.
The criminal activity within the two battalions was exposed when U.S. Customs and Border Protection agents arrested Law and Salazar-Quintero on July 3 for attempting to smuggle three people from Mexico across the U.S. border. Aside from federal human smuggling charges in the U.S. District Court for the Southern District of California, both Marines now face a general article charge related to human smuggling from the Marine Corps. A general article charge is a catch-all violation of the Uniform Code of Military Justice that is often used for crimes not specifically outlined.
During the investigation into Law and Salazar-Quintero, officials discovered other Marines were also involved in illegal activity. On July 25, 16 additional Marines were detained by Naval Criminal Investigative Service during morning formation, the 1st Marine Division has said. Five of those Marines were not charged.
None of the Marines arrested or detained for questioning served in support of the military mission along the U.S.-Mexico border, according to the division.
thayer.rose@stripes.com Twitter: @Rose_Lori