Certification, credential assistance pilot program launches at Fort Hood
by
Rose L. Thayer
August 14, 2018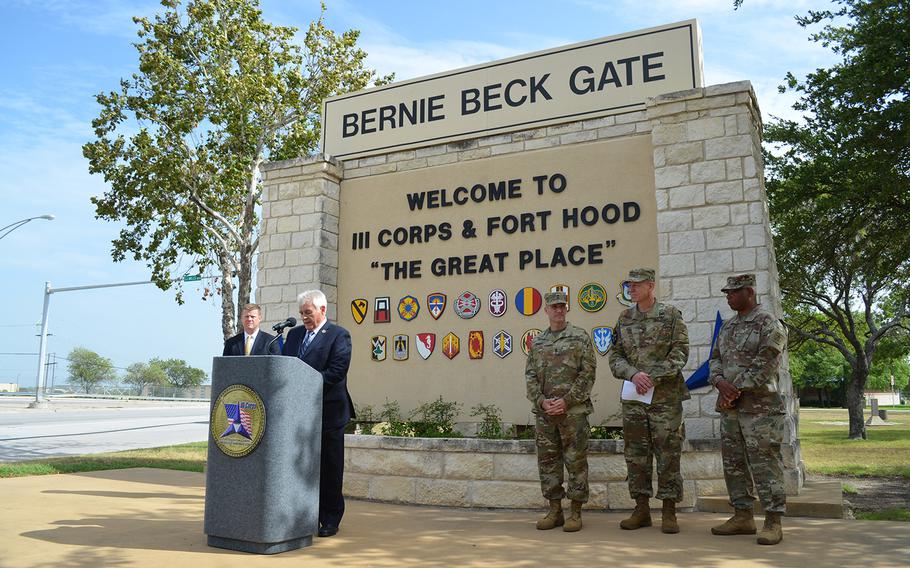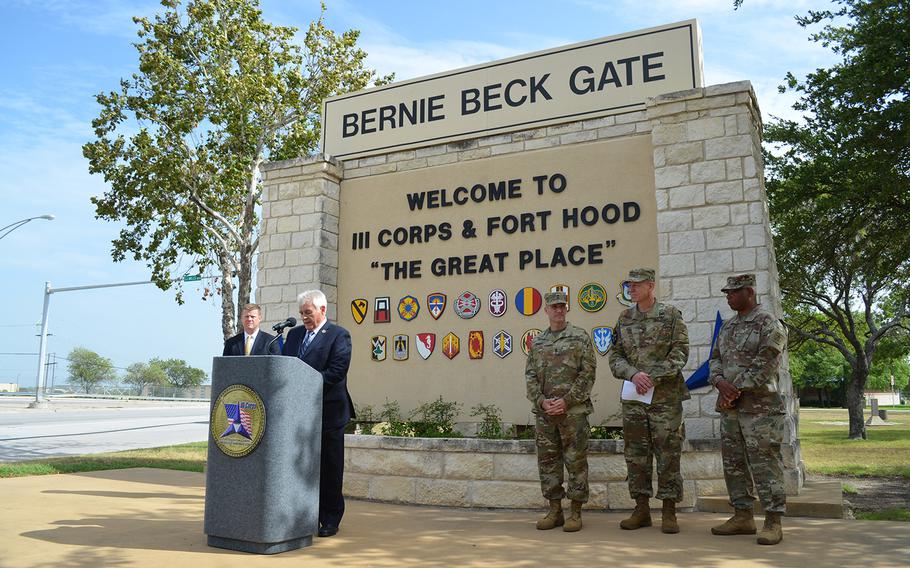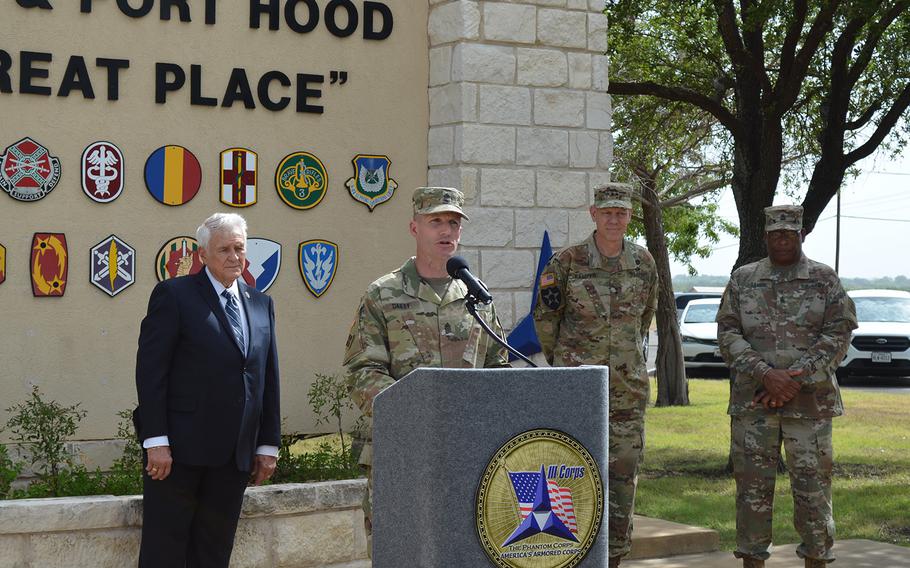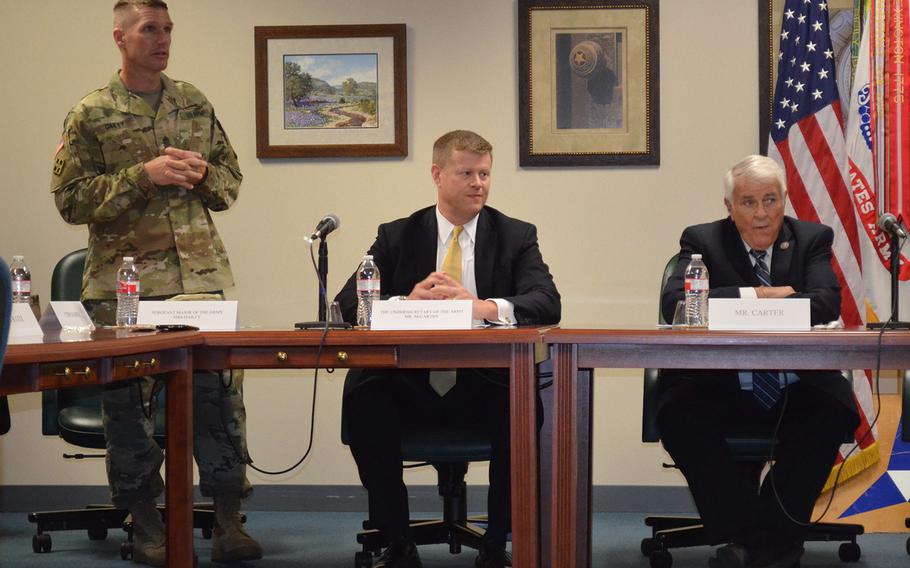 FORT HOOD, Texas — A new Army education pilot program will give access to civilian credential and licensing certification programs to the 36,000 soldiers of Fort Hood, making them more attractive to employers outside the military.
Undersecretary of the Army Ryan McCarthy, Sgt. Maj. Daniel Dailey and U.S. Rep. John Carter, R-Round Rock, joined Fort Hood officials Tuesday in announcing the program, which is similar to tuition assistance but allows access to technical trades. It opens the door for soldiers to obtain 28 certifications or licenses to help them quickly transfer military skills to the civilian workforce.
"Two years ago, I had vision of being able to make sure our soldiers took the well-earned skills they learned throughout the Army back into their civilian careers in life," Dailey, the top enlisted solider in the Army, said during the press conference outside the main entrance. "This is one of the most important things we can do for soldiers and families in terms of employment."
He took that vision to Carter, who'd been working on legislation with the same purpose. McCarthy later joked he was just a ninth inning reliever on the project and commended them on bringing credential assistance from vision to reality.
"Really what it comes down to is giving tools to men and women. Whether you serve three years or 30 years, you have to hang your boots up and transition," McCarthy said.
Eligible soldiers — officers, noncommissioned officers and warrant officers of active components as well as Texas National Guardsmen and Army Reserve soldiers in a Texas unit — can receive up to $4,000 a year toward 28 preselected certifications in fitness, food service, human resources, information technology, logistics, management, manufacturing, medical, trade and transportation.
These specifics were chosen because of job availability in Texas and the ability to complete them within the one-year test period. The certification doesn't have to align with a soldier's job in the Army.
Dailey said he fully intends to spread this program across the Army as soon as there is a baseline for future requirements. Fort Hood was chosen because of the "phenomenal record" of its education center, the availability of soldiers in a diverse realm of jobs, and partnerships within the community and nearby Central Texas College.
Mike Engen, education services officer at Fort Hood's Education Services Division, anticipates about 40 percent of soldiers at the post near Killeen, Texas, will take advantage of credential assistance once it becomes available Sept. 6.
For soldiers with all the training and coursework they need to be credentialed, Engen said the program will pay for them to take a refresher program or go straight to the exams. Any books or manuals needed are also paid for by the Army.
For example, most medics are ready for the test, Engen said. Before this program, they would "go through the best training in the world, then leave the Army and weren't able to walk into the health-care industry."
"This is another tool … to fully support professional development," he said.
Sgt. Karriem Minor, a helicopter mechanic in the 1st Cavalry Division, said he has identified two credentials he could quickly earn based on his military training.
"It's an opportunity for myself to get trained technically for things I need outside the military," he said. Should he leave the Army, the certification could speed up a potential employment at a company like Boeing.
Marvin Hill, a project manager adviser at FedEx Freight and a 35-year veteran of the Army, said this announcement is welcome.
"Our servicemembers, truck drivers in particular, they have driven in the most austere conditions and been harassed along their routes with roadside bombs, indirect fire and still deliver their contents safely and intact," he said during a phone interview after the announcement. "It's just amazing that they couldn't transition out with that commercial driver license and go to a company and go to work right away. It's a step in the right direction."
Reducing this gap in training helps the servicemember get right to work as a civilian, Hill said, and makes them more appealing to the companies looking to hire.
"There's nothing better than getting a person in your organization and being able to put them to work immediately," Hill said.
thayer.rose@stripes.com Twitter: @Rose_Lori