Celebs enlist, kind of, for new reality TV show
---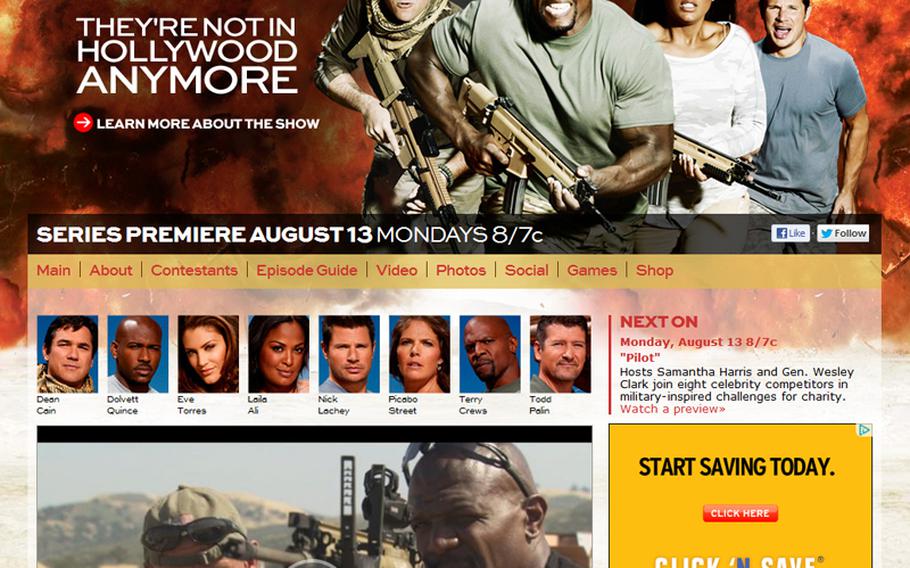 Tougher than average celebrities, including a wrestling 'diva' and a buff former boy band singer, will attempt to earn money for military charities in a new network reality program by mimicking special operations missions.
The NBC show, Stars Earn Stripes, will pair eight celebrities with first-responder military and law enforcement professionals, with each episode comprising of a 'mission' to complete.
With a Monday debut, the previews show helicopter rides, amphibious assaults, high-tech equipment and of course, explosions worthy of a Jerry Bruckheimer summer blockbuster.
According to former Gen. Wesley Clark, who serves as co-host, the ammunition and danger are real.
"There are no stunt doubles—this is real," says Clark in the promotion video.
Contestants include Laila Ali, Dean Cain, Nick Lachey, Todd Palin, Picabo Street and Eva Torres. A former Green Beret and Navy SEALs are among the military groups represented. There is also one current servicemember from the U.S. Navy, according to the show's website.
The program will be all about honoring veterans and law enforcement, according to one of the executive producers, Mark Burnett.
"We're protected by the very best," he said.
Despite the fawning over the commandos and flag waving that may turn off some viewers, a review of the pilot episode by The Washington Post says "Stars Earn Stripes put on a quite a show, and that's the only point on reality television."
Another review in The L.A. Times reminds everyone that nobody will actually be trying to kill celebrities while they play counterinsurgency and that at least in some part, the show is for a good cause.
Stars Earn Stripes is scheduled to air Mondays 9-10 p.m. EST.
---
---
---
---