Cases of heat-related illnesses on the rise, especially among Marines
by
John Vandiver
April 29, 2019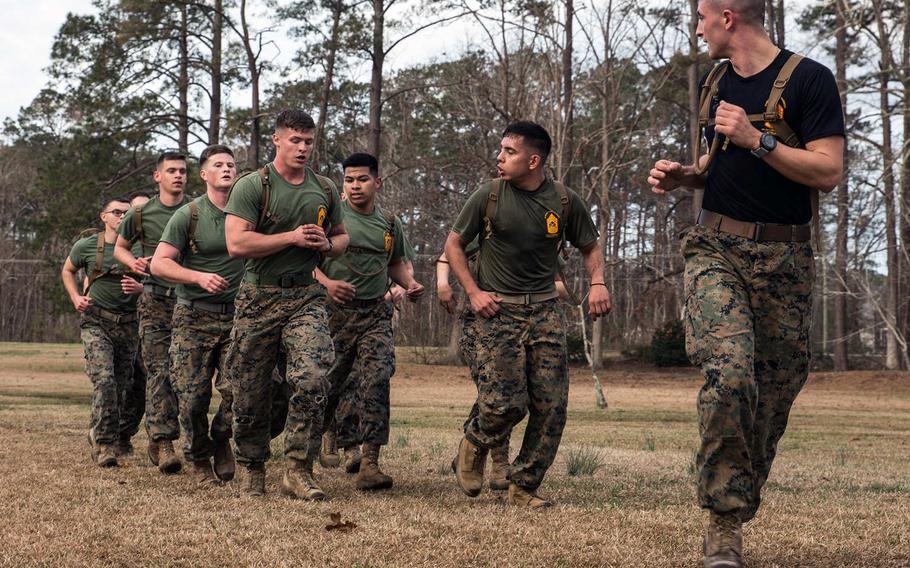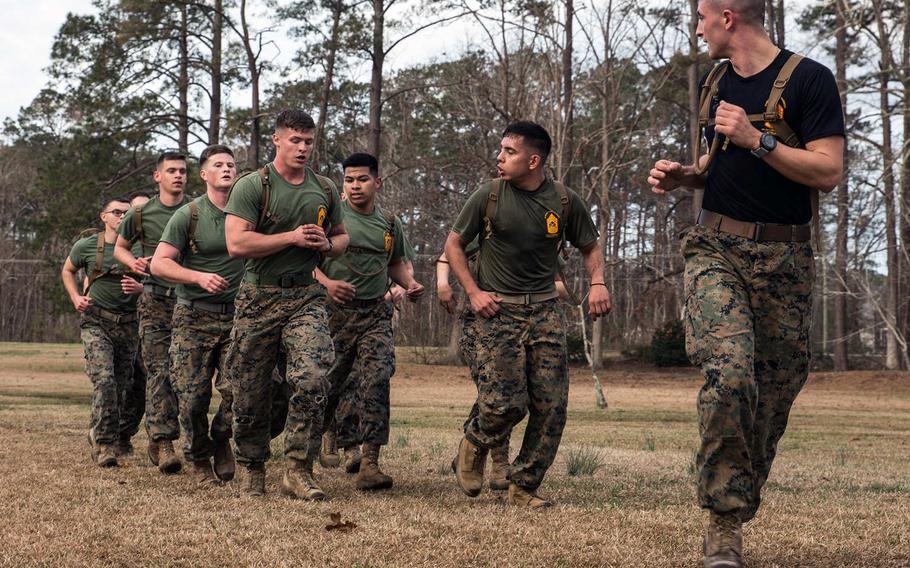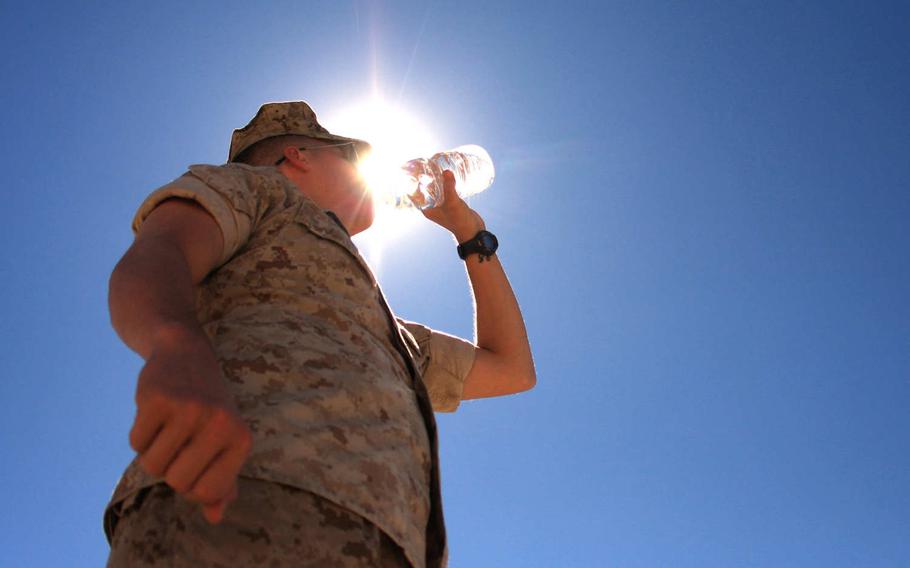 Young Marines and soldiers based in the southeastern U.S. are most at risk for heat-related illnesses, military medical officials found after tracking a steady increase in diagnoses among the services over the past five years.
In 2018, there were 578 diagnoses of heatstroke and 2,214 diagnoses of heat exhaustion among active duty servicemembers, according to the Defense Health Agency's April surveillance report.
Annual rates for both illnesses have risen significantly since 2014, said the report, which tracked the incidence of such illnesses across hundreds of locations worldwide. Study authors called on military officials to do more to raise awareness of the injury risk.
"Commanders, small unit leaders, training cadre, and supporting medical personnel — particularly at recruit training centers and installations with large combat troop populations — must ensure that the military members whom they supervise and support are informed regarding the risks," the report said.
Heatstrokes were most common in the Marine Corps, which had a diagnosis rate 21% higher than the Army. In turn, the Army rate was more than sevenfold the Navy's and more than ninefold that of the Air Force, the report said.
Rates also varied by sex: Among women, the incidence rate was 26.5% lower than among men. And while there were only 37 cases of heatstroke reported among recruit trainees, their incidence rate was more than three times that of other enlisted members and officers.
The study "documents that heat illnesses are a significant and persistent threat to both the health of U.S. military members and the effectiveness of military operations," the report stated.
Heat stroke can cause lasting damage and can involve severe hypothermia, central nervous system dysfunctions such as seizures and organ damage.
"The onset of heatstroke requires aggressive clinical treatments, including rapid cooling and supportive therapies such as fluid resuscitation to stabilize organ function," the medical report said.
Overall, annual incidence rates of heatstroke diagnoses increased from 0.26 cases per 1,000 in 2014 to 0.45 cases per 1,000 in 2018. Last year, there also were more heatstroke-related hospitalizations and reportable medical events than in 2017, the report said.
Reported cases of heat exhaustion — a milder and easier to treat illness than a heatstroke — also increased. The number of cases per 1,000 went from 1.12 in 2014 to 1.71 in 2018.
During the five-year surveillance period, a total of 11,452 heat-related illnesses were diagnosed at more than 250 military installations and geographic locations worldwide, the report said.
More than 90% of the cases occurred in the U.S., with cases at four Army installations — Fort Benning, Ga., Fort Bragg, N.C., Fort Campbell, Ky., and Fort Polk, La. — making up 34% of all heat illnesses.
For the Marines, Camp Lejeune and Cherry Point, both large installations in North Carolina, were the top locations for heat illnesses, followed by Parris Island, S.C., and Camp Pendleton, Calif. — both locations used for basic training. Okinawa, Japan, was the overseas site with the most cases.
Meanwhile, there were 325 heat illnesses diagnosed and treated in Iraq and Afghanistan during the surveillance period. Of those, four cases required servicemembers to be medically evacuated for treatment.
While there are measures to prevent heat illnesses — namely consuming plenty of water — troops in a training or deployed environment often wear gear such as body armor that makes it difficult to dissipate body heat, the report said.
"The resulting body heat burden and associated cardiovascular strain reduce exercise performance and increase the risk of heat related illness," the report said.
vandiver.john@stripes.com Twitter: @john_vandiver