Carter: US must prepare for challenges from Russia, China
---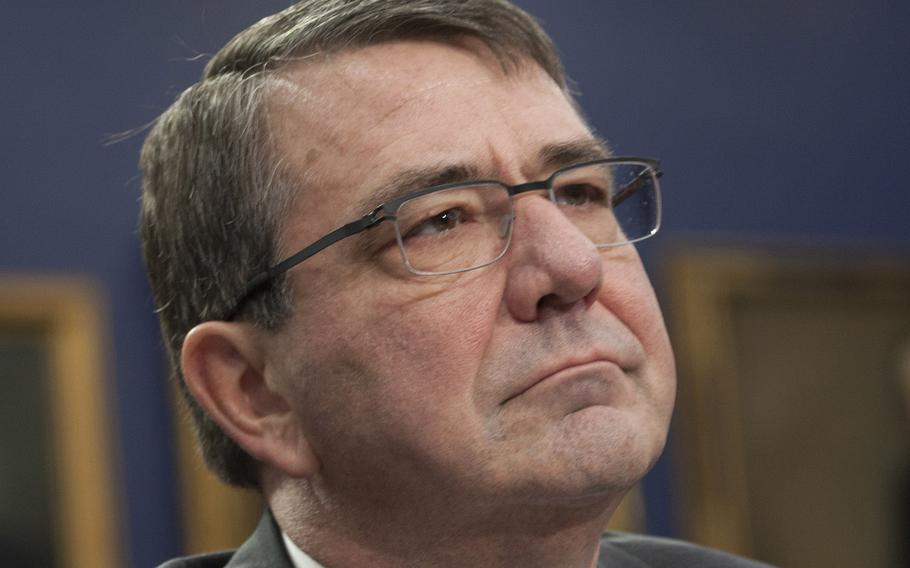 SIMI VALLEY, Calif. — The United States must develop new strategies and weapons to challenge aggression from China and Russia, Secretary of Defense Ash Carter said Saturday at the Reagan National Defense Forum.
"That is a generational challenge, like it was in Reagan's time," Carter said during a speech at the forum held at the Ronald Reagan Presidential Library and Center for Public Affairs. "In the face of Russia's provocations and China's rise, we must embrace innovative approaches to protect the United States."
Carter's speech follows a week of travel through Asia, where the contested waters of the South China Sea dominated the trip.
At the meeting of the Association of South East Asian Nations in Malaysia, defense ministers failed to reach a consensus on territorial claims in the South China Sea. The matter became a behind-the-scenes power struggle between the U.S. and China, and the ministers ultimately abandoned a joint statement that traditionally ends the annual summit.
"We're putting our best and newest assets in the region," Carter said Saturday about tensions with China. "Qualitatively, we are making heavy investments in capabilities of importance there: subsurface warfare, electronic warfare, space, cyber, missile defense, and more."
The day after the ASEAN summit ended, Carter stood on the deck of the USS Theodore Roosevelt as the massive nuclear-powered aircraft carrier sailed through the South China Sea, enforcing the U.S. stance on freedom of navigation in those waters.
On Russia, Carter said he would continue to welcome cooperation when possible, such as multination talks that include Russia and aim to inspire North Korea to surrender its nuclear ambitions.
Carter also spoke of Russia's increased aggressive behavior.
"The United States is accordingly making a number of moves in response, many but not all of which I can describe in this forum," he said.
Carter did mention the United States sending additional tanks, aircraft and troops to defend eastern Europe.
"We do not seek a cold, let alone hot war with Russia," Carter said. "We do not seek to make Russia an enemy. But make no mistake. The United States will defend our interests, our allies, the principled international order, and the positive future it affords us all."
Copp.Tara@Stripes.com Twitter: @TaraCopp
---
---
---
---