Calif. holds off sending guard troops to border as other states deploy
by
Dianna Cahn
April 16, 2018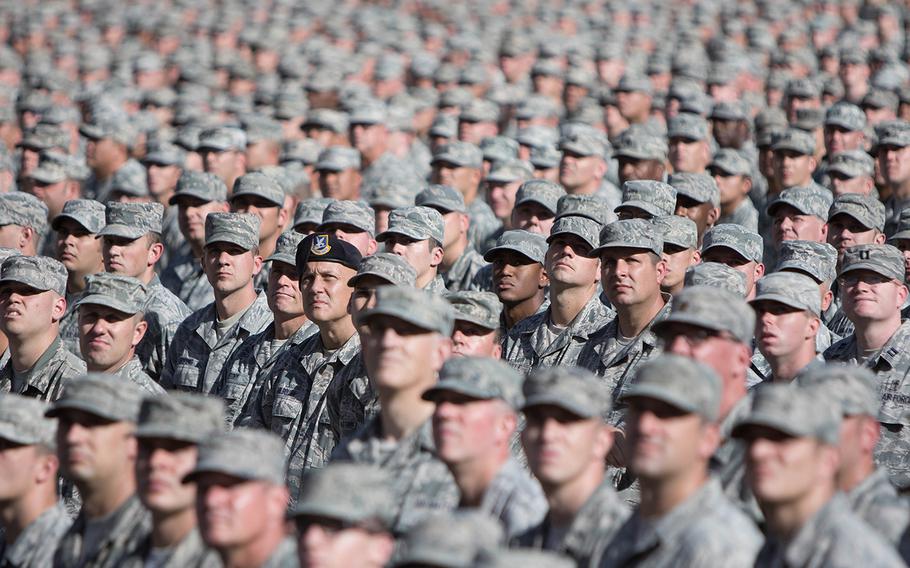 WASHINGTON — Three of the four states along the border with Mexico have deployed just over 900 National Guard troops in support of U.S. Customs and Border Protection.
They will monitor cameras and sensors, provide aerial support, repair roads and vehicles, do administrative work and clear brush — jobs that don't involve law enforcement and won't put them in harm's way, defense and border officials said Monday.
"That's the red line," said Customs and Border Protection Deputy Commissioner Ron Vitiello. "They will not be given assignments that require them to do law enforcement work."
Even so, California has yet to reach agreement with the Trump administration on terms for sending its National Guard to the border. Gov. Jerry Brown agreed last week to deploy an additional 400 troops to the border, or throughout the state, as long as they are deployed to combat transnational crime and not to enforce federal immigration laws.
Vitiello said his agency's request for California was for two border locations – San Diego and El Centro, just north of the border town of Calexico. He said California as of now was not participating.
"We have a requirement in California which we now understand won't be fulfilled by the Guard there," Vitiello said at a news conference at the Customs and Border Protection offices. "The governor has made that choice."
Vitiello said California might contribute forces later, once different requirements are worked out.
Bob Salesses, the Deputy Assistant Secretary of Defense for Homeland Defense Integration and Defense Support of Civil Authorities, said the request for California was to provide 237 troops. Negotiatons over terms for California's deployment continue.
"The California National Guard has indicated they will not perform these missions as we know them to be right now," he said. "We are in continuing dialogue – discussion – with the California National Guard and will work closely with Chief Vitiello to see if there's other kinds of responsibilities that California might fill."
Vitiello said his agency, along with the Pentagon and the National Guard, began looking at using Guard troops a couple of weeks before President Donald Trump's April 4 announcement about their deployment to the border.
Discussions covered deployments of Guard forces to the border under presidents George W. Bush and Barack Obama, and what the requirements would be in various sectors along the nearly 2,000-mile border.
Lt. Gen. David Hokanson, vice chief of the National Guard, said that while the president had said up to 4,000 troops could deploy, the current request for assistance is 2,000 through Sept. 30.
Almost 250 troops from Arizona, 60 from New Mexico and 650 from Texas have deployed – all volunteers, Hokanson said.
Even at 4,000, which is less than 1 percent of the Guard's 450,000 forces, they could likely rely on volunteers, he said.
The troops will not perform any functions that would place them in direct contact with personnel on the border, and none of the jobs they will do will call for them to be armed, he said.
Some guardsmen will be allowed to carry their personal sidearm for self-defense, Vitiello said. Those determinations will be made at the state level, he said.
Vitiello said that unlike in Operation Jump Start – when Guard soldiers deployed to the border in 2006 – the soldiers will not be placed in any support roles in which border patrolmen will serve as force protection.
"The assignments we've chosen – aviation is going to be big for us, monitoring sensors and cameras, helping with dispatch, doing some logistical support like vehicles and road maintenance – there will be less of an operational footprint," he said. "They will add capacity without adding a tax on our operation."
Salesses said the Pentagon was still trying to determine the exact cost of the operation and could not say where in the Defense budget the funds would come from. The updated request for assistance includes helicopter support in five border sectors.
"Right now we are cash flowing – that's coming from the National Guard accounts, the training accounts right now," he said. Later, the Defense Department could pull from "under-obligated accounts," anywhere in the defense budget.
cahn.dianna@stripes.com Twitter: @Dianna_Cahn