Burial-at-sea ceremony honors 20 aboard USS Stout
---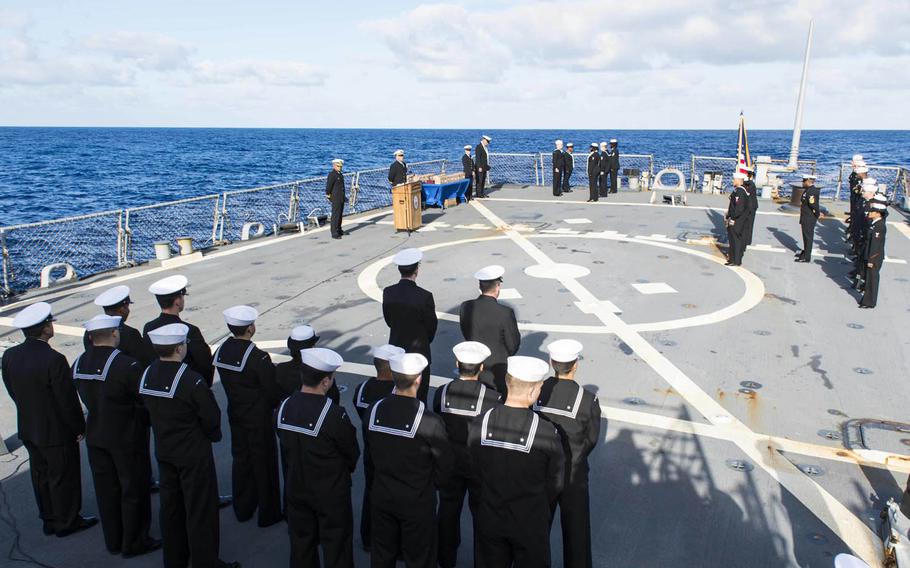 Twenty veterans and dependents were remembered during a burial-at-sea ceremony in the Atlantic Ocean this week aboard the USS Stout.
"Today, we buried several people born in the 1920s," said Lt. Michael Carpenter, the Stout's chaplain after Sunday's service. "It's easy to assume these veterans served in World War II, Korea, Vietnam, and I am proud to be a part of a ceremony to honor such heroes. I am honored to be the chaplain for this ceremony."
A 21-gun salute, the playing of taps and the passing of the folded national ensign to Cmdr. Adam G. Cheatham, Stout's commanding officer, concluded the service.
"It's really touching to be a part of this type of ceremony," said Gunner's Mate 3rd Class Jessica Ruelas, a member of the firing squad. "Especially seeing loved ones laid to rest at sea alongside their family members. Seeing the love that not only our veterans but also our family members have for their country is incredible."
Burial at sea is among the highest honors and respects paid to former servicemembers, Navy officials said. Sea burials were originally used due to a lack of proper means to bury sailors.
Today, active-duty servicemembers, retirees and veterans who were honorably discharged, as well as their dependents, can request the service.
---
---
---
---