Bill would upgrade records of those discharged under DADT
by
Matthew M. Burke
June 21, 2013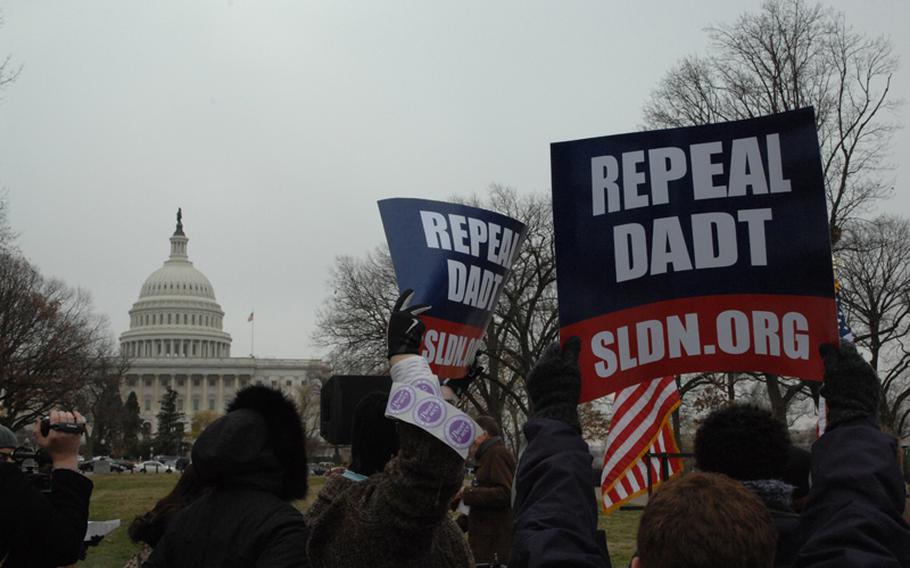 A bill circulating in the House would upgrade the service records of gay, lesbian and bisexual troops who were discharged due to sexual orientation and eventually open the door to veterans' benefits.
The Restore Honor to Service Members Act was proposed Thursday by Rep. Charles Rangel, D-N.Y., and Rep. Mark Pocan, D-Wis., according to a joint statement from their offices. The congressmen are trying to muster co-sponsors before bringing it to committee in hopes of a floor vote.
From World War II to the repeal of "don't ask, don't tell," roughly 114,000 servicemembers were discharged because of sexual orientation, the statement said. In many cases, depending on the discharge classification and the state in which they lived, they could be treated as felons and precluded from voting and collecting unemployment and veterans' benefits, such as health care and disability.
"As we celebrate the considerable progress we've made toward full equality in our military, we cannot forget about those who continue to suffer because of the discriminatory policies of our past," said Pocan, co-chairman of the Congressional LGBT Equality Caucus.
"Our legislation ensures that gay veterans who selflessly served our country no longer live with tarnished records that prohibit them from receiving the recognition, benefits and honors they deserve. By enshrining the implementation of the "don't ask, don't tell" repeal into law, our country can finally close this dark chapter of our history and move forward."
The statement said the bill would essentially turn the current broad review policy, outlined in a memo from the undersecretary of defense, into clear law. All servicemembers discharged because of sexual orientation would receive a "timely, consistent and transparent" review, and those who served honorably would see their records upgraded.
Any indication of a servicemember's sexual orientation would be struck from their record, and consensual relations between same-sex couples would be decriminalized — bringing military law in line with Supreme Court rulings.
The move has already been applauded by gay rights' groups.
"The brave patriots who served so honorably in silence for so long deserve their service to be honorably recognized," said Zeke Stokes, a spokesman for OutServe-SLDN, a Washington-based advocacy group for gay military personnel. "At OutServe-SLDN, we hear from these veterans every day and have assisted hundreds of them in applying to upgrade their discharge paperwork. To the extent that this bill — or any bill — can expedite that process or ease the burden for veterans, it will have our support."
Discharges varied over the years, but many gay and lesbian servicemembers who were outed received other-than-honorable or dishonorable discharges, especially prior to "don't ask, don't tell" in 1993, the statement said. Even receiving a general discharge precluded some from gaining civilian employment.
Almost two years ago, "don't ask, don't tell" was repealed, allowing gay and lesbian servicemembers to serve openly in the armed forces.
"Now is the time to finish the job and ensure that all those who served honorably are recognized for their honorable service regardless of their sexual orientation," said Rangel, a Korean War veteran.
There is no time line for the bill to be brought to the House floor for a vote. If it gains enough support, it most likely would go first to the House Committees on Veterans' Affairs and the House Armed Services Committee. It could also theoretically be attached to next year's defense authorization bill.
"There was bipartisan support for the repeal of 'don't ask, don't tell,' and because our bill codifies the repeal into law, we expect to receive bipartisan support for our legislation," a spokesman from Pocan's office said.
---
---
---
---