Bill to remove commanders from sex assault prosecutions fails
---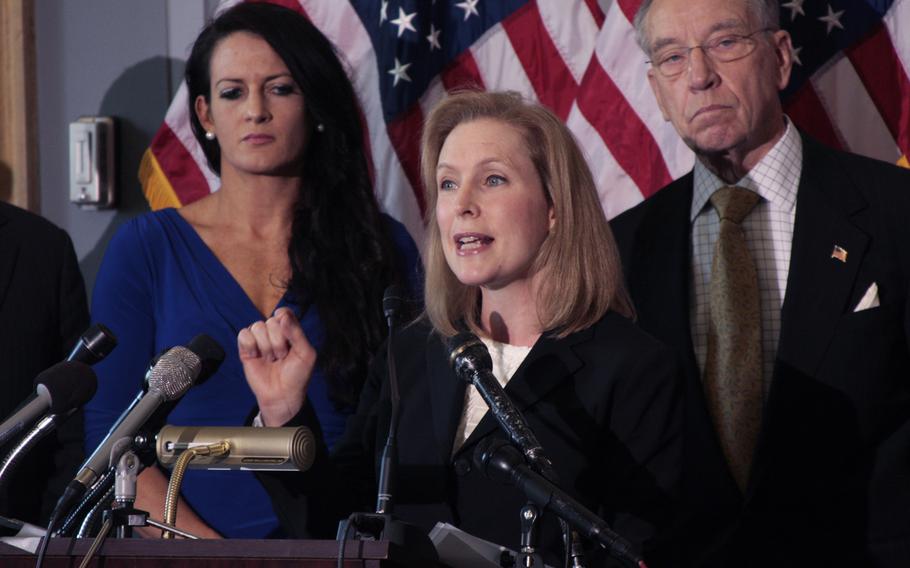 WASHINGTON — A Senate measure to strip military commanders of authority over prosecutions of sexual assaults and other serious crimes failed Thursday in a procedural vote.
The bill known as the Military Justice Improvement Act needed 60 votes under Senate rules in order to end debate and move to a final vote, but received 55. Even if the bill had passed, however, a similar measure is considered highly unlikely to pass the House of Representatives.
It was championed by Sen. Kirsten Gillibrand, D-N.Y., who said placing prosecution authority with independent military prosecutors, rather than with the chain of command, would encourage reporting by victims now intimidated to do so because of retaliation from superiors.
The Defense Department estimated fewer than 20 percent of victims of unwanted sexual contact in 2012 actually reported the incidents. DOD leaders have lined up to strongly oppose the measure, which they said could damage good order and discipline in the military.
Meanwhile, a competing measure passed unanimously and will move ahead to a vote. That measure, backed by Sen. Claire McCaskill, D-Mo., would enact new protections for sexual assault victims while making less radical changes to the Uniform Code of Military Justice.
Gillibrand's long-debated bill received strong endorsements as well as passionate criticism in the hours of debate Thursday leading up to the vote.
Sen. Barbara Boxer, D-Calif., said she would support McCaskill's bill because it made some useful changes in military law to support sexual assault victims. But Gillibrand's bill goes further, and was "the one opportunity to bring about the changes that survivors of rape and the survivors of sexual assault are asking for."
But Sen. Lindsay Graham said passage of the bill would be like telling military commanders they were "fired" from the job of policing sexual assault in the ranks.
"The worst thing that can happen in a unit is for the commander to say 'this is no longer my problem,'" an animated Graham said.
He attributed the bill, which had received bipartisan support from a majority of senators, to "liberal people wanting to gut the military justice system — social engineering run amok."
Gillibrand said the opinion of military victims of sexual assault on the matter was clear.
"It's not whether anyone in this chamber trusts the chain of command," she said. "The people who do not trust the chain of command are the victims."
An advocate for military sexual assault victims who supported Gillibrand's bill blasted the result, but said that supporters would continue to lay the ground for its eventual passage.
"It is a travesty that this very practical, conservative measure, supported by a substantial majority of the Senate and 60 percent of Americans was blocked by a procedural filibuster," said Nancy Parrish, president of Protect our defenders. "We may have lost this battle due to political maneuverings, but effective reform will be accomplished. It is only a matter of time."
The debate came at a time of growing frustration and outrage over the military's seeming inability to reverse an apparently growing number of sexual assaults in the ranks. About 5,400 instances of sexual assault or "unwanted sexual contact" were reported within the U.S. military last fiscal year, a 60 percent rise from 2012, the Pentagon said last week.
Also Thursday, Stars and Stripes reported that the Army had recently suspended its top sexual assault prosecutor, Lt. Col. Joseph "Jay" Morse, after another sexual assault prosecutor said he had groped and tried to kiss her against her will at a sexual assault legal conference in 2011.
How the Morse matter will play into the debate is unclear, however. While Gillibrand and her supporters argue rising reports of sexual assault in the military and concurrent low reporting of assaults makes reform necessary, opponents say giving authority over prosecutions to independent prosecutors won't help the problem.
One powerful opponent of Gillibrand's bill, Senate Armed Services Committee Chairman Carl Levin, D-Mich., said commanders have to solve the problem.
"I believe that the strongest, most effective approach we can take to reduce sex assault is to hold commanders accountable for establishing and maintaining a command climate that does not tolerate sexual assault," he said before the votes.
carroll.chris@stripes.com Twitter: @ChrisCarroll_
---
---
---
---