Biden's plan to boost VA: Increase wages for health care workers to compete with the private sector
by
Steve Beynon
September 11, 2020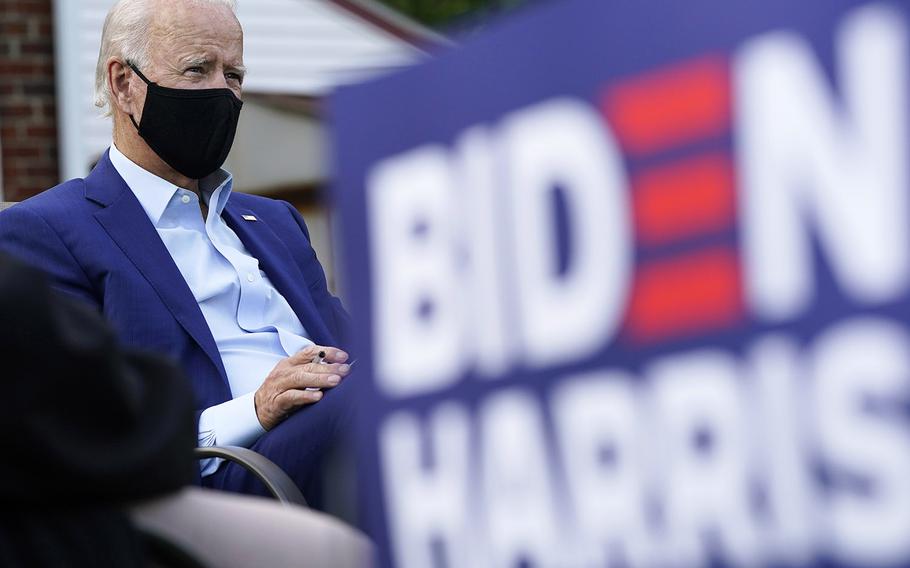 WASHINGTON — Former Vice President Joe Biden said Thursday that the greatest challenge for the Department of Veterans Affairs is filling tens of thousands of job vacancies, and if elected president he would supercharge the VA's budget to boost wages to compete with the private sector.
"We can't compete economically," Biden told Stars and Stripes in a telephone interview, saying it is difficult for the VA to recruit health care workers when they can earn more money elsewhere. "The VA shortage is the canary in the coal mine of the whole medical system."
The VA's Office of Inspector General said the agency had "severe shortages" in staffing in a report last year and cited the two main reasons were low salaries and a lack of qualified applicants.
Daniel Sitterly, a VA assistant secretary, told the House Committee on Veterans' Affairs last year in a hearing on the matter that the VA cannot compete when hiring. In San Francisco, for example, a highly specialized surgeon earns about $800,000 a year, while the VA can only pay about $400,000.
"Right now we're facing a staffing shortage...of nearly 50,000 positions," Biden said Thursday. "Many are critical roles: nurses, psychiatrists and psychologists. We need to cut the red tape to be able to hire them, make wages competitive with the private sector. We haven't done that."
Stars and Stripes has also requested an interview with President Donald Trump.
Sitterly told lawmakers that the VA's workforce has grown between 2% to 5% annually during the past five years, and he said the agency is working on recruiting and retention efforts. Amid the coronavirus pandemic, the VA expedited the process for new hires – shortening it from 94 days on average to 10-12 days. Steven Lieberman, the VA's acting principal deputy undersecretary for health, told the Senate Veterans' Affairs Committee in July that the agency's summer hiring spree brought on more than 20,000 employees in record time.
Of the federal agencies, the VA is second only to the Defense Department in terms of size and budget. In July, the Democrat-controlled House approved $241 billion for next year's VA budget, an increase of about 13% from the previous budget. The boosted budget continues a trend of rapid expansion to support a growing and aging veterans population. VA was the only Cabinet department to have a double-digit percentage spending boost in Trump's 2021 budget plan. In 2001, the department's budget was about $45 billion.
Biden said he would invest "literally a lot of money...billions of dollars bringing the VA system up to snuff."
"I've gotten in trouble in the past 30 years from some on the Left as well as others for saying that the government has only one sacred obligation," Biden said. "We have a lot of obligations, care for the elderly, the poor. But one sacred obligation, and that's to care and equip those who we send to war, and care for them and their families with first-class care when they come home. I don't think this president appreciates that, the way he talks about them."
Some Democrats on Capitol Hill and liberal activists have raised concerns about more VA resources shifting to outside community care and civilian hospitals as opposed to investing in the VA health care system. Under the VA Mission Act passed in 2018, standards were dramatically loosened to allow veterans to seek mental health services, urgent care, and primary care outside the federal system.
Biden said some private care is needed, especially in rural areas where access to VA hospitals is not feasible for patients. However, he said investing in the VA system should take precedence because the agency is better equipped to tackle the care needs of the nine million veterans who it serves. Biden said this includes expanding telehealth services, especially in rural areas, and caregiver support.
"I do not under any circumstance support moving to total privatization," Biden said. "There are unique problems the military encounters as a consequence of war and pressure. Everything from orthopedics to prostheses to mental health issues."
Beyond VA health care, other resources are needed to boost the well-being of veterans.
Jill Biden said Thursday, if she becomes the first lady, working with military families will be a key initiative. In 2011, former first lady Michelle Obama and Biden launched Joining Forces, which aimed to support service members, veterans and their families with education, employment and other health resources.
"On day one, I'll relaunch Joining Forces to listen to military families about what they need," Jill Biden said. "And I'm sure things will have changed because of the pandemic. There will be new needs that need to be answered to."
Beynon.Steven@Stripes.com Twitter: @StevenBeynon