Bergdahl faces little-known, rarely used misbehavior charge
---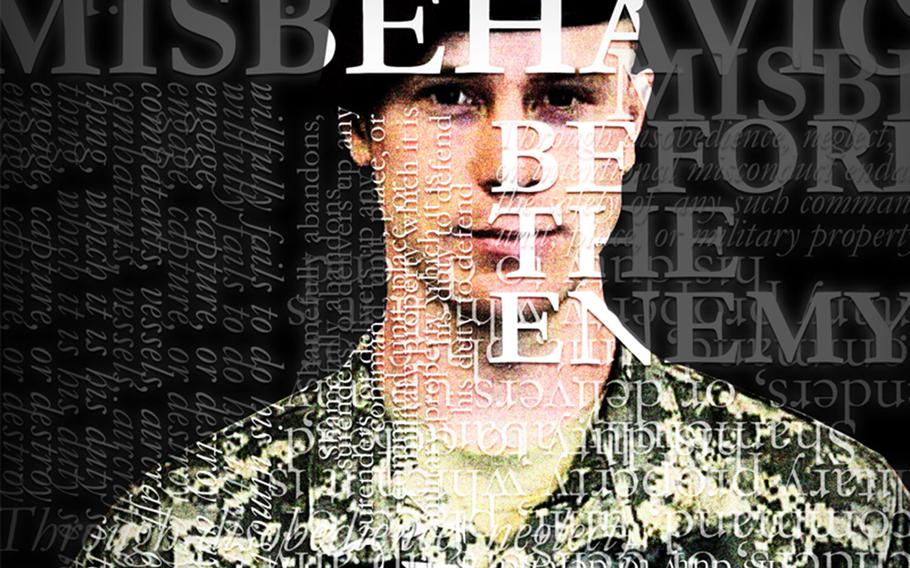 If Sgt. Bowe Bergdahl were convicted of "misbehavior before the enemy" two centuries ago, he might also have been subject to a humiliating send-off. His sword might be broken or his insignia ripped from his uniform in front of his unit.
Along with desertion, Bergdahl was accused last month of violating the little-understood Article 99 of the Uniformed Code of Military Justice — misbehavior before the enemy — for abandoning his post in Afghanistan in 2009 and thereby endangering his unit.
Although desertion cases are not uncommon, few military lawyers have ever prosecuted, or defended, a misbehavior before the enemy charge.
In a 19th-century treatise, Col. William Winthrop, one of the most important influences in the formation of U.S. military law, wrote that officers convicted of misbehavior before the enemy were "paraded in front of the command bearing a placard inscribed with the word 'coward,'" and then "drummed out of the service."
"These are charges from the 18th century," said Eugene Fidell, Bergdahl's defense lawyer. "It struck me as piling on."
The last time Article 99 was raised in such a high-profile case was in the wake of the 1968 seizure of the spy ship USS Pueblo by the North Korean navy. The skipper, Cmdr. Lloyd Bucher, surrendered the Pueblo without firing a shot, becoming the first American officer to give up his ship since the War of 1812.
After the crew was released, a Board of Inquiry composed of five admirals recommended that Bucher be court-martialed under Article 99 for surrendering the ship, which was armed with only two .50 caliber machine guns. But public opinion supported Bucher, and Navy Secretary John Chafee overruled the admirals, declaring that the skipper and his crew had suffered enough after having been beaten and nearly starved during nearly a year in captivity.
"It's one of those battlefield charges that got carried over from the Articles of War," said Victor Hansen, a retired Army lawyer and a professor at the New England School of Law in Boston. The Articles of War were regulations drawn up to govern the conduct of the land and naval forces. They were supplanted in 1951 by the Uniform Code of Military Justice.
"It's kind of been in there kicking around. It's rarely charged," Hansen said of the misbehavior charge. "It's got all these very old notions — shame, cowardice, running away. I'm assuming the prosecutors as well as the defense attorneys are scratching their heads."
According to his charge sheet, Bergdahl misbehaved in front of the enemy by leaving his observation post in Paktika province on June 30, 2009. His absence endangered his fellow soldiers and those who were ordered to search for him in hostile territory, according to the charges.
Conviction under Article 99 can result in even more severe punishment than the desertion charge Bergdahl faces. The maximum punishment for misbehavior before the enemy is life imprisonment, compared with up to five years in prison, a dishonorable discharge, reduction in rank to E-1 and loss of pay and allowances for desertion.
Sentences usually shorter
Sentences imposed in some previous misbehavior cases have been much shorter than life.
In one case, two soldiers guarding a tank farm in Vietnam were convicted and sentenced to five years' hard labor, after being found guilty of misbehavior because they supposedly played dead during a North Vietnamese attack, thus endangering the tank farm.
An appellate court, however, ruled that there was insufficient evidence to prove that their actions constituted any misconduct, let alone misbehavior in front of the enemy: the guard shack was indefensible, the soldiers' weapons either jammed or were incapable of rapid fire and both had been wounded by a grenade.
"Playing dead' is not much different from 'taking cover'; neither is misconduct, per se," the court said.
Another Vietnam soldier received 18 months in jail and a dishonorable discharge for violation of Article 99 after he refused to move out with his unit on a combat mission.
"The accused refused, stating that he was afraid and was tired of being shot at, that his family would rather he be secure than dead, and that he would rather go to jail than face the enemy," according to the appellate court decision that upheld the conviction.
During the Korean War, an Army private — an ammunition bearer — was convicted of misbehavior after he ran away from the frontline. He was sentenced to 40 years in prison but his punishment was cut by half on appeal.
The only servicemember accused of desertion in the Iraq War was never charged with misbehavior, even though he walked away from his post near Fallujah in June 2004. Marine Cpl. Wassef Hassoun was sentenced to two years in prison and a dishonorable discharge in February after pleading guilty to leaving his post in Fallujah and then deserting his unit again at Camp Lejeune, N.C., in January 2005. In both instances, Hassoun fled to his native Lebanon.
The Army has not explained why the convening authority, U.S. Forces Command's Gen. Mark Milley, chose to add the misbehavior charge against Bergdahl.
Legal experts speculated that the charge under Article 99 could be a hedge in case the prosecution cannot prove the desertion charge, which requires proving that Bergdahl left his post to avoid hazardous or important duty. The additional charge could also reflect the danger that soldiers faced while searching for Bergdahl, who was captured by the Haqqani group and exchanged last May for five Taliban commanders held at Guantanamo Bay.
Hansen, the Boston legal professor, said that an Article 99 charge carries a special meaning.
"It is a bit personal," Hansen said. "I think there's an effort to make a statement."
The case now goes to an Article 32 hearing set for July 8 at Joint Base San Antonio-Fort Sam Houston in Texas to examine the evidence against Bergdahl. Afterward, the investigative officer will recommend to Milley whether the case should proceed to court-martial.
---
---
---
---