Barksdale dedicates facility to slain airman, addresses safety after string of off-base murders
by
Jennifer H. Svan
August 19, 2019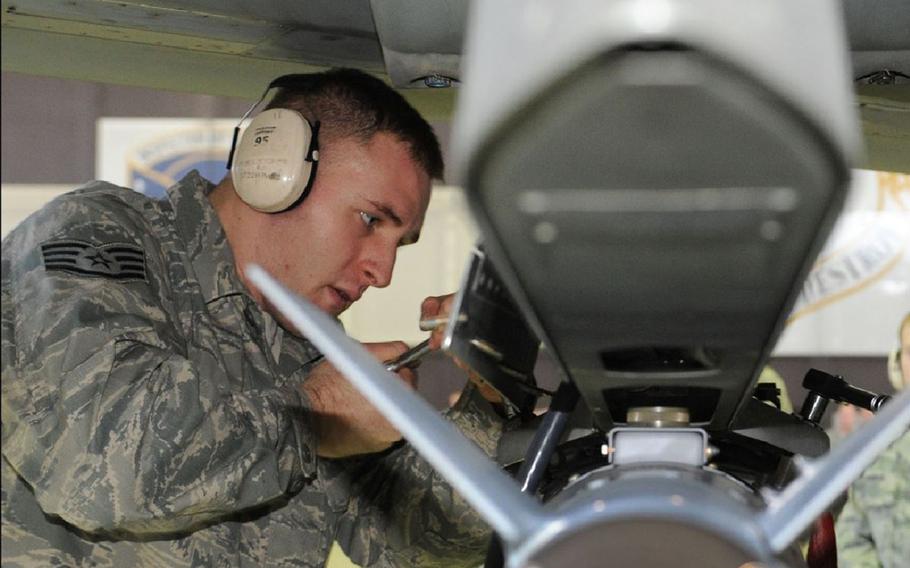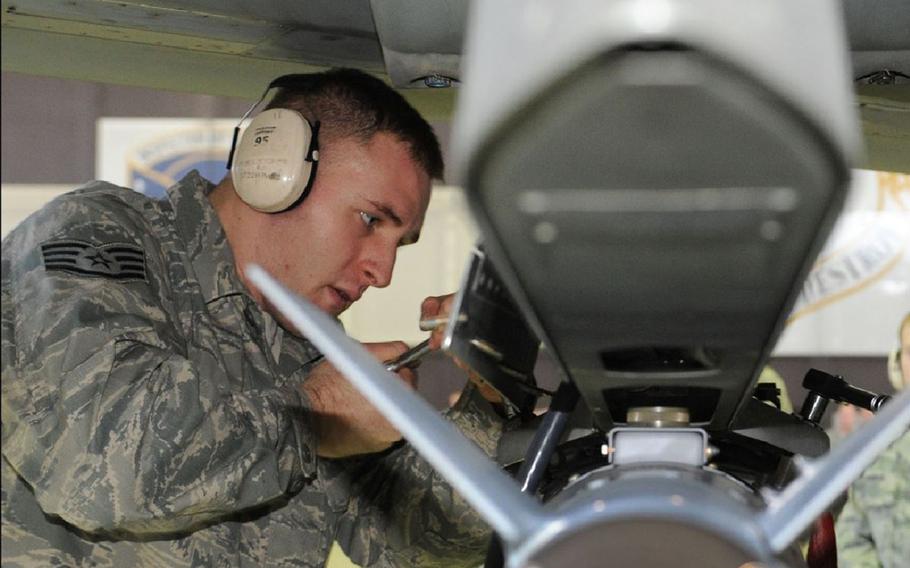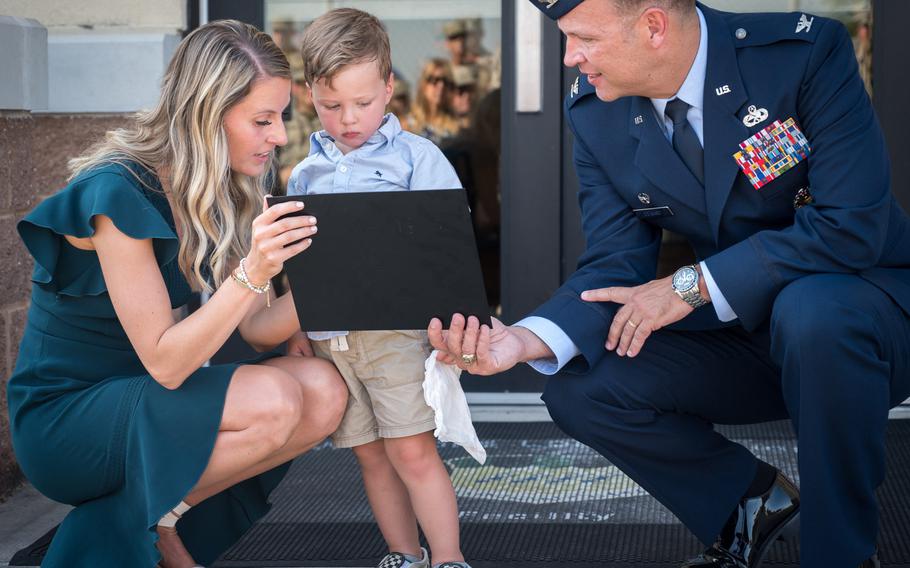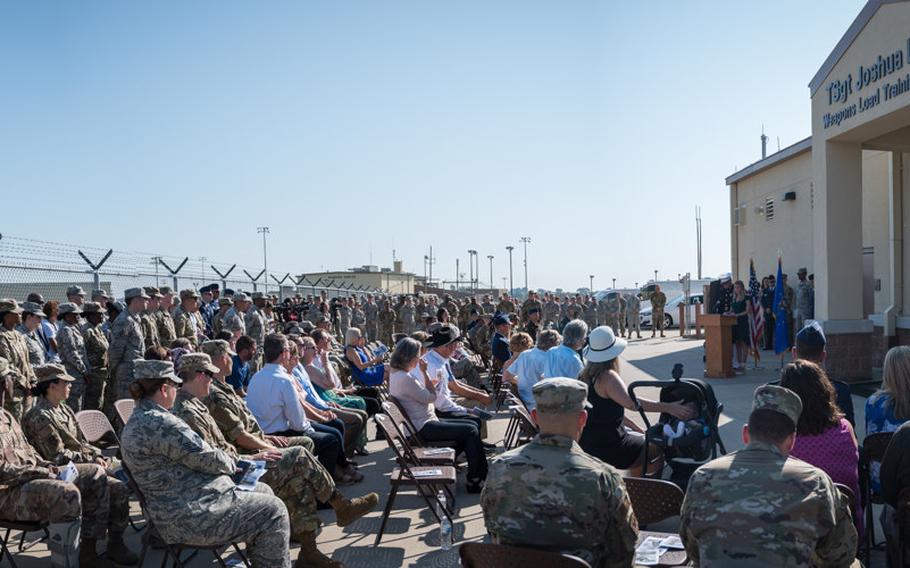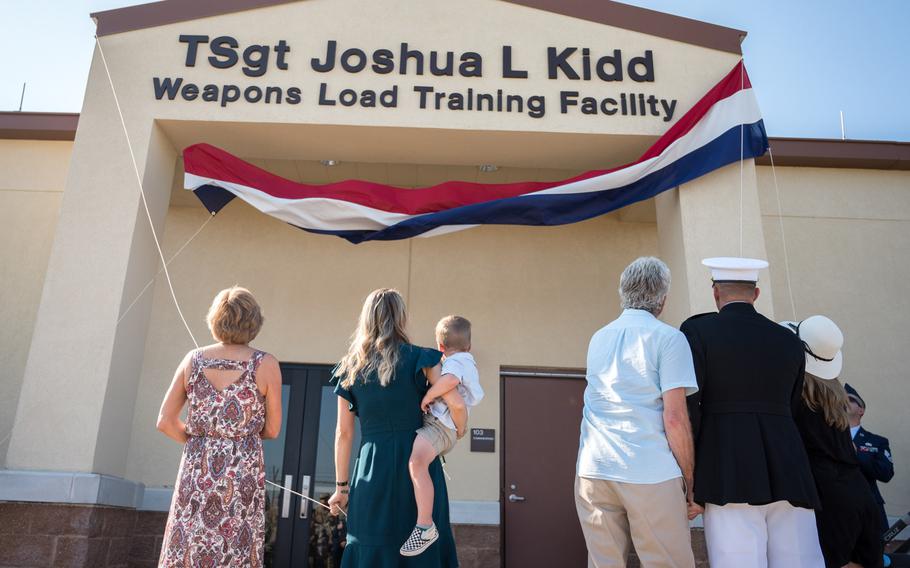 A building at Barksdale Air Force Base, La., now bears the name of a former Spangdahlem airman who was murdered last year outside his Louisiana home, one of five Barksdale airmen and civilians to be killed in the last 14 months.
Tech Sgt. Joshua Kidd's family, including his wife and young son, unveiled the new name — "TSgt Joshua L. Kidd Weapons Load Training Facility" — at a dedication ceremony last week, the Air Force said in a statement.
Kidd was killed by a gunshot to the chest on the morning of Sept. 25, 2018, after he interrupted two youths who prosecutors say were trying to steal items from his car outside his Bossier City home.
Two Louisiana teenagers have been charged as adults in connection with his death.
"I would wish more than anything that Josh could see this," the Air Force statement quoted his wife, Alyssa Kidd, as saying at the ceremony Friday. "There are no words to describe what it's like to see all of you come out and support Joshua. It's a true testament to how he impacted each and every one of us."
Final approval for dedicating the building in Kidd's name came from Gen. Timothy Ray, head of Air Force Global Strike Command, the service said.
Kidd was recognized during the ceremony for his "unwavering leadership and influential legacy," the Air Force said.
A GoFundMe campaign created last year, which raised nearly $44,000 for Alyssa Kidd and the couple's young son, Beckham, said Kidd went out of his way to assist deployed airmen and their families and often mentored younger airmen.
Kidd enlisted in the Air Force in March 2008. Before his assignment to Barksdale, he was assigned to Osan Air Base, South Korea, and Spangdahlem Air Base, Germany, where, from 2009 to 2012, he was a weapons load crew chief.
Kidd was one of five members of the Barksdale community to be murdered since June 2018, according to the Air Force.
The spate of murders prompted 2nd Bomb Wing commander Col. Michael A. Miller to issue a statement last month expressing concern about the safety of airmen and civilians assigned to the wing, home to three squadrons of B-52H Stratofortress bombers.
"I've been stationed at eight installations in my 25-year Air Force career and I have never experienced as many murders involving" airmen and their families, Miller wrote in the statement, published by local news outlet BossierNow.
Besides Kidd, Tech. Sgt. Kelly Jose, a reservist and civilian employee for the 307th Logistics Readiness Squadron, and his wife, Heather Jose, were killed in November after giving a man a ride while shopping at Mall St. Vincent, in neighboring Shreveport.
Their bodies were found in a parked car, burned beyond recognition. A suspect was arrested after a six-hour standoff with law enforcement, according to the Shreveport Times.
In June, postal worker Antonio Williams, the spouse of a civilian employee at Barksdale, was gunned down while delivering mail in Shreveport.
Also in June, Tech. Sgt. Perry Bailey, the noncommissioned officer in charge of education and training for the 2nd Medical Group, was slain in an apparent murder-suicide in a Shreveport residence, according to the Shreveport Times.
"I am deeply concerned for the safety of the military members and their families assigned to Barksdale Air Force Base," Miller said in the statement. "Not only am I concerned about their personal well-being, but also our ability to recruit and retain the necessary talent to complete our mission to defend our nation."
Local news radio station KEEL reported Miller sent an email to Shreveport provisional police chief Ben Raymond, saying that the "overwhelming consensus" of most airmen assigned to Barksdale was that Shreveport and Bossier City "are not safe places to live."
svan.jennifer@stripes.com Twitter: @stripesktown
---
---
---
---