Barbara Barrett is confirmed as Air Force secretary
---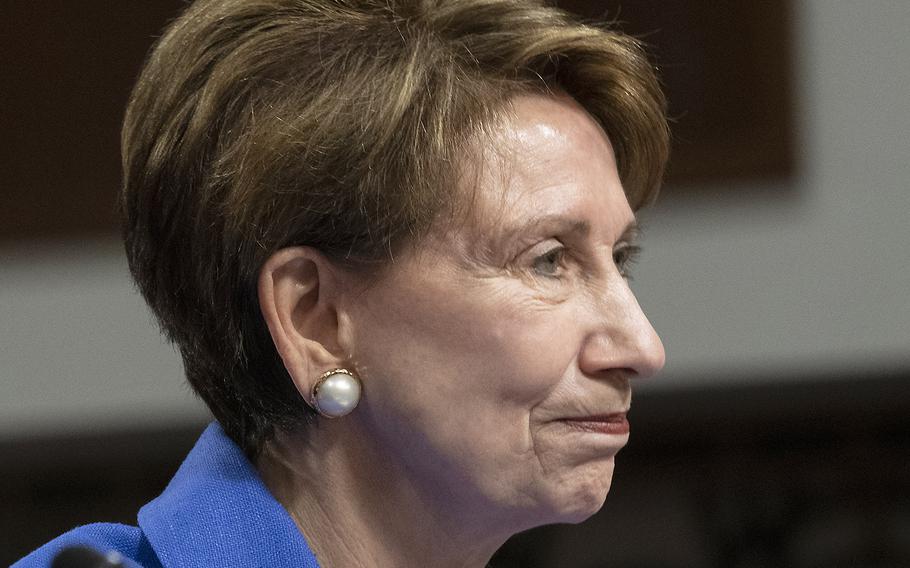 WASHINGTON – Barbara Barrett, a former U.S. ambassador to Finland, was confirmed Wednesday by the Senate to become the next Air Force secretary.
"Ms. Barrett will serve as the civilian head at the Air Force at a pivotal time for our military. We need to modernize and innovate if we want to keep up with China and Russia, and this is especially important if we want to maintain air and space supremacy," said Sen. Jim Inhofe, R-Okla., chairman of the Senate Armed Services Committee.
The Senate voted 85-7 to confirm Barrett as the fourth woman to hold the position and the Air Force's 25th secretary. President Donald Trump nominated Barrett for the job in May.
"I can think of no position that offers more excitement, challenge and meaning than the Secretary of the Air Force," Barrett said in a news release form the service.
Barrett, 68, did not serve in the military, though she is an instrument-rated pilot, and she was inducted into the Arizona Aviation Hall of Fame in 2014. Barrett has been very active in the aerospace industry, having trained as an astronaut in Russia for a flight to the International Space Station and having served as deputy administrator of the Federal Aviation Administration and vice chairwomen of the U.S. Civil Aeronautics Board. She also served as a U.S. ambassador to Finland under the George W. Bush administration in 2008 and 2009. She is now a member of the boards of the Jet Propulsion Laboratory and Rand Corp., as well as others.
Barrett has said a major priority as secretary will be establishing Space Force.
"I believe we need the Space Force…a domain-specific service to organize, train, and equip space forces is overdue," Barrett said during her confirmation hearing in September. "Most Americans use space before their first cup of coffee in the morning."
During the hearing, Sen. Tammy Duckworth, D-Ill., engaged Barrett in a fierce line of questioning. Duckworth wanted specific examples of how the Air Force was going to navigate the vast logistical endeavor of the Pacific region and keep up service readiness. Barrett responded that Pacific security depends on building and strengthening friendships in the region. She also cited the example of the new capabilities of the Air Force's K-46 fuel tanker, which provides long range mission capabilities to aircraft via midair refueling.
However, Duckworth on Wednesday joined with Sens. Ed Markey, D-Mass., Ron Wyden, D-Ore., Jeff Merkley, D-Ore., Tina Smith, D-Minn., Kirsten Gillibrand, D-N.Y., and Sen. Richard Blumenthal, D-Conn., in voting against Barrett.
Barrett's confirmation followed a weekslong hold on her nomination forced by Sen. Richard Blumenthal, D-Conn., in the wake of a controversy in March when the crew of a C-17 cargo plane stayed at Turnberry resort in Scotland en route to Kuwait. Turnberry is owned by President Donald Trump and Blumenthal blocked Barrett's confirmation in an attempt to garner a commitment from her that Air Force personnel would not utilize properties owned by Trump.
Barrett has never committed to that request. During her confirmation hearing, she agreed only to review Defense Department policies on lodging and accommodations.
Fotre.neil@stripes.com Twitter: @Neil_Fotre
---
---
---
---