Ban on photos for promotion boards is among immediate actions directed by Esper
by
Caitlin M. Kenney
July 15, 2020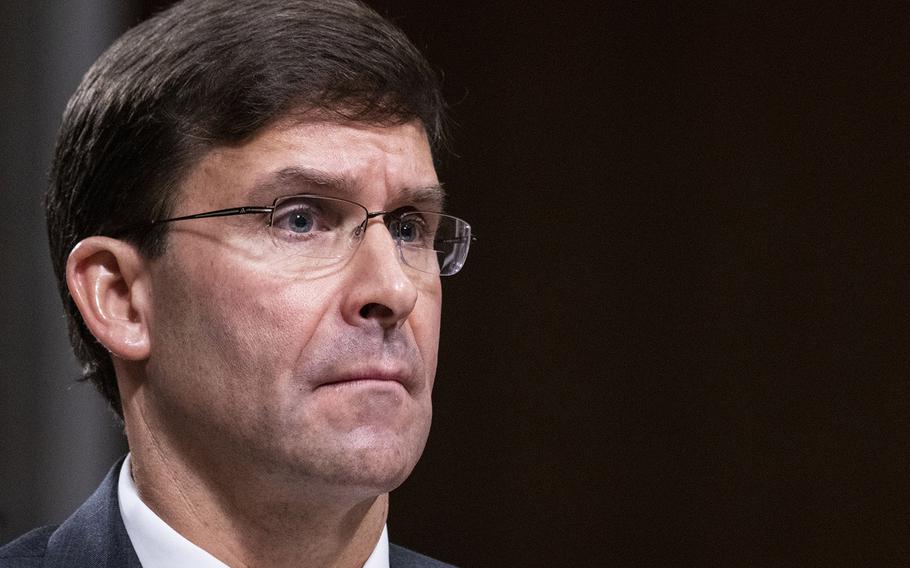 WASHINGTON — Defense Secretary Mark Esper called for the elimination of photos in promotion boards and the review of grooming standards for racial bias as part of immediate actions to address diversity in the military, according to a memo released Wednesday.
"Diversity and inclusivity in the ranks are not merely aspirations, they are fundamental necessities to our readiness and our mission success," Esper wrote in the memo dated Tuesday.
Esper's memo is an update to his June 19 memo on initiatives to address discrimination, prejudice and bias in the military.
Addressed to the military secretaries and other Defense Department officials, the latest memo directs immediate action on nine items based on recommendations from across the department.
The first action directs Matthew Donovan, undersecretary of defense for personnel and readiness, to create policy by Sept. 1 banning photos from being considered by promotion boards and selection processes "to ensure equal opportunity for all." The Army announced in June its own steps to remove photos from packets sent to promotion boards.
Donovan is also charged with reviewing policies and developing guidance to remove "all references to race, ethnicity, and gender in personnel packets reviewed by panel members" by Sept. 30 in order to make the process free from bias based on race or gender.
Another action calls for updating the military's harassment policy "to strengthen protections for servicemembers against inappropriate and intolerable harassing behaviors, especially racial bias and prejudice." The policies have to be updated by Sept. 1.
Grooming and hairstyle policies will also be reviewed for racial bias by the military services. Changes must be made by Sept. 15, according to the memo. Allowing more hairstyle options for Black military women, such as braids and locks, has been an issue in the services for the last few years after calls for more inclusion in the grooming standards by service members.
Two actions direct the development of more training requirements and education programs for service members and leaders — from recruits to senior leaders — on addressing biases and prejudices. Training plans need to be submitted by Oct. 1.
Esper also directed the services' inspectors general to review the effectiveness of the military equal opportunity offices by Sept. 1, looking at how they respond to equal opportunity issues.
"The actions I am directing are a necessary first step, but hard work remains, and we will continue to learn as we move forward," Esper wrote. "Shifting culture requires steadfast attention; these actions will maximize our efforts to ensure a diverse workforce at all levels, an inclusive environment, and equal opportunity for all who serve."
Kenney.Caitlin@stripes.com Twitter: @caitlinmkenney