Backlog of moves for sailors due to stop-movement orders is expected to extend to next year
by
Caitlin M. Kenney
June 25, 2020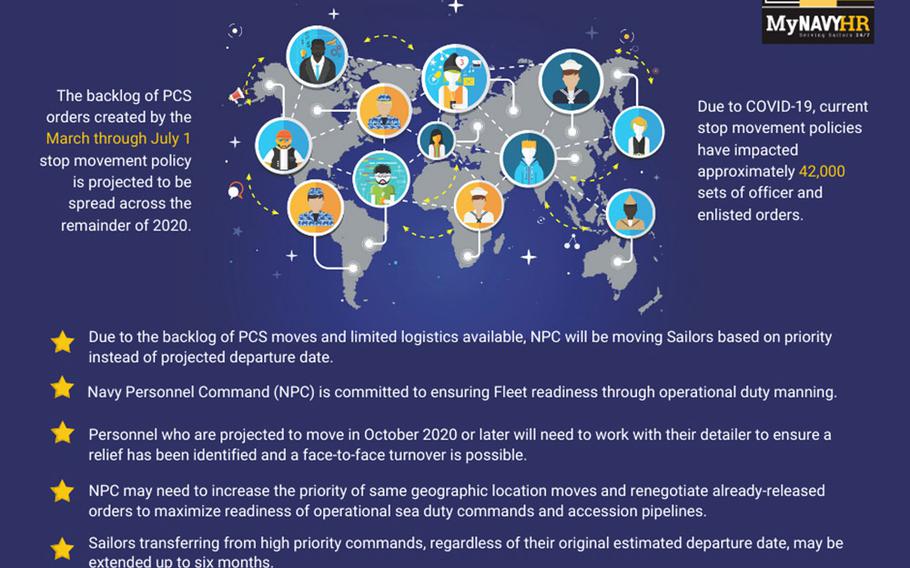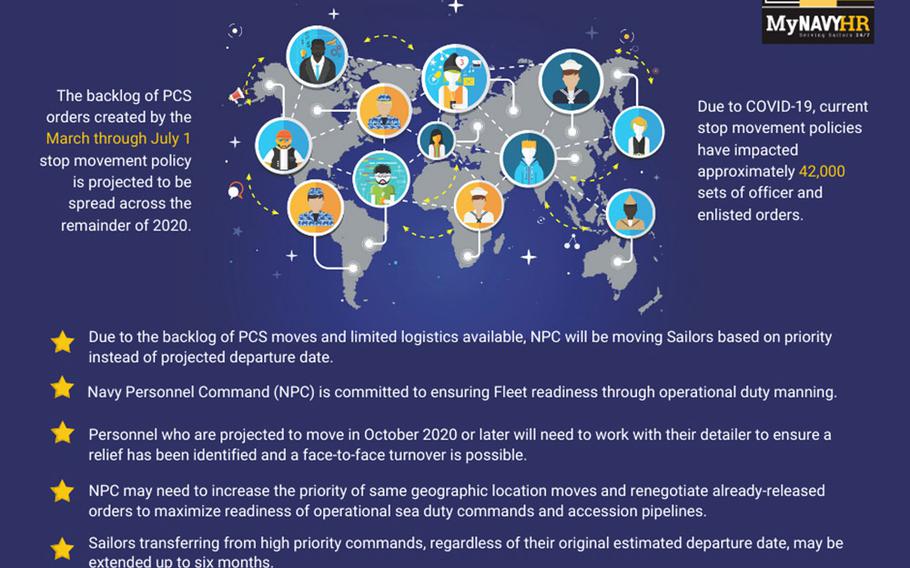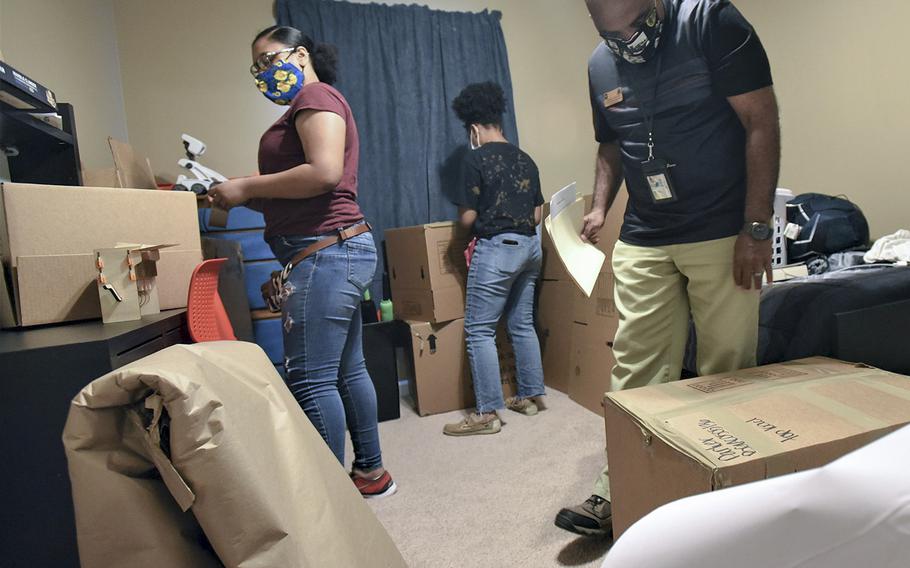 Stars and Stripes is making stories on the coronavirus pandemic available free of charge. See other free reports here. Sign up for our daily coronavirus newsletter here. Please support our journalism with a subscription.
WASHINGTON — Facing a backlog of moves for more than 40,000 sailors, the Navy has released guidelines on how it will prioritize moving personnel and their families as travel restrictions that were put in place due to the coronavirus pandemic ease throughout the country.
Navy leaders on Thursday discussed the new conditions-based, phased approach to travel for sailors that included prioritized situations for military moves, unrestricted travel locations, and safety precautions due to the pandemic.
The Navy issued two administrative messages June 12 that broadly detailed how the service planned to address travel and the backlog of about 42,000 sailors who were scheduled to move between March and July, representing about 53% of Navy moves for the year, according to the service.
The Navy is prioritizing moves based on its readiness needs over the expected moving dates of personnel. Sailors who have higher priority jobs or assignments, such as recruit training or operational sea-duty commands, will be moved first including some earlier than expected, according to a service document on the restarting military moves.
In terms of where sailors can move to safely, the Navy is following Defense Secretary Mark Esper's May 22 memorandum that laid out the conditions needed for locations to be labeled "green," or a place where service members are allowed to travel to and from. This followed a March stop-movement order that halted all official travel without a waiver. The green locations must show a decrease in coronavirus cases and opening of essential services such as child care, among others factors.
As of Tuesday, only 18 Navy bases out of 71 are listed as green for unrestricted travel to and from, according to a document provided by Naval Personnel Command. The Pentagon lists 46 states, and six host nations and two U.S. territories as being green for travel as of June 19.
The moving backlog could last into January or February of next year, Vice Adm. John Nowell, the chief of naval personnel, told reporters Thursday.
The number of sailors who can move at any given time will be contingent upon local health conditions, government policies, and the limits to logistical and capacity demands in the Defense Department, according to a Navy document about the moving guidance.
"We built these plans to be agile enough to be able to respond to changing conditions. What we know is that what we're looking at today may not be what we're looking at tomorrow," Nowell said. "We think that we've got a process that's agile enough to be able to ratchet up and ratchet down in a safe manner."
Whether sailors will have to be quarantined during any part of their move will depend on a case-by-case basis, such as their mode of travel or if they are going to a country such as Italy that requires it, Nowell said. The quarantine also could be written into a sailor's move orders or commanders can look at possibly requiring it to keep personnel safe, he said.
If sailors and their families must move to their follow-on assignment due to hardships or if the sailor's job is critical, the Navy is still providing waivers to travel, Capt. Derek Trinque, the assistant commander at navy personnel command, said.
Sailors are still being asked to take precautionary measures to protect themselves from the virus, such as wearing a mask and social distancing, regardless of how the situation might be improving locally, Nowell said.
If sailors have questions about the new travel guidance and how it will impact their move, they can call My Navy Career Center at 833-330-6622 or email askmncc@navy.mil.
Kenney.Caitlin@stripes.com Twitter: @caitlinmkenney