B-52 bombers return to Alaska following three-year hiatus
by
Wyatt Olson
June 17, 2020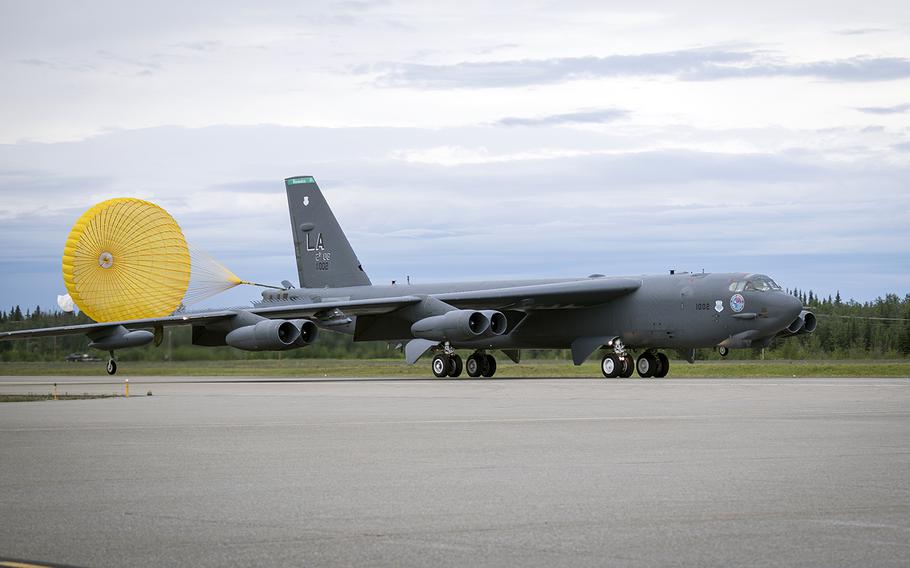 B-52 bombers returned to Alaska for the first time in three years Sunday as the Air Force continues to display its capability to send strategic assets on unpredictable missions around the world.
The three Stratofortress bombers from the 96th Bomb Squadron, 2nd Bomb Wing at Barksdale Air Force Base, La., arrived Sunday at Eielson Air Force Base, near Fairbanks, to train with allies, partners and other U.S. services, an Air Force statement said Monday. It did not mention how long the B-52s would remain in Alaska.
The bombers were last deployed to Eielson from July through August 2017 in support of the Red Flag-Alaska exercise.
Strategic bomber task force missions are unique in that they can depart from either overseas or continental U.S. bases and reach anywhere in the world, the statement said.
During an initial mission Sunday, one B-52 joined U.S. F-22 fighter jets and Royal Canadian Air Force CF-18 Hornets for intercept training over the Beaufort Sea in the Arctic Ocean, the statement said.
It was done in support of the North American Aerospace Defense Command's mission to safeguard American and Canadian airspace, the statement said.
"Eielson's unique location 'on top of the world' makes us an ideal site for rapidly projecting airpower anywhere in the northern hemisphere," Col. Shawn Anger, Eielson's 354th Fighter Wing commander, said in the statement.
The deployment aligns with the National Defense Strategy's objectives of "strategic predictability and operational unpredictability," the statement said.
The bomber task force employs "a mix of different types of strategic bombers to operate forward in the Indo-Pacific region from a broader array of overseas and continental U.S. locations with greater operational resilience," the statement said.
U.S. strategic bombers have turned up recently as shows of force around the world. For example, the Air Force in May sent B-1B Lancers on training missions from Guam to Alaska and then to Japan and back to Guam. In May, Lancers flew from South Dakota and rendezvoused for training with Polish and Ukrainian fighter jets over the Black Sea.
The B-52 deployment to Eielson demonstrates the flexibility of Pacific Air Forces to send bombers from various locations in its area of responsibility in order to project power throughout the Indo-Pacific, Maj. Will Schuh, the combatant command's Air Operations Division B-52 weapons officer, said in the statement.
"Eielson provides the flexibility to use this [bomber task force] to easily satisfy requirements for multiple combatant commands, demonstrating [U.S. Indo-Pacific Command's] ability to synchronize and generate missions that support cross-command objectives."
olson.wyatt@stripes.com Twitter: @WyattWOlson