At Trump's command, Pentagon rushes active-duty troops to DC but prefers not to use them
by
Corey Dickstein
June 2, 2020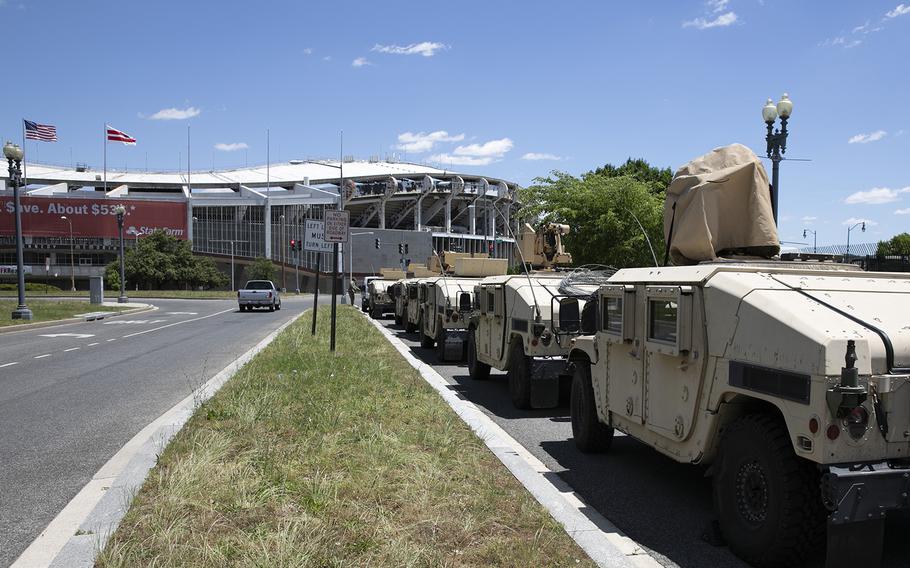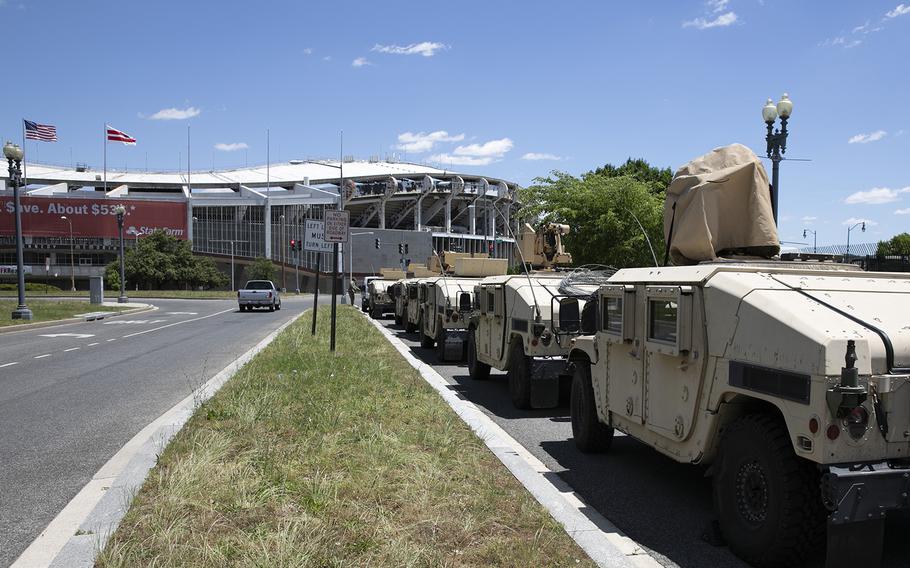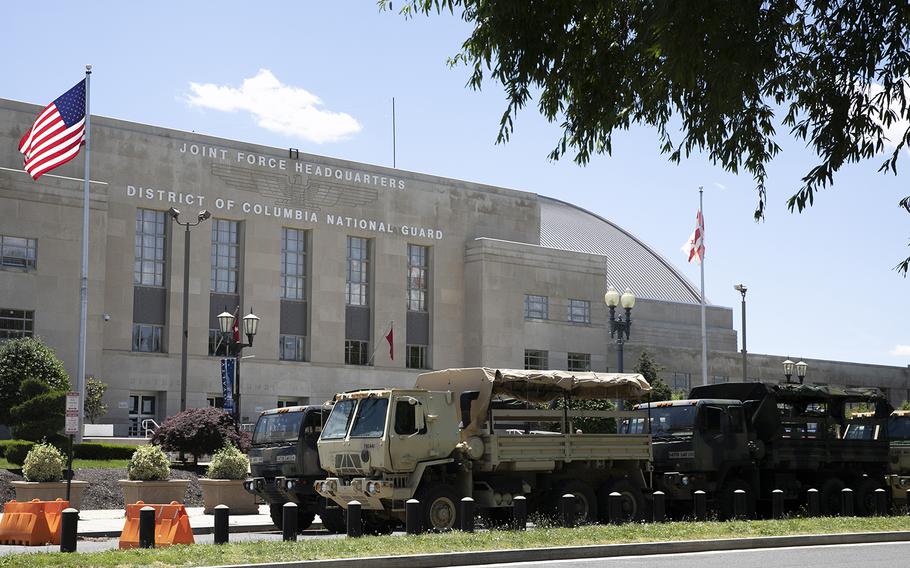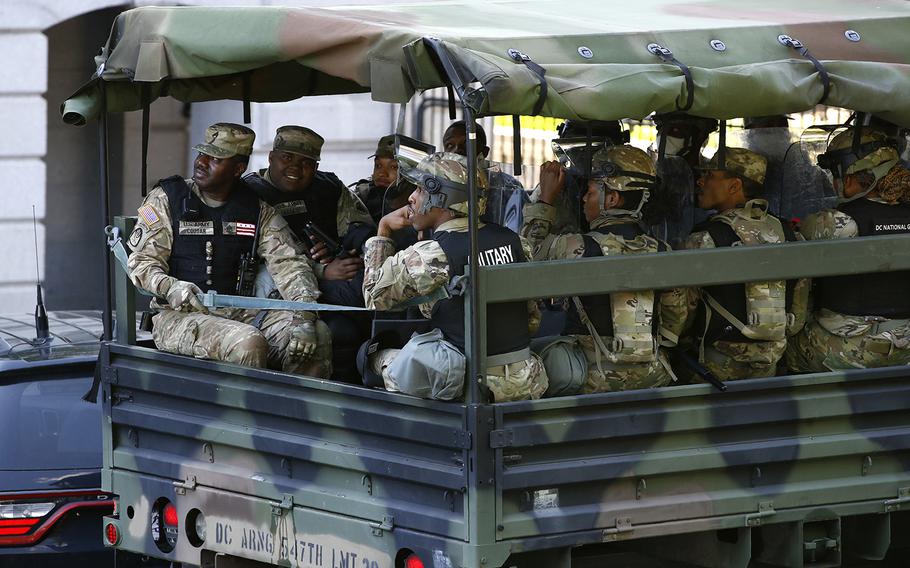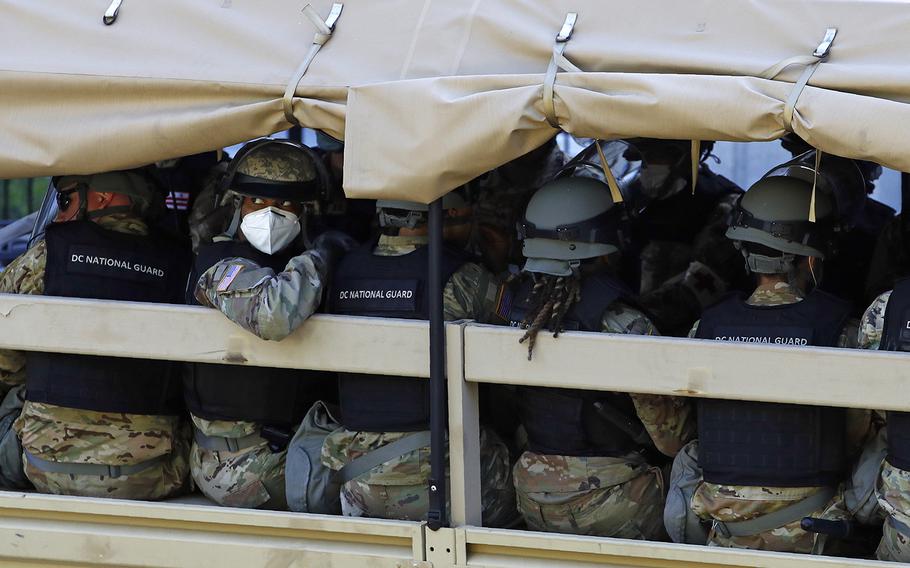 WASHINGTON — The Pentagon rushed hundreds of active-duty troops to military installations just outside Washington, D.C. on Monday as President Donald Trump pledged a crackdown on violence in the nation's capital that grew over the weekend out of peaceful protests calling for national police reforms.
Senior Pentagon officials on Tuesday said those troops — primarily military police and combat engineers — never entered Washington and are unlikely to do so unless the more than 2,000 National Guard troops operating in the city prove to be insufficient to aid the law enforcement response in the capital. The officials, who spoke on condition of anonymity, said violence was down overall in D.C. on Monday night but also noted more than 1,000 additional Guard troops from across the country were set to arrive Tuesday in the city.
Trump in a national address Monday evening pledged to dispatch "thousands and thousands of heavily armed" service members and police to end rioting that led to property destruction across the city, including defacement of memorials in honor of World War II and President Abraham Lincoln. He called upon America's governors to follow his lead and send in their own National Guard troops to quell demonstrations that have spread across the country in the wake of the May 25 killing of a handcuffed black man, George Floyd, by a white police officer in Minneapolis.
"What happened in this city last night was a total disgrace," Trump said Monday evening in a Rose Garden speech. On Tuesday morning, he claimed things had improved.
"D.C. had no problems last night," Trump tweeted. "Many arrests. Great job done by all. Overwhelming force. Domination. Likewise, Minneapolis was great (thank you President Trump!)."
The deployments of active-duty troops to unidentified bases in what the military calls the National Capital Region, which consists of D.C. and its immediate surroundings in Virginia and Maryland, included more than 200 military police officers from Fort Bragg, N.C., and, separately, an undisclosed element of the 82nd Airborne Division's Immediate Response Force, defense officials said Tuesday. The 82nd soldiers, also from Fort Bragg, were last activated for a short-notice deployment in January to the Middle East amid escalating tensions with Iran.
Pentagon and Army officials on Tuesday declined to say whether additional active-duty troops had been sent to the Washington area or how many troops had been moved into the region. They did not provide an explanation for the decision not to disclose the information.
One senior defense official said the troops moved into the region were deployed indefinitely and were on "alert status," meaning they could be tasked at any moment to respond.
Two senior defense officials said Tuesday that the Pentagon's preference is to use only National Guard troops for any civil unrest response throughout the country.
"We don't want to use [federal] forces," one of the officials said.
National Guard officials said Tuesday that more than 20,400 Guard troops had been activated in 28 states to assist law enforcement officials in their responses to riots.
It meant at least 3,000 new Guard troops had been mobilized by state governors to assist in law enforcement since they were berated as "weak" by Trump in a leaked phone call Monday about their responses to the protests. Trump in that phone call demanded governors "dominate" against violent protests or they would be "run over" and "look like a bunch of jerks."
In Washington, where Army Secretary Ryan McCarthy was designated as the official in control of D.C.'s Guard force because the territory has no governor, the entirely of its some 1,300 soldiers and airmen had been activated by Monday. Air Force Gen. Joseph Lengyel, the chief of the National Guard Bureau, said additional troops from Utah and New Jersey also were deployed Monday night to the city and he expected at least 1,500 new troops from Indiana, South Carolina, Tennessee and Mississippi to soon join them in the national capital.
Lengyel, speaking to reporters Tuesday morning, said his troops were best suited for civil unrest responses because they had long trained with law enforcement officials and were legally able to do some police work in their home states.
Unlike active-duty forces, National Guard troops working directly for their governors are not bound to the 1878 Posse Comitatus Act that forbids federal troops from policing in the homeland. However, Trump hinted Monday that if he was unsatisfied with governors' responses he might invoke the Insurrection Act, a rarely used presidential power to deploy active-duty troops on American soil to perform some law enforcement duties even without a state's permission.
Lengyel called the Guard's domestic civil unrest mission among the "most uncomfortable" for this troops to perform. Nonetheless, he said Guard troops deployed in Washington and other areas of the country would continue until officials determine they are no longer needed.
"It's clearly one of our most difficult missions, and frankly probably the mission we like doing the least," the general said. "We are uniquely suited to do this … We don't like to do it but we can do it, and we'll be there to help as long as it goes."
Pentagon officials said National Guard troops responding in Washington were only there to supplement local and federal law enforcement. They said those troops were not armed with nonlethal weapons, such as tear gas or rubber bullets, which reports indicated had been used against protestors, including peaceful demonstrators in the city on Monday.
Guard troops are largely equipped only with batons and riot gear, one of the senior defense officials said. That official added a small number of Guard military police officers deployed in Washington were armed with handguns and long rifles.
All National Guard troops deployed into the city are under the command of Army Maj. Gen. William Walker, the D.C. National Guard chief, the official said. Walker, in his role aiding law enforcement, reports to the Department of Justice, which is leading efforts to retain peace in the nation's capital, the officials said.
No Guard troops responding to protesters were injured in Washington or elsewhere on Monday night, these officials added, saying troops properly followed guidelines on the use of force during the response.
However, the officials declined to comment on videos and photographs posted on social media Monday evening apparently showing D.C. Army National Guard helicopters — including a UH-72 Lakota helicopter with a red cross marking it as a medical evacuation aircraft — flying low over crowds of demonstrators in the city. The imagery, including a post by a New York Times reporter who is a Marine veteran, show the helicopter flying so low that its rotors blow debris up in the air, even snapping a tree limb.
Stars and Stripes reporter Rose L. Thayer contributed to this report.
dickstein.corey@stripes.com Twitter: @CDicksteinDC