GALLERY
At Arlington's Flags In, remembering and honoring the fallen
by
Michael Darnell Meredith Tibbetts
May 26, 2017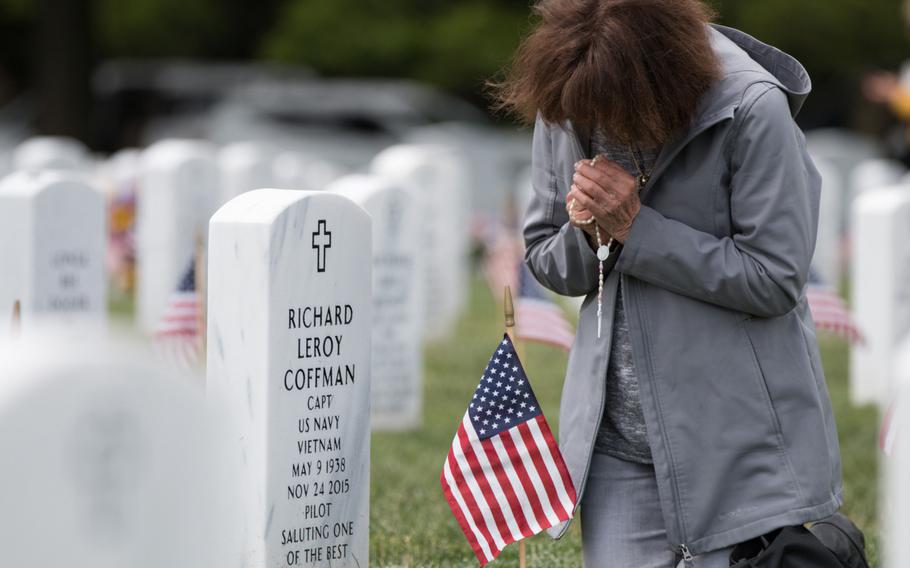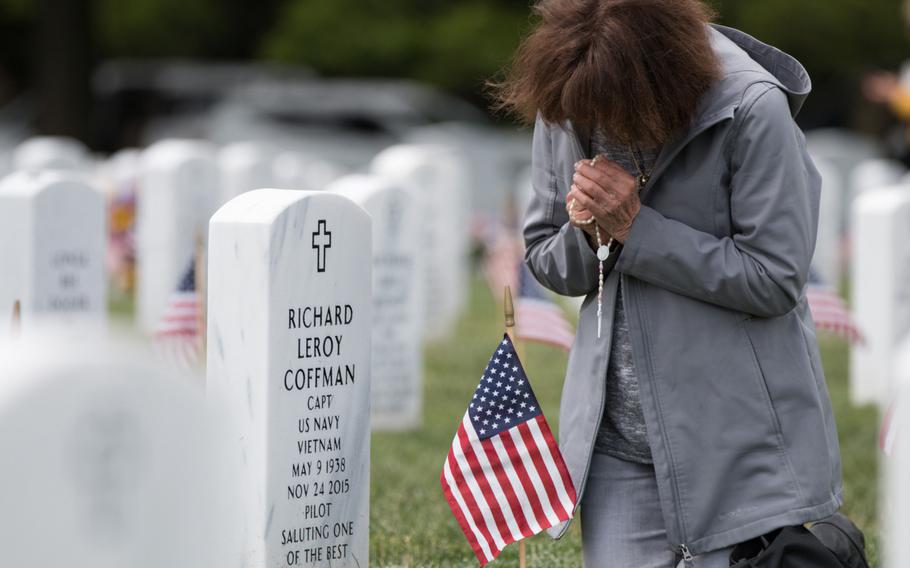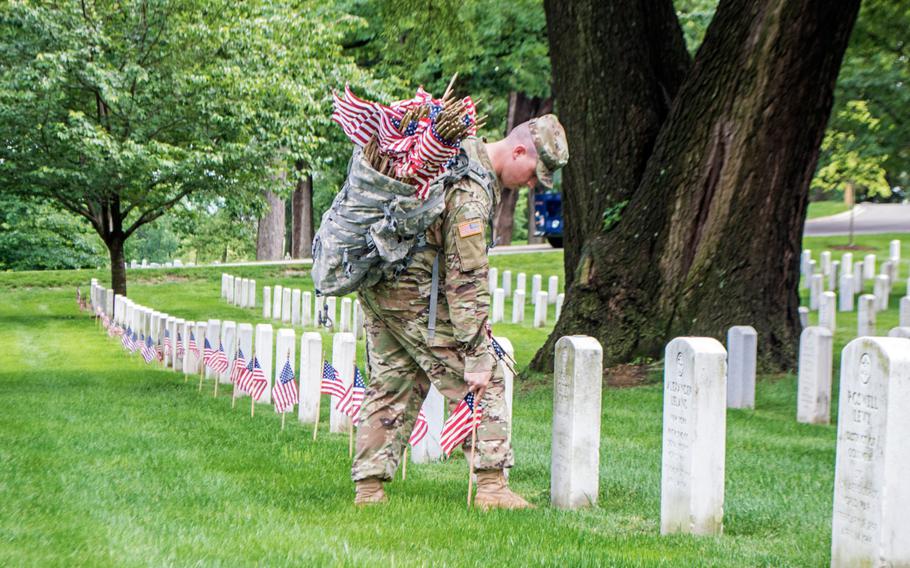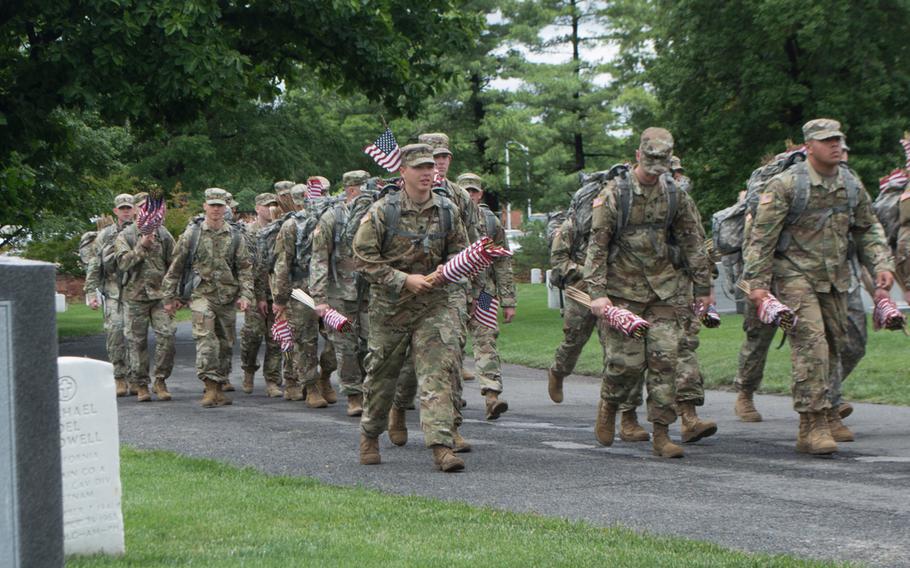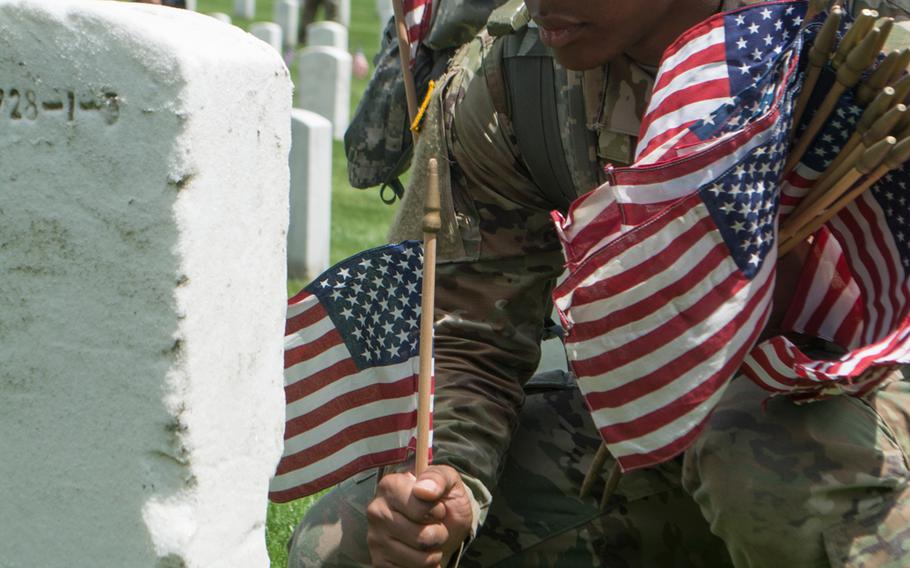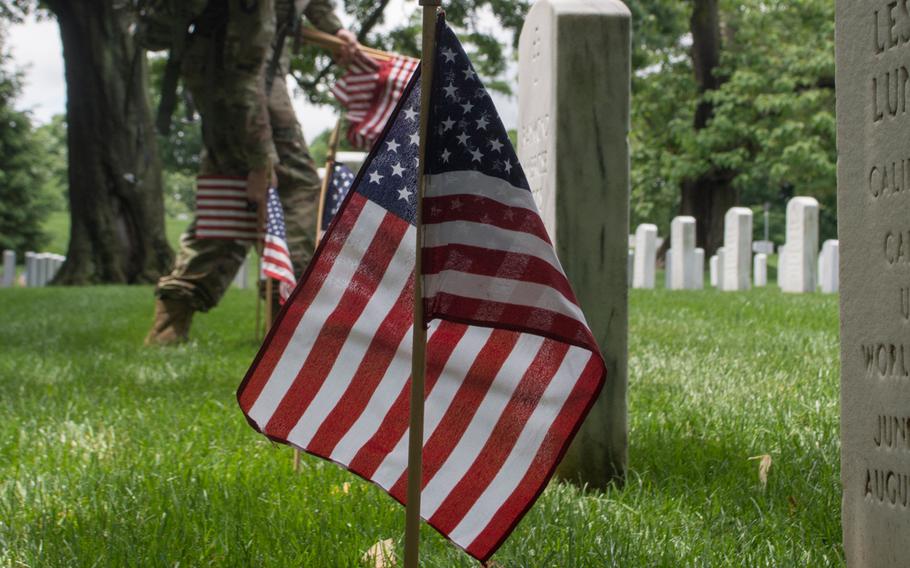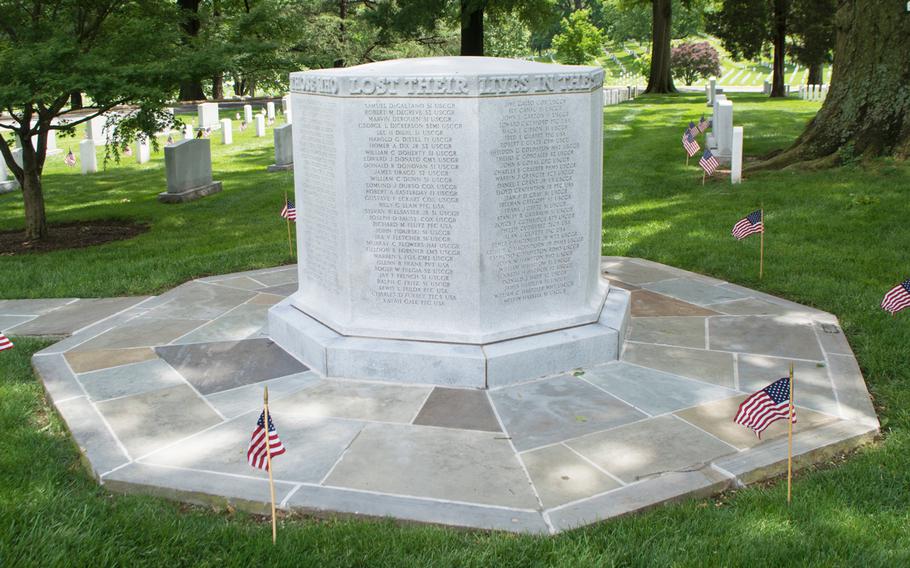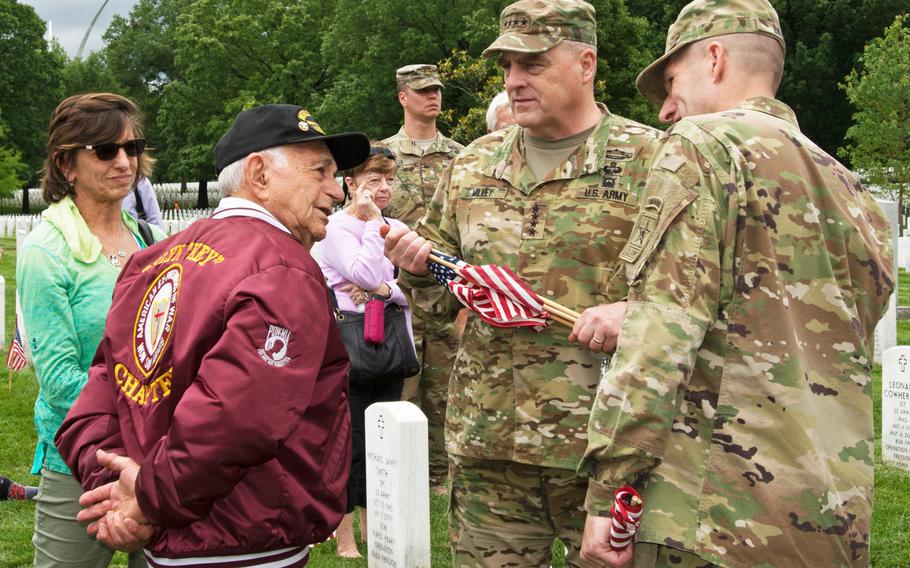 ARLINGTON, Va. — A blessing was said over the American flag that had been placed a boot-length away from the grave marker for Richard "Skip" Leroy Coffman. His wife, J'Neane, clutched white rosary beads as she prayed for her husband.
The flag was one of more than 284,000 placed in front of headstones at Arlington National Cemetery Thursday by hundreds of soldiers with The Old Guard during the annual pre-Memorial Day Flags -In ceremony.
Around Arlington, members of The Old Guard and other visitors shared their personal reflections on lost friends and family members, and the meaning of Memorial Day.
A promise keptA promise was kept as tears were shed over the grave of Eugene Louis Montague Jr.
Pfc. Dalton Gustafson was unable to attend Montague's funeral, because it was held during Gustafson's basic training.
"He convinced me to join the Army," Gustafson said.
Gustafson always knew he wanted to serve in the military, but initially he thought of joining the Navy. It wasn't until Montague — for whom his mother used to work — pulled him into his office and told him about Army experiences, and changed Gustafson's mind.
"Part of what he told me about the Army just stuck with me," Gustafson said.
Montague died suddenly last May. Gustafson promised his widow, Lissette, that he would take care of Montague's grave.
"Judging by the roses, his wife made it here before I did," Gustafson said. But he did plant the American flag at the base of the grave marker.
'As long as we remember'Army veteran William Mize paused at the grave of Patrick Feeks. Mize, who served in the Army, said Feeks — who served in the Navy — was a family friend.
"We both served in Afghanistan, but he never came back," Mize said.
Mize runs for Wear Blue: Run to Remember, and Feeks is one of the servicemembers for whom he runs.
"As long as we remember them, they're not gone. They live forever as long as we remember."
'I've lost a lot of soldiers.'Army Chief of Staff Gen. Mark Milley always tries to make it to Arlington National Cemetery for Memorial Day weekend, and this year was no exception.
Milley made his way down several rows in Section 60 — the place where many of the most recently deceased servicemembers and veterans are buried — pausing at certain spots to learn more about the men and women buried there.
"I've served in combat a lot. I've lost a lot of soldiers. It's why I came to section 60. I've had too many soldiers killed under my command," Milley said.
After placing a flag at the grave of Army Capt. Michael Yury Tarlavsky, Milley continued along the row of white marble stones. He stopped to speak with visiting World War II veteran and former POW Harold Radish; it would be the first of many chats with people visiting Section 60.
"You've got as far back as World War II and you've got as recent as within the last couple of months, all buried in the same area," Milley said. "It's a special place for me and a special place for all of us, a special place for all of America."
Coffman — and love at first sightSkip Coffman served three tours in Vietnam, achieving the rank of captain. He boarded his first carrier to Vietnam two weeks before his wife gave birth to the first of their four children. He had met his wife in 1961 on a blind date.
"It was love at first sight," J'Neane said.
J'Neane's sister had set them up while Skip was home for the Christmas holiday. They met for the first time at a New Year's Eve party, then he returned to Pensacola., Fla., for a year, during which they exchanged a few letters.
He surprised her upon his return, calling her up and asking, "Guess who?" She guessed wrong, but he didn't seem to mind. They were married 50 years before he died suddenly in 2015 of a stroke. She visits his grave every time she goes through Arlington, Va.
She loved "just being together. Now it's so empty, so alone … You know how geese mate for life? I feel like that lone goose."
Reason to fightThe Army's top enlisted soldier, Sergeant Major of the Army Daniel Dailey, also placed flags, pausing long enough to reflect on what Flags In and Memorial Day meant.
"This is part of why Americans fight," Dailey said. "I mean, it's really tough and solemn to say, but American soldiers don't fight just because we told them to; American soldiers fight because they believe in something. They believe in honesty, liberty and freedom, and the United States of America and the flag. They believe if they are hurt, their battle buddy is going to do everything they can to take care of them. They believe that if they do have to pay the ultimate sacrifice, they will be treated with dignity and respect."
tibbetts.meredith@stripes.com Twitter: @mjtibbs