Army will try to sign up 10,000 recruits in three days
by
Corey Dickstein
June 17, 2020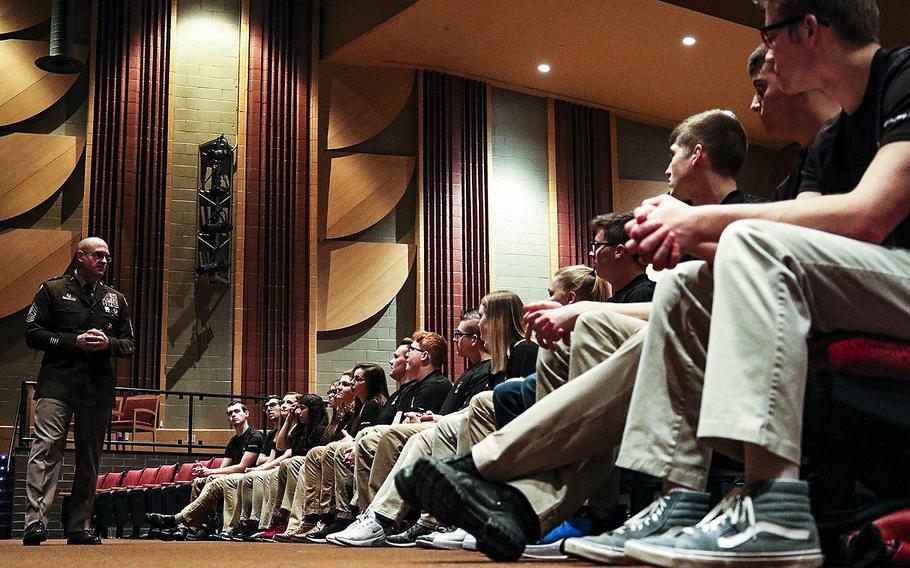 Stars and Stripes is making stories on the coronavirus pandemic available free of charge. See other free reports here. Sign up for our daily coronavirus newsletter here. Please support our journalism with a subscription.
WASHINGTON — The Army, faced with a shortage of recruits amid the coronavirus pandemic, will launch an unprecedented effort later in the month to sign up 10,000 potential soldiers in three days, service officials announced Wednesday.
Service leaders hope the mostly virtual effort dubbed Army National Hiring Days will help it close an enlistment gap that developed in recent months as brick-and-mortar recruiting stations shut their doors to the public and recruiters moved their prospecting efforts online. People who commit to join the Army during that push from June 30 to July 2 could also see extra money, as the service is offering bonuses up to $2,000 for signing up during the drive, said Maj. Gen. Frank Muth, the leader of U.S. Army Recruiting Command.
"We've never done this," Muth told reporters during a news briefing. "It's historic to have everybody [in the Army] focused on three days on becoming an active recruiter, and we feel very strongly we can go after 10,000 [enlistees] and we think we can hit our mark."
The pandemic cost the Army about half the number of recruits it typically signs up during those months, Muth said. But the service is seeing some improvements, and the general said he expected to enlist about 80% of his target in June.
The Army initially set an enlistment goal of shipping about 68,000 recruits to basic training in fiscal year 2020. But the service has since removed that goal as it shipped smaller numbers of recruits to basic training at the height of the pandemic and it also saw better-than-anticipated retention numbers. Muth said he expected to need to send between 63,000 and 67,000 new recruits to basic training to meet the congressionally mandated Army end-strength goal of 485,000 active-duty soldiers by Sept. 30, the end of the fiscal year.
He also hopes to enlist at least 15,000 extra recruits by that time to send to basic training in the first quarter of fiscal year 2021.
Despite the dip in enlistment numbers since March, Army leaders said the pandemic has proven the resiliency of its 10,000-soldier recruiting force and that virtual-focused efforts can be successful.
Casey Wardynski, the assistant Army secretary for manpower and reserve affairs, said Wednesday that he expected recruiters would continue prospecting efforts largely online even after they return to all of the Army's 1,400 recruiting stations. Those efforts include finding potential recruits on social media, conducting interviews online via teleconference, and completing most needed enlistment paperwork through the internet.
Muth said he envisions recruiters spending less time in their brick-and-mortar shops in the future, using those stations mostly as hubs for face-to-face meetings and paperwork, while they spend more time out in the community and online from their homes or other locations.
For its upcoming hiring blitz, the Army will push the effort on social media and its recruiting website, goarmy.com. It hopes to highlight the diverse career fields it offers, more than 150 military occupational specialties.
But the Army is also looking to fill gaps in its ranks. It is especially seeking recruits to enlist on contracts to serve in 10 high-need jobs, said Gen. Paul Funk, the leader of the Army's Training and Doctrine Command.
Those specialties are: infantrymen; fire control specialists; multiple launch rocket system crew members; air and missile defense crew members; unmanned aircraft systems operators; armor crew members; cryptological linguists; psychological operations specialists; chemical, biological and nuclear specialists, and explosive ordnance disposal specialists.
Recruits who sign up for those specialties could be eligible for signing bonuses up to $40,000 and the Army also is offering a program to repay up to $60,000 of student loan debt for new recruits, Muth said.
The extra bonus for people who enlist during the upcoming Army National Hiring Days is in addition to those signing bonuses, Muth said. The most qualified applicants would receive $2,000 and lesser qualified recruits would receive smaller bonuses, he said.
At the end of that push, Muth said he hopes the coronavirus-caused recruit shortage is no longer an issue with which the service must contend. But if recruiters were not able to quickly adjust to working in an all-virtual environment, he said the Army could have faced dire circumstances.
"Are we behind? Yeah. We are," Muth said. "But it's much better than zero [new recruits]. If we didn't have the ability to go virtual, that's what we would have ended up with — it would have been a lot harder area to be in."
dickstein.corey@stripes.com Twitter: @CDicksteinDC